© 2002
Encountering Medieval Textiles and Dress
Objects, Texts, Images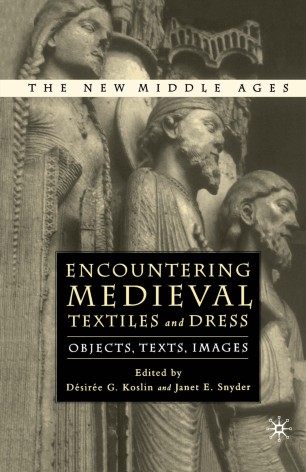 Table of contents
About this book
Introduction
In this wide-ranging study of costume history contributors explore fashion, textiles, and the representation of clothing in the middle ages. Essays combine the perspectives of archaeology, art history, economics, religion, costume history, material culture, and literary criticism and explore materials from England, France, the Low Countries, Scandinavia, Germany, Italy, and Ireland. The collection focuses on multiple aspects of textiles and dress - their making, meaning, and representation - and explores the impact of international trade and other forms of cultural exchange.
Keywords
archaeology
crusades
culture
England
fashion
France
gender
Germany
history
ideology
law
manuscripts
material culture
Middle Ages
technology
Bibliographic information
Reviews
"An outstanding series of essays by historians, art historians, and literary specialists on a wide variety of topics in medieval textiles, from manufacture and use, to style, fashion, iconography, and the many shades of social meaning."
- William W. Clark, Queens College and the Graduate Center, CUNY
"This volume demonstrates the wide variety of excellent new work now being done on dress and costume history. The papers are rich in content and cover a wide variety of periods and subject matter."
- Jonathan J. G. Alexander, Institute of Fine Arts, New York University
"The volume is a valuable addition to the both the library of a general reader and a costume historian. For the general reader the books provides ready access to information ranging over a six-hundred year period. For the costume historian there is a wealth of detailed information to add breadth and depth to one's knowledge, with an additional resource of information in the form of copious endnotes and bibliographic references."
- Sandra L. Rosenbau, Dress