© 2007
The Logics of Biopower and the War on Terror
Living, Dying, Surviving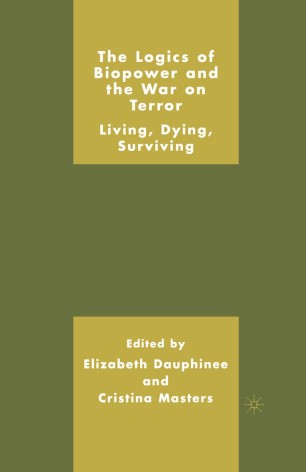 Table of contents
About this book
Introduction
The contributors explores the intellectual, cultural, and political logics of the US-led war on terror and its consequences on lived lives in a range of contexts. The book interrogates the ways in which biopolitical practices hinge on political imaginaries and materialities of violence and death.
Keywords
human rights
Policy
terrorism
violence
war
Bibliographic information
Reviews
"The Logics of Biopower gives an authoritative account of the 'War on Terror' as a place in which sovereign power meets biopolitics. It includes some outstanding contributions to Foucauldian analysis in International Relations and has the rare virtue of making the reader re-think their assumptions of how international politics works. This book provides insights into aspects of the 'War on Terror' all too easily forgotten or marginalised in mainstream work on international relations." - Kimberly Hutchings, Reader in International Relations, London School of Economics"This book offers telling and disturbing insights into how the 'war on terror' works and upon whose bodies it takes effect. It reveals deserts, borders, camps, hotel laundries and cars as the new sites of conflict. Its richly theoretical analysis of the everyday world of photographs and movies, and its descriptions of people and events, demonstrates energetic resistance to the 'us' and 'them,' dead or alive narratives of war that encourage complicity in all of us. And in naming the dead, living, and otherwise, it retrieves the humanity of war's victims. This volume introduces outstanding young critical thinkers and confirms the reputations of established scholars in a collection of seminal importance."
- Simon Philpott, Lecturer in International Politics, Newcastle University