The Mystery of Personality
A History of Psychodynamic Theories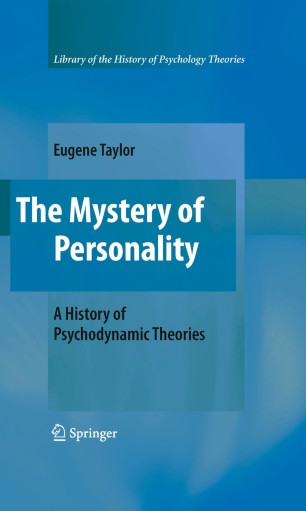 About this book
Introduction
In The Mystery of Personality: A History of Psychodynamic Theories, acclaimed professor and historian Eugene Taylor synthesizes the field's first century and a half into a rich, highly readable account. Taylor situates the dynamic school in its catalytic place in history, re-evaluating misunderstood figures and events, re-creating the heady milieu of discovery as the concept of "mental science" dawns across Europe, revisiting the widening rift between clinical and experimental study (or the couch and the lab) as early psychology matured into legitimate science.
Gradual but vital evolutions form the heart of this chronicle: the ebb and flow of analytic theory and practice, the shift from doctor-centered to client-centered therapy, the movement from exclusionary to multidisciplinary, the evolving role of the therapist. And as can be expected from the author, there is special emphasis on the sublime in psychology: the philosophy/psychology fusion of the New England transcendentalists, the battle between spiritualism and science in 1880s America, and early versions of today's spiritually-attuned therapies. Pivotal concepts and key individuals covered are:
Charcot, Janet, and the origins of dynamic personality theory in the so-called French, Swiss, English, and American psychotherapeutic axis.
Person and personality: William James's "radical empiricism"
The rise of psychoanalysis: Freud, the Freudians, and the Neo-Freudians
Adler and Jung, who were never "students" of Freud: Toward, within, and beyond the self
Murray, Allport, and Lewin at Harvard in the 30s
Culture and personality, pastoral counseling, and Gestalt Psychology in New York in the '40s and '50s
An Existential-humanistic and Transpersonally oriented depth psychology in the 60s
The current era: "science confronts itself," as neuroscience enters the picture
Students of psychology and its history will find in this inspiring narrative both possibilities for further study and a new appreciation of their own work. The Mystery of Personality: A History of Psychodynamic Theories is a stimulating course conducted by a master teacher.
Keywords
Counseling
Freud
Gestalt psychology
Psychoanalysis
Psychodynamics
William James
depth psychology
psychology
Bibliographic information