The Sticky Synapse
Cell Adhesion Molecules and Their Role in Synapse Formation and Maintenance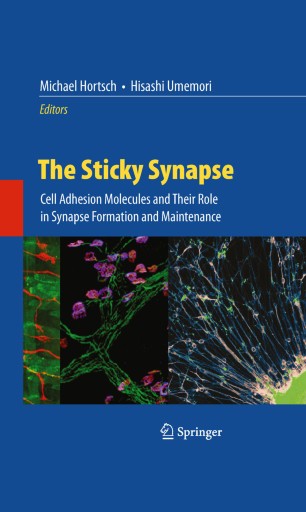 About this book
Introduction
Over the last few years, a considerable number of different cell adhesion molecules (CAMs) have been identified that are imperative for synapse formation and maintenance. Recent research, however, has also revealed that many synaptic connections are highly dynamic and not as stable as initially thought. A delicate balance between adhesive and anti-adhesive events at the synapse suggests that CAM functions are highly regulated. Dr. Michael Hortsch and Dr. Hisashi Umemori's The Sticky Synapse: Cell Adhesion Molecules and Their Role in Synapse Formation and Maintenance presents the first comprehensive synopsis on how adhesive proteins contribute to synapse formation, function, and remodeling. Topics discussed range from general synaptic processes, such as neuromuscular junction and CNS synapse formation, to CAM-specific chapters on Cadherins, Ig-domain CAMs, Neuroligins, extracellular matrix molecules, Connexins and many others, and how these CAM families contribute specifically to synaptic functionality. The wide range of general and technical information offered in this book will appeal to students, researchers, and clinicians in the fields of molecular and cellular neuroscience, neurophysiology, and developmental neurobiology.
.
About the editors:
Dr. Michael Hortsch holds a Diploma degree in Biochemistry from the Free University Berlin and a Ph.D. in Biology from the University of Heidelberg in Germany.While working at theWeizmann Institute in Israel, the European Molecular Biology Laboratory in Heidelberg, and at the University of California at Berkeley he has published on topics such as the mechanism of growth factor receptor activation, the transport of proteins across membranes, and the physiological roles of neuronal cell adhesion molecules during nervous system development. He has been a faculty member of the Department of Cell and Developmental Biology at the University of Michigan in Ann Arbor since 1991. Dr. Hortsch has served on scientific review panels for the National Institutes of Health, the National Science Foundation, and other agencies.
Dr. Hisashi Umemori is a faculty member of the Molecular and Behavioral Neuroscience Institute and of the Department of Biological Chemistry at the University of Michigan Medical School. He worked with Dr. Tadashi Yamamoto at the Institute of Medical Sciences of the University of Tokyo and analyzed intracellular signaling mechanisms that are involved in myelination and in learning and memory.While working with Dr. Joshua R. Sanes atWashington University Medical School and at Harvard University, he identified synaptic organizing molecules that promote synapse formation during nervous system development. Currently, his laboratory is working to uncover the molecular mechanisms that govern the formation of functional neural circuits in the brain. Dr. Umemori has received various awards, including a Basil O'Connor Award and a Klingenstein Fellowship Award.
Keywords
evolution
molecular mechanisms
neurobiology
neurons
proteins
Bibliographic information