Toward the Elimination of Cancer Disparities
Medical and Health Perspectives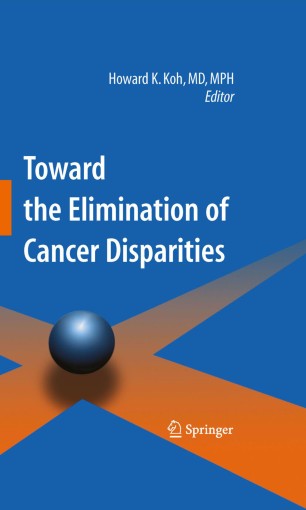 Table of contents
About this book
Introduction
The societal burden of cancer is one of the major public health challenges of our time, yet that burden is not equally shared by all. Troubling disparities have been documented not only by racial/ethnic group but also by social class, insurance status, geography, and a host of other factors. Furthermore, such disparities represent the end result of a constellation of forces stemming from both within the health care system and outside of it. Many currently existing cancer disparities are preventable.
To date, few publications capture the breadth and depth of the dimensions of cancer disparities from both the clinical and public health perspective. This volume broadens concepts of disparities beyond traditional race/ethnicity discussions to explore a more systematic analysis of how, where, and why disparities occur across the cancer continuum.We will also analyze the issue of social disparities with respect to certain major cancers, with emphasis on the particular role of socioeconomic position.
This volume reflects the work of a number of experts in cancer disparities, led by members of the Executive Committee of the Program-in-Development for the Dana Farber / Harvard Cancer Center. In particular, this volume updates and expands an earlier 2005 monograph on the topic published in the journal Cancer Causes and Control (Nancy Krieger PhD, Editor).
Keywords
Health Communication
Public Health
carcinoma
genomics
health
health care
melanoma
prostate cancer
Bibliographic information