© 2009
Guide to Psychoanalytic Developmental Theories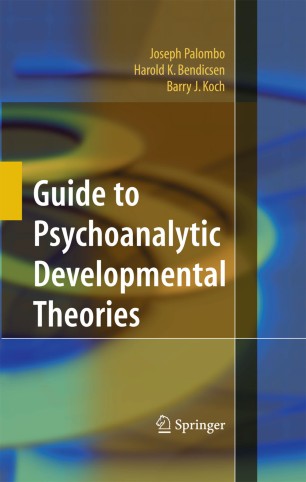 Table of contents
About this book
Introduction
"This book is an invaluable resource for students, seasoned clinicians, and teachers of psychoanalytic ideas. It is an imperative addition to personal and reference libraries. Congratulations to the authors!" -David M. Terman, M.D. Director, Chicago Institute for Psychoanalysis, Chicago, IL
"The Guide is a respectful and loving homage to a century of great minds struggling to understand the complex problem of psychological development. The inclusion of attachment theory and their modern expressions in the work of Schore and Fonagy distinguish this book from others, adding the brain to the mind, and bringing us up to the present day." -Louis Cozolino, Ph.D. Professor of Psychology, Pepperdine University, CA
"This work, with its lucid descriptions of important developmental themes and careful attention to the unique features of each developmental theory, will prove a valuable resource not only for graduate students in the mental health professions, but also for postgraduate professionals." -Jerrold R. Brandell, Ph.D. Distinguished Professor, Wayne State University, Detroit, MI

As the foundational theory of modern psychological practice, psychoanalysis and its attendant assumptions, predominated well through most of the twentieth century. The influence of psychoanalytic theories of development was profound and still resonates in the thinking and practice of today's mental health professionals. Guide to Psychoanalytic Developmental Theories provides a succinct and reliable overview of what these theories are and where they came from. Ably combining theory, history, and biography it summarizes the theories of Freud and his successors against the broader evolution of analytic developmental theory itself, giving readers a deeper understanding of this history, and of their own theoretical stance and choices of interventions. Along the way, the authors discuss criteria for evaluating developmental theories, trace persistent methodological concerns, and shed intriguing light on what was considered normative child and adolescent behavior in earlier eras.
Each major paradigm is represented by its most prominent figures such as Freud's drive theory, Erikson's life cycle theory, Bowlby's attachment theory, and Fonagy's neuropsychological attachment theory. For each, the Guide provides:
biographical information

a conceptual framework

contributions to theory

a clinical illustration or salient excerpt from their work
The Guide to Psychoanalytic Developmental Theories offers a foundational perspective for the graduate student in clinical or school psychology, counseling, or social work. Seasoned psychiatrists, analysts, and other clinical practitioners also may find it valuable to revisit these formative moments in the history of the field.
Keywords
Anna Freud
Donald Winnicott
Freud
Heinz Kohut
Margaret Mahler
Melanie Klein
Sigmund Freud
drive theory
ego
neurodevelopment
object relations
psychoanalysis
relational theory
Bibliographic information
Book Title

Guide to Psychoanalytic Developmental Theories

Authors

DOI

https://doi.org/10.1007/978-0-387-88455-4

Copyright Information

Springer-Verlag New York

2009

Publisher Name

Springer, New York, NY

eBook Packages

Behavioral Science Behavioral Science and Psychology (R0)

Hardcover ISBN

978-0-387-88454-7

Softcover ISBN

978-1-4419-2779-8

eBook ISBN

978-0-387-88455-4

Edition Number

1

Number of Pages

XLVIII, 416

Number of Illustrations

0 b/w illustrations, 0 illustrations in colour
Reviews
From the reviews:
"Palombo, Bendicsen and Koch's Guide to Psychoanalytic Developmental Theories offers a much-needed, comprehensive examination of the contributions of eighteen important psychoanalytic developmental theorists. Beginning with Freud's foundational drive theory, the authors proceed to examine a range of psychoanalytic theories, including ego psychological, object relational, life cycle, interpersonal, self, and attachment. Chapters are well organized and they include not only the authors' concise summaries of each theorist's unique contribution, but in most instances, a clinical illustration derived from the theorist's own published work. For interested readers, primary references highlighting the theorist's original contributions, as well as a general bibliography are included at the conclusion of each chapter. This work, with its lucid descriptions of important developmental themes and careful attention to the unique features of each developmental theory, will prove a valuable resource not only for graduate students in the mental health professions, but also for postgraduate professionals."-Jerrold R. Brandell, Ph.D. Distinguished Professor, Wayne State University, Detroit, MI

"The Guide is a respectful and loving homage to a century of great minds struggling to understand the complex problem of psychological development. It is a treasure trove of knowledge, which enlivens the human and theoretical history of psychoanalysis, making it accessible to a new generation of clinicians. Designed for the serious student, the Guide provides the commonalities and complexities of a spectrum of developmental theories. The thoughtfulness and attention to detail of the authors serve as a wonderful example to students that not everything can be grasped in sound bites and that careful and detailed scholarship can bring great rewards. The inclusion of attachment theory and their modern expressions in the work of Schore and Fonagy distinguish this book from others, adding the brain to the mind, and bringing us up to the present day." -Louis Cozolino, Ph.D. Professor of Psychology, Pepperdine University, CA

"TheGuide to Psychoanalytic Developmental Theoriesis an invaluable resource for students, seasoned clinicians, and teachers of psychoanalytic ideas. The authors have assembled clear and succinct summaries of the prevailing developmental theories in psychoanalysis today. The inclusion of brief biographies of the theoreticians allows readers to understand the genesis of their ideas and to have an overview of some of the sociology of psychoanalytic theory. As a basic text, mental health practitioners can use this excellent work to compare and contrast different theoretical perspectives as well as to complement their psychoanalytic education. This work is an imperative addition to personal and reference libraries. Congratulations to the authors!" -David M. Terman, M.D. Director, Chicago Institute for Psychoanalysis
"Palombo, Bendicsen, and Koch are to be congratulated for their systematic, straightforward, and lucid presentation of the major concepts of key psychoanalytic developmental theories from Freud's time to the present. Scholarly but accessible to readers who are not familiar with its content, this volume is enhanced by rich biographical profiles of each theorist, illustrative case examples, and the inclusion of a framework and questions that can be used to analyze and compare the different paradigms. This book is a valuable resource for teaching and should appeal to all those who are interested in learning about this vast body of knowledge." -Eda G.Goldstein, DSW, LCSW. Professor Emerita and Director of Post Masters Program in Advanced Clinical Practice New York University Silver School of Social Work

"A major success is achieved by these authors, who conceptualize the array of complex notions/frameworks associated with major psychoanalytic developmental theories in a clear, concise, and comprehensive manner. Following a historical time line beginning with Sigmund Freud, the book chronicles the evolutionary processes related to the development of modern psychoanalytic thought. This book is important resource for new and sophisticated students of this invaluable tradition." -Jack C. Wall, Dean and Professor, Loyola University Chicago, School of Social Work
"Palombo, Bendicsen, and Koch … here offer a useful guide inspired by the need to educate their students. … The conclusion … covers future hopes for neuroscience. The reader will find that the straightforward short descriptions explain complex theories with admirable clarity. … The present title deals more thoroughly with the details of each theorist, especially from a clinical US perspective, and will be a valuable resource for those interested in psychoanalysis and the history of ideas. Summing Up: Recommended. Upper-division undergraduates and above." (R. H. Balsam, Choice, Vol. 47 (3), November, 2009) "Almost every teacher of psychology has had a student ask a question much like this one: 'Why do we have to learn about Freud if he was wrong … ?' In their book Guide to Psychoanalytic Developmental Theories, Joseph Palombo … and Barry J. Koch valiantly attempt to answer this question, and by most accounts they are very successful. … the book could also be helpful for students in other areas of psychology. … very useful to advanced students, practitioners, and teachers of psychoanalytic theory." (Brien K. Ashdown and Natalie Homa, PsycCRITIQUES, Vol. 55 (6), February, 2010)