© 2009
Plant-derived Natural Products
Synthesis, Function, and Application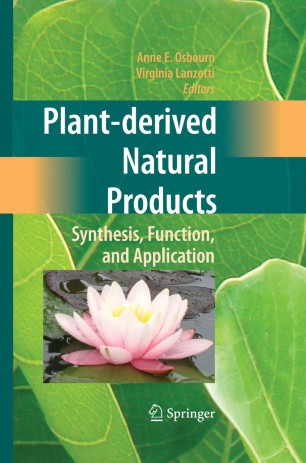 Table of contents
About this book
Introduction
Plant-derived natural products: Synthesis, function and application
Plants produce a huge array of natural products (secondary metabolites). These compounds have important ecological functions, providing protection against attack by herbivores and microbes and serving as attractants for pollinators and seed-dispersing agents. They may also contribute to competition and invasiveness by suppressing the growth of neighbouring plant species (a phenomenon known as allelopathy). Humans exploit natural products as sources of drugs, flavouring agents, fragrances and for a wide range of other applications. Rapid progress has been made in recent years in understanding natural product synthesis, regulation and function and the evolution of metabolic diversity. It is timely to bring this information together with contemporary advances in chemistry, plant biology, ecology, agronomy and human health to provide a comprehensive guide to plant-derived natural products.
Plant-derived natural products: synthesis, function and application provides an informative and accessible overview of the different facets of the field, ranging from an introduction to the different classes of natural products through developments in natural product chemistry and biology to ecological interactions and the significance of plant-derived natural products for humans. In the final section of the book a series of chapters on new trends covers metabolic engineering, genome-wide approaches, the metabolic consequences of genetic modification, developments in traditional medicines and nutraceuticals, natural products as leads for drug discovery and novel non-food crops.
Professor Anne Osbourn is Head of the Department of Metabolic Biology at the John Innes Centre, Norwich, UK, where she runs a research programme on plant-derived natural products. Her research is focused on the synthesis and function of plant-derived natural products and on mechanisms underpinning metabolic diversification.
Professor Virginia Lanzotti is associate professor of organic chemistry at University of Molise, Campobasso, Italy and Meetings Secretary of the Phytochemical Society of Europe (PSE). Her research is focused on the stereostructure of natural products, drug discovery, food chemistry, and soil organic matter phytotoxicity. Winner of the 2003 PSE-Pierre Fabre award for excellence in phytochemistry.
Keywords
Flora
Fruit
Oligosaccharide
Pathogen
Transport
evolution
plant development
regulation
Bibliographic information
Reviews
From the reviews: "This compilation of 25 review articles begins with a comprehensive introduction to the structures, biological activities, and applications of the major classes of terrestrial and marine plant-derived natural products. … the book as a whole would have more utility to professionals wishing to increase their general knowledge of these topics. All of the articles are written articulately, and … with an extensive bibliography for those who wish to consult the primary literature. Summing Up: Recommended. Upper-division undergraduates, graduate students, and professionals." (D. L. Jacobs, Choice, Vol. 47 (7), March, 2010)