Astrocytes in (Patho)Physiology of the Nervous System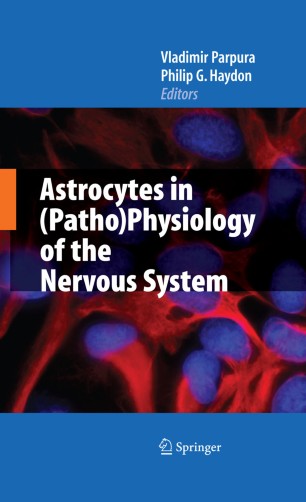 About this book
Introduction
Due to their lack of electrical excitability, astrocytes, a subtype of glial cell, have long been neglected as active participants in intercellular communication within the central nervous system. Astrocytes, however, possess a diverse assortment of ion channels,
neurotransmitter receptors, and transport mechanisms that enable them to respond to many of the same signals that act on neurons. Astrocytes in (Patho)Physiology of the Nervous System provides readers with a comprehensive description of the physiological roles astrocytes play in regulating neuronal activity and their critical involvement in
pathophysiological states of the nervous system, including gliomas, Alexander's disease, and epilepsy. This book will be particularly useful for researchers, students, and workers in the field of neurobiology and cell biology.
About the authors:
Vladimir Parpura, M.D., Ph.D holds both a medical degree, awarded from the University of Zagreb in Croatia in 1989, and a doctorate, received in Neuroscience and Zoology from Iowa State University in 1993. He has held faculty appointments at the Department of Zoology and Genetics, Iowa State University and the Department of Cell Biology and Neuroscience, University of California Riverside. He is presently an Associate Professor in the Department of Neurobiology, University of Alabama Birmingham. His current research focuses on understanding the modulation of calcium-dependent glutamate release from astrocytes.
Philip G. Haydon, Ph.D received his doctorate from the University of Leeds, England in 1982. He has held faculty appointments at the Department of Zoology and Genetics, Iowa State University, the Department of Neuroscience at the University of Pennsylvania, and has recently moved to Tufts University School of Medicine as Professor and Chair of the Department of Neuroscience. His research focuses on the role of astrocytes in the regulation of synapses, neuronal networks and behavior as well as how these glial cells contribute to neurological disorders.
Keywords
Nervous System
astrocytes
glial cell
information processing
neurons
physiology
regulation
Bibliographic information