Clinical Applications of Immunomics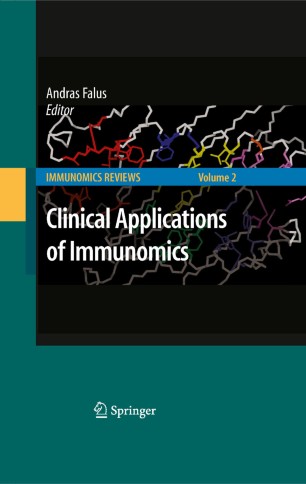 About this book
Introduction
Immunomics Reviews
An Official Publication of the International Immunomics Society
Series Editors: Vladimir Brusic, Dana-Farber Cancer Institute, Boston, Massachusetts
Andras Falus, Semmelweis University, Budapest, Hungary
Editorial Board: Anne S. De Groot, Brown University, Providence, Rhode Island
Darren Flower, Edward Jenner Institute for Vaccine Research, Berkshire, UK
Christian Schonbach, Nanyang Technological University, Singapore
Shoba Ranganathan, Macquarie University, Australia
Marie-Paule Lefranc Universite Montpellier II, Montpellier, France
This peer-reviewed book series offers insight on immunology for 21st century. The technological revolution has borne advances in high-throughput instrumentation and information technology, initiating a renaissance for biomathematics, and biostatistics. Cross-fertilization between genomics and immunology has led to a new field called immunomics, transforming the way in which theoretical, clinical and applied immunology are practiced. Immunomics Reviews will cover integrative approaches and applications to the theory and practice of immunology and explore synergistic effects resulting from a combination of technological advances and the latest analytical tools with the traditional fields of basic and clinical immunology.
Volume 2:
Clinical Applications of Immunomics
Edited by Andras Falus
Rapid improvement in accessibility to molecular databases as well as availability of high throughput genomic, proteomic, and other 'omics' methodologies are forcing a considerable shift in research and development strategies for biomedicine. Systems biology, a systematic study of complex interactions in biological systems, is currently closely related to the development and application of bioinformatics and biostatistics tools to genomic and proteomic data in clinical immunology, as well.
Systems immunology translates achievements of immunological research to medically relevant applications such as diagnosis, prevention, and therapy. Clinical immunomics covers a broad range of diseases and this volume brings together a work representing a spectrum of immunomic applications to showcase key technologies that will shape clinical immunology in the near future. The chapters show examples of immunomics approaches to cancer, autoimmunity, allergy, and primary immunodeficiencies. Key concepts of this volume deal with various combinations of bioinformatics and biostatistics, instrumentation, molecular biology, animal models, and clinical samples for the advancement of clinical immunology.
Keywords
bioinformatics
biology
databases
genome
translation
Bibliographic information