Pediatric Neuropsychology Case Studies
From the Exceptional to the Commonplace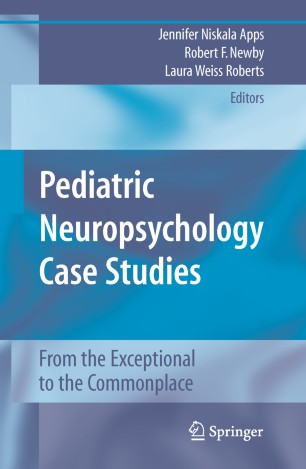 Table of contents
About this book
Introduction
Pediatric Neuropsychology Case Studies:
From the Exceptional to the Commonplace.
Edited by Jennifer Niskala Apps, Robert F. Newby, and Laura Weiss Roberts, Medical College of Wisconsin, Milwaukee
Pediatric Neuropsychology Case Studies combines an evidence-based guide to frequently seen neurological and developmental disorders in children with compelling case histories, highlighting the uniqueness of every young client—and the skills involved in providing effective evaluation and treatment for every client—to create an innovative, one-of-a-kind resource.
The book's chapters, which can be read in sequence or in order of interest, offer typical and complex presentations of a broad range of developmental and acquired conditions including ADHD (combined, inattentive), traumatic brain injury (with age- and region-specific cases), psychiatric disorders, pervasive developmental disorders, systemic infections, reading and nonverbal disabilities, sensory and auditory problems, seizure disorders, and genetic disorders. Readers will appreciate the balance of coverage, whether it's between mainstream and alternative treatments or neurological and psychosocial aspects of a case. A chapter that highlights the interaction between neuropsychological assessment and on-going therapeutic interventions is also included.
Helpful features in this practitioner-friendly volume are designed to enhance the reader's clinical comprehension, analytical thinking, and decision-making skills:
Glossaries explain terminology essential to the cases.

Common differential diagnosis issues are discussed.

Relevant research findings and test data are reviewed for each chapter.

Treatment recommendations are featured from best practice and emerging areas of study.

Charts, tables, and callout boxes emphasize critical information.
With intriguing chapters like "On Eggshells" and "Beating the Odds," Pediatric Neuropsychology Case Studies is instructive and challenging reading for novice and seasoned professionals in neuropsychology and neuropsychiatry, child psychologists and psychiatrists, school and counseling psychologists, and rehabilitation specialists.
Keywords
Akne
Baby
Developmental Disabilities
Neurological Disorders
Neuropsychological disorders
Neuropsychology case studies
attention deficit hyperactivity disorder (ADHD)
brain injury
development
neuropsychology
pediatric Neuropsychology
Bibliographic information