Who's Who in Fluorescence 2008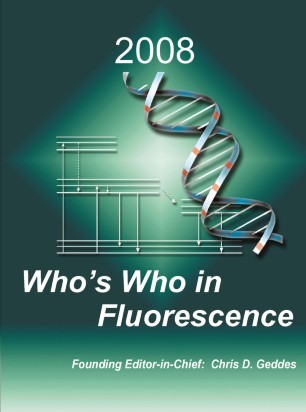 About this book
Introduction
About the Editor
Dr. Chris D. Geddes Ph.D., Professor, is Director and Founder of the Institute of Fluorescence at the University of Maryland Biotechnology Institute, Medical Biotechnology Center in Baltimore, USA. He has a B.Sc. from Lancaster University in England and a Kodak funded Ph.D. in Physical Chemistry (fluorescence spectroscopy) from the University of Wales Swansea, UK.
Dr. Geddes is the Editor-in-Chief of the Journal of Fluorescence, and both the Editor and Founding Editor-in-Chief of the Who's Who in Fluorescence, Annual Reviews in Fluorescence, Annual Reviews in Plasmonics volumes and of "Plasmonics", Springer's latest Peer Reviewed Journal.
Dr. Geddes is also Executive Director of the Society of Fluorescence and Co-Editor of the popular series Topics in Fluorescence Spectroscopy. Dr. Geddes has published approximately 175 articles and 15 books / volumes on the principles and applications of Fluorescence Spectroscopy and Plasmonics.
The Institute of Fluorescence features two main laboratories, which underpin Dr. Geddes's research aspirations, namely; The Laboratory of Advanced Medical Plasmonics and the Laboratory for Advanced Fluorescence Spectroscopy. Both laboratories are poised to advanced our knowledge of fluorescence / plasmonics and their applications. Current research is based on developing a fundamental understanding of metal-enhanced fluorescence, a term introduced by Dr. Geddes in 2002, with outcomes focused at developing a unified plasmon-fluorophore description. Other research involves developing microwave based plasmonic devices for ultra fast and ultra sensitive sensing platforms, such as for the detection of bio-warfare and clinical agents, e.g. Anthrax and Cardiac Markers. http://theinstituteoffluorescence.com/
About the Who's Who in Fluorescence Annual Volume
The Who's Who in Fluorescence Annual Volume was founded by Dr. Chris D. Geddes, Professor and Director of the Institute of Fluorescence at the University of Maryland Biotechnology Institute, Baltimore, Maryland USA, in 2003. The Who's Who in Fluorescence is a comprehensive directory of workers from Industry, Governments and Academia alike, who employ Fluorescence methodologies in their everyday working lives. The invitation-only volume features a brief description of a contributor's specialty or research, keyword listings, contact details and representative publications. A "Companies in Fluorescence" section can also be found at the back of the volume and features company adverts, product information and contact details. The origins of the volume can be traced back to Professor Geddes adopting the editorialship of the Journal of Fluorescence in 2001. At that time, the Journal of Fluorescence was still taking paper-based manuscript submissions, with editorial decisions sent via paper mail or e-mail. In the absence of any global directory of fluorescence expertise, workers and company details for peer-review purposes, Dr. Geddes created simple spreadsheets with workers details and fluorescence specialty keyword listings etc. In late 2002 it was thought that other workers in fluorescence might also benefit from a global listing. Subsequently, the first volume was published by Kluwer Academic / Plenum Press in January 2003. The first volume featured some 312 fluorescence workers from around the world. Today, the volume now published by Springer, has established itself in the fluorescence community as the key directory for fluorescence workers worldwide, with thousands of copies disseminated annually at conferences, through internet book stores and by the Institute of Fluorescence, home to the Who's Who in Fluorescence Annual Volume. http://wwifonline.com/
Keywords
Geddes
Who
fluorescence
instrumentation
methodology
Bibliographic information
DOI

https://doi.org/10.1007/978-0-387-78177-8

Copyright Information

Springer Science+Business Media, LLC 2008

Publisher Name

Springer, New York, NY

eBook Packages

Biomedical and Life Sciences

Print ISBN

978-0-387-78176-1

Online ISBN

978-0-387-78177-8
Industry Sectors