The Scientific Correspondence of H. A. Lorentz
Volume I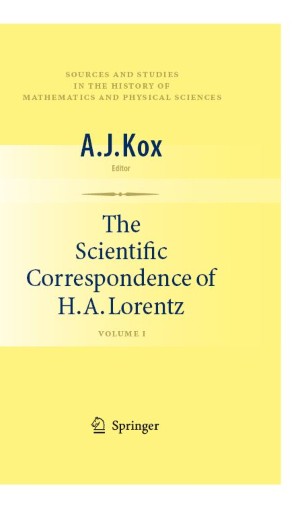 About this book
Introduction
This book presents a selection of 434 carefully annotated letters from and to the Dutch physicist and Nobel Prize winner Hendrik Antoon Lorentz (1853-1928), covering the period from 1883 until a few months before his death in February 1928. Most of these letters are of a scientific nature, with the exception of letters between Lorentz and Albert Einstein, Max Planck, Woldemar Voigt, and Wilhelm Wien during World War I, since these letters shed important light on the disruption of scientific relations during the war and on the political views of these correspondents as well as of Lorentz.
The letters are being reproduced in their original language (German, French and English), and a few Dutch drafts are accompanied by English translations.
A concise biography of Lorentz is also included, as well as a full bibliography of his writings.
Keywords
Albert Einstein
Annotation
DEX
Ludwig Boltzmann
Volume
availability
language
selection
Bibliographic information