Allelopathy in Sustainable Agriculture and Forestry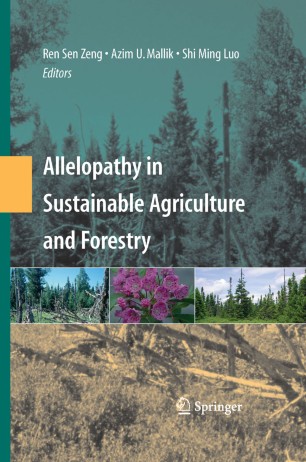 Table of contents
About this book
Introduction
Allelopathy in Sustainable Agriculture and Forestry
Zeng, Ren Sen; Mallik, Azim U.; Luo, Shi Ming (Eds.)
Simply put, allelopathy refers to an ecological phenomenon of plant-plant interference through release of organic chemicals (allelochemicals) in the environment. These chemicals can be directly and continuously released by the donor plants in their immediate environment as water leachates volatiles in the air or root exudates in soil - or they can be the microbial degradation products of plant residues. Allelochemicals may interfere with survival and growth of neighboring or succeeding plants, and may also discourage insects and pathogens. Black walnut, eucalyptus, sunflower, sorghum, sesame and alfalfa are common examples of plants with allelopathic properties. Likewise, staple crops such as rice, wheat, barley and sorghum also exhibit allelopathic characteristics.
Knowledge of this form of plant interference on other plants and on disease causing organisms has been used in agriculture since prehistoric time. By manipulating cropping pattern and sequence through mixed cropping or crop rotation, farmers have been able to maintain sustained productivity. However, use of numerous agrochemicals - including a wide range of herbicides, pesticides, fertilizers and genetically modified high yielding crops - has become the characteristic feature of modern industrial agriculture. Not only is the sustainability of crop yield called into question in this form of agriculture, but the extensive long-term and often irreversible environmental degradation including ground water contamination and food safety associated with industrial agriculture are now serious concerns worldwide.
This book reports on the latest advances in allelopathy through the contributions of leading scientists in the field. The book addresses the history of allelopathy, the science of allelochemicals, and the application of allelopathy in agriculture and forestry. An emphasis on both methodology and application makes Allelopathy a truly practical reference for scientists, researchers and students of plant science, agriculture, forestry, terrestrial ecology and environmental science.
Ren Sen Zeng, Ph. D. is a Professor of Ecology and Director of the Research Center for Chemical Ecology at South China Agricultural University (SCAU) in Guangzhou, China. He received his Ph. D. in Ecology from SCAU in 2000. Professor Zeng was elected as New Century Excellent Talents in University of China. He serves in the Executive Council of International Allelopathy Society. His research focuses on allelopathy and chemical interactions between plants and other organisms.
Azim Mallik, Ph. D. is a Professor of Biology and Chair of Graduate Studies Program in Biology at Lakehead University, Ontario, Canada. He received his Ph. D. from the University of Aebrdeen, U.K. Professor Mallik is widely published in peer-reviewed journals on disturbance ecology and allelopathy. He jointly edited a book with Professor Inderjit on Chemical Ecology of Plants. He received the Grodzinsky Award of International Allelopathy Society (IAS). Professor Mallik is a founding Vice-President and immediate past President of IAS and currently treasurer & executive board member of INTECOL.
Shi Ming Luo, Ph. D. is a Professor of Ecology and Director of the Institute of Tropical and Subtropical Ecology at South China Agricultural University. He received his Masters in Agronomy from SCAU in 1982 and an honorary doctorate degree from Pennsylvania State University. He served as the President of SCAU for eleven years. Professor Luo is Vice-President of the Ecological Society of China. His research interests include allelopathy and ecological agriculture.
Keywords
Agriculture
Allelopathy
Forestry
Fungi
Terrestrial ecology
currentjks
cyclin
ecosystem
environment
forest
nitrogen
pesticides
wheat
Bibliographic information
DOI

https://doi.org/10.1007/978-0-387-77337-7

Copyright Information

Springer Science+Business Media LLC 2008

Publisher Name

Springer, New York, NY

eBook Packages

Biomedical and Life Sciences

Print ISBN

978-0-387-77336-0

Online ISBN

978-0-387-77337-7
Industry Sectors