Dialogue as a Collective Means of Design Conversation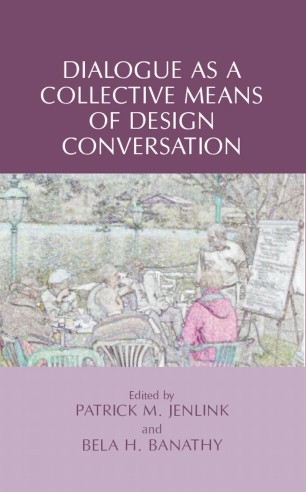 Table of contents
About this book
Introduction
Dialogue as a Collective Means of Design Conversation is the second volume edited by Patrick M. Jenlink and Bela H. Banathy to offer a cross-disciplinary approach to examining dialogue as a communicative medium. In this Compendium, the contributing authors set forth their ideas, experiences, and perspectives as the path of a learning journey—a journey of new meaning, of new understanding, and of becoming self-aware of design conversation as future creating and consciousness evolving. In particular, this volume comes at a time when we as a global society are faced with the question of how we shape our actions and in turn shape our future, through conversation that is focused on resolving global conflict and fostering world peace. The volume evokes in the reader a realization that our greatest potential rests, in no small measure, with our collective capacity for cultural creativity and in our capacity to achieve new levels of consciousness through dialogue and design conversation.
The Compendium is organized into five themes: Section I examines foundational perspectives of design conversation. The authors examine design conversation from philosophical, cultural, spiritual, and historical perspectives. Sections II-IV explores the philosophical and theoretical perspectives as well as methodological ideas related to conversation. These writings also delve into different modalities of conversation and the application of design conversation within and across various types of design settings and human experiences. In Section V the editor reflectively examines the contributions to the book and presents his own thoughts on the next steps in the evolutionary relationship of conversation, human systems, and systems design.
Patrick M. Jenlink, Professor of doctoral studies and Director of the Educational Research Center, Stephen F. Austin State University. Earlier positions include: Department Chair, Secondary Education and Educational Leadership, Stephen F. Austin State University (1997-2001), Assistant Professor, Western Michigan University (1988-1995) and Senior Research Associate, Learning Systems Change Group (1995-1997). His published books include: Systemic Change: Touchstones for the Future School (IRI Skylight, 1995), Marching into a New Millennium: Challenges to Educational Leadership (Scarecrow Press, 2000), Dialogue as a Means of Collective Communication (Kluwer Academic/Plenum Publishers, 2005), and Portraits of Teacher Preparation: Learning to Teach in a Changing America (Rowman and Littlefield, 2005).
Bela H. Banathy was Professor Emeritus of the Systems and Design Sciences at the Saybrook Graduate School and President of the International Systems Institute. Earlier, he was Associate Laboratory Director at the Far West Laboratory for Research and Development. He was a Past President of the International Society of the Systems Sciences and the International Federation of Systems Research. He published seven books, numerous chapters in books, and over a hundred articles and research reports. Recent publications include: Designing Social Systems in a Changing World (Plenum, 1996), Guided Evolution of Society: A Systems View (Kluwer Academic/Plenum Publishers, 2000), and Dialogue as a Means of Collective Communication (Kluwer Academic/Plenum Publishers, 2005).
Cover illustration by Doug Walton
Keywords
collective communication
communication
design conversation
dialogue discourse
social systems
systems design
Bibliographic information
DOI

https://doi.org/10.1007/978-0-387-75843-5

Copyright Information

Springer-Verlag US 2008

Publisher Name

Springer, Boston, MA

eBook Packages

Humanities, Social Sciences and Law

Print ISBN

978-0-387-75842-8

Online ISBN

978-0-387-75843-5