Genomics of Tropical Crop Plants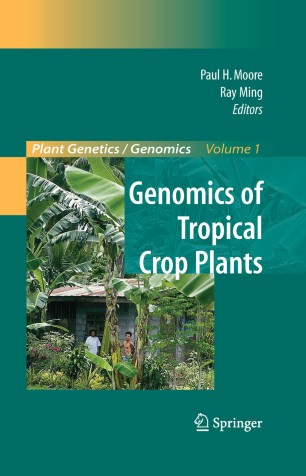 About this book
Introduction
Tropical crop plants are one of the natural world's most valuable assets. However, the genetic resources of tropical plants are underutilized and in danger of being lost due to the destruction of natural habitats, the high costs of conservation programs, and our lack of appreciation of the worth of these precious resources. Considering the tropical origin of much of the biological diversity that is responsible for genes and phenotypes of temperate crops, there is a critical need for assessing the genomics of tropical plant species.
Genomics of Tropical Crop Plants summarizes recent progress on genomic research, including the development of molecular markers, genomic and cDNA libraries, expressed sequence tags (ESTs), genetic and physical maps, gene expression profiles, and whole genome sequences for 20 tropical crop plants. It offers background information about the evolutionary origin and environments of tropical crop species, international programs that are addressing the needs of tropical agriculture, and the potential for new technologies to increase the productivity and value of tropical crops. This book provides new dimensions to growing information concerning temperate crops and their morphology, physiology, and parallel evolution in diverse plant lineages.
This book will appeal to graduate students, post graduates, researchers, and professionals in plant breeding, genetics, germplasm conservation, and agronomy of tropical crop plants.
About the Editors:
Paul H. Moore is a world authority on tropical plants with a particular focus on sugarcane, papaya, and pineapple. In his almost 40-year career, he has published over 150 papers in highly reputable scientific journals and is considered the foremost expert in sugarcane. He along with Dr. Ming are co-Editors-in-Chief of the new Springer journal, Tropical Plant Biology.
Dr. Ray Ming is an associate professor of plant biology at University of Illinois at Urbana-Champaign, Illinois and has done extensive research on papaya, coffee, pineapple, and sugarcane. His expertise includes work on evolution of sex chromosomes in plants, and the structure and organization of the papaya genome.
Keywords
Fruit
biodiversity
biotechnology
crop genomics
currentjks
plant genomics
plant science
tropical crop genomics
tropical crops
wheat
Bibliographic information