Treating Trichotillomania
Cognitive-Behavioral Therapy for Hairpulling and Related Problems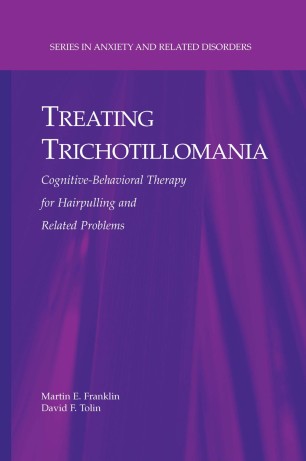 Table of contents
About this book
Introduction
Trichotillomania has been described in the literature for at least a hundred years, but has only in the past decade received serious clinical attention. Although now a "higher profile" disorder, there is still scant clinical information on trichotillomania. A full-length cognitive-behavioral treatment manual, Treating Trichotillomania (TTM) fills that need. Designing the book for maximum usefulness, authors Franklin and Tolin share their considerable expertise in treating body-focused repetitive behavior disorders (not only hair-pulling but skin-picking and nail-biting as well) in an accessible, clinically valid reference.
Treating Trichotillomania carefully defines TTM, differentiating the disorder from other conditions such as OCD, reviewing the varied clinical forms it can take, and setting out its diagnostic criteria. Treatment chapters are not one-size-fits-all, but offer an evidence-based framework to help practitioners in designing the most appropriate course of treatment across the developmental spectrum, from toddlers to elders. The authors give the reader:
Comprehensive discussion of assessment and treatment methods.

Key elements of treatment, including awareness training, habit reversal, and maintenance techniques.

Helpful ideas for treating clients with other disorders in addition to TTM.

"What Do We Need to Know?" chapter, addressing clients' and families' frequently asked questions.

Adjunctive cognitive-behavioral strategies, including family and group interventions.

Resources for clinicians, clients, and families.
With the increasing recognition of body-focused repetitive behavior disorders and their negative impact upon the lives of sufferers, the clinical psychologist, psychiatrist, social worker, counselor, or school practitioner needs the broadest understanding of the problem, which can be found in this reader-friendly volume.
Keywords
Acceptance and Commitment Therapy
Cognitive Restructuring
Management
Manual
Motivation
OCD
Training
assessment
attention
autism spectrum disorder
diagnosis
epidemiology
intervention
multiple Persönlichkeitsstörung
thinking
Bibliographic information