© 2008
Ambient Intelligence with Microsystems
Augmented Materials and Smart Objects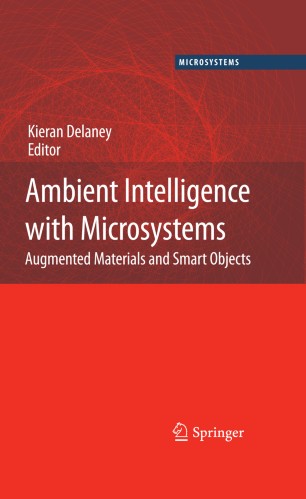 Table of contents
About this book
Introduction
Ambient Intelligence with Microsystems: Augmented Materials and Smart Objects
This text investigates relationships that Ambient Intelligence has with current and emerging Microsystems
Ambient Intelligence conceptualizes systems that are proactive, context-aware and unobtrusive. Microsystems enable these systems to be seamlessly integrated into everyday objects.
This work examines the opportunities and challenges in using integrated computing with MEMs sensors. It evaluates the impact of trends towards embedded sub-systems, including System-in-a-Package solutions, as well as rapidly growing areas of research, such as wireless sensor networks.
Methods for realizing smart objects are discussed, including smart textiles, intelligent surfaces, smart tracking and environmental monitoring systems, This provides for an infrastructure of heterogeneous systems attached to (or physically embedded in) everyday objects that enable collections of smart objects to collaborate and provide services.
Technical barriers are discussed as well as methods to meet the challenges of what is a strongly collaborative process. Co-design is integral to this; for optimal results the goal must be co-innovation, with the needs of key stakeholders recognised and addressed.
Ambient Intelligence with Microsystems: Augmented Materials and Smart Objects discusses the vision statements relevant to future embedded sensor platforms for smart objects and, ultimately, Ambient Intelligence.
Readers will find up to-date research in Ambient Intelligence and in Microsystems including;
A practical approach to realizing concepts within Ambient Intelligence, including new heterogeneous systems infrastructures and international R&D programs

Analyses of embedded microelectronic sub-systems and novel assembly techniques for autonomous MEMs sensors.

Reviews of initiatives in collaborative research that are leading to innovation in hardware, networking and software, including the effect of whole-systems methodologies
Ambient Intelligence with Microsystems: Augmented Materials and Smart Objects is written for researchers and professionals in the areas of microsystems, smart materials, ambient and pervasive systems, and those investigating and exploiting wireless sensor networks.
Keywords
CompTIA RFID+
Internet of Things
Smart Objects
ambient intelligence
biomimetics
embedded systems
knowledge
knowledge representation
optimization
pervasive computing
radio-frequency identification (RFID)
tracking
ubiquitous computing
Bibliographic information