© 2008
The Golden Mouse
Ecology and Conservation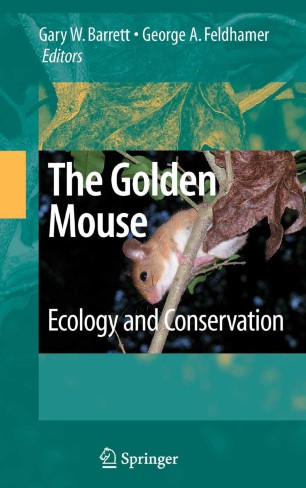 Table of contents
About this book
Introduction
No group of mammals has more species than Rodentia. With close to 2300 recognized species throughout the world, Rodents comprise about forty-two percent of all living mammalian species. These mammals can have major impacts on human life—they can be major crop depredators, vectors of disease, and important models for scientific research. When we hear the familiar phrase charismatic mammalian megafauna, we immediately envision large, powerful carnivores like lions and grizzly bears, or sleek, graceful ungulates like deer and antelope. But we rarely hear about charismatic mammalian microfauna, such as mice. The golden mouse is considered by many to be the most charismatic and ecologically unique of the mammalian microfauna.
This volume is the first attempt to draw together what is known about the golden mouse ranging from systematics, natural history, and population dynamics to coexistence, nesting behavior, and semi-arboreal living in managed and natural ecological systems. In this scholarly work, the golden mouse is used as a model to explore conceptual issues in ecology across levels of organization from organism to landscape, integrating reductionism and holistic ecological science. Chapters also include ecological processes such as behavior, energetics, evolution, and regulation that transcend these levels of organization. Future integrative research studies across levels of organization also are addressed. The Golden Mouse: Ecology and Conservation will interest students and professionals in conservation biology, ecology, mammalogy, and wildlife management, as well as readers interested in natural history.
About the Editors:
Gary W. Barrett is Odum Professor of Ecology at the University of Georgia, Athens, GA. George A. Feldhamer is Professor of Zoology, and Director of the Environmental Studies Program at Southern Illinois University, Carbondale, IL.
Keywords
Conservation biology
Fauna
Mammalia
behavior
community ecology
conservation
ecology
ecosystem
ecosystem ecology
environment
organization
predator
rarity
resource management
zoology
Bibliographic information
Reviews
From the reviews:
"A concise scholarly volume that summarizes the natural history of the Golden Mouse … . Highly recommended reading for students and professionals in mammalogy, ecology, wildlife biology, as well as readers with an interest in natural history." (Southeastern Naturalist, Issue 7/3, 2008)
"In The Golden Mouse: Ecology and Conservation, Barrett and Feldhamer have compiled a set of chapters that give us a glimpse into the intriguing world of their study species … . I found this to be an interesting and generally enjoyable read. … it will be of greatest appeal to ecologists and conservation biologists who likewise share a passion for small mammals. … it should serve as a valuable guide for those investigating other species with which the golden mouse interacts." (Catherine E. Burns, Journal of Mammal Evolution, Vol. 16, 2009)