© 2007
Secure Data Management in Decentralized Systems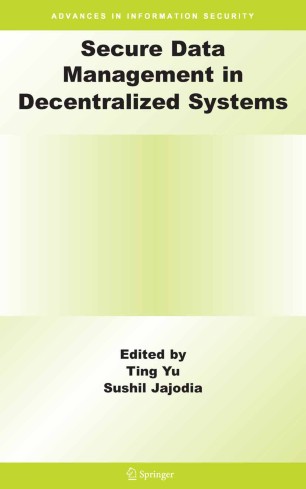 Table of contents
About this book
Introduction
The research scope of database security has expanded greatly, due to the rapid development of the global inter-networked infrastructure. Databases are no longer stand-alone systems that are only accessible to internal users of organizations. Instead, allowing selective access from different security domains has become a must for many business practices.
New data services are emerging every day, which also brings new challenges to protect data security. The internet and the web offer means for collecting and sharing data with unprecedented flexibility and convenience. Secure Data Management in Decentralized Systems identifies and addresses these new challenges. This volume presents a wide range of active areas, closely related to database security by distinguished leaders within this field. Solutions are included.
Secure Data Management in Decentralized Systems is designed for a professional audience composed of practitioners and researchers in industry. This book is suitable for graduate-level students in computer science as well.
Keywords
Access
Datenschutz
Extensible Markup Language (XML)
Protection
XML
access control
anonymity
computer science
data security
database
databases
information
organization
privacy
security
Bibliographic information
Reviews
From the reviews:
"Secure data management in decentralized systems is addressed in this book. … This book should appeal to researchers and graduate students who want to acquire in-depth knowledge of information security and its extension to distributed database systems. After reading the book closely, one will have a better understanding of the new set of issues and the complexity of securing distributed data in emerging environments." (Jean-Pierre Kuilboer, ACM Computing Reviews, Vol. 49 (4), April, 2008)