Violence in Europe
Historical and Contemporary Perspectives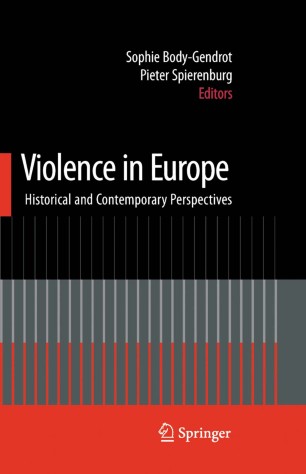 Table of contents
About this book
Introduction
SOFTCOVER EDITION
Has violence changed over the centuries? Has it always held the same meanings for us?
Will it always be a given in society?
Taking the sociocultural long view, Violence in Europe analyzes the prevalence and role of violence—from street crime to terrorist attacks, homicide to genocide—in the evolution of human and national behavior. The editors and 14 colleagues in history, anthropology, sociology, and psychology focus on Northern and Western Europe, examining centuries of violent phenomena, from the cultural logic of the Middle Ages to today's soccer riots and security alerts. The contributors' examination of social constructions (honor codes, class and gender roles) and public ambivalence (acceptance, abhorrence, fascination) regarding violence sheds needed light on current dynamics in law enforcement, political systems, and what many have termed "the civilization of violence."
Findings from Britain, France, Ireland, Belgium, and Scandinavia explore:
The paradoxes of ethnic violence and insider/outsider thinking in an increasingly multicultural world.

Trends in interpersonal violence during wartime and peacetime.

The gendering of violence, from early French marital laws to London's underground nightlife.

The growth of cities: modernization, conflict, aggression.

Modern prevention and surveillance strategies: effective solutions, complicating the problem, or some middle ground?
Reflecting innovative methods of research and interpretation, Violence in Europe is thought-provoking and instructive for researchers and students in psychology and criminology. And with the mounting global presence of violence today, this is reading with profound implications for the future.


"Any reader will appreciate the refreshing combination of theory and detail to be found here. Together with their collaborators Body-Gendrot and Spierenburg have produced a book that should be read by scholars, students and anybody interested in how violence transcends nations and cultures."
H.V. Savitch
Brown and Williamson Distinguished Research Professor
The University of Louisville
Keywords
Nation
Violence
ethnic violence
gender roles
social constructions
violence in europe
violence research
Bibliographic information