Words and Intelligence II
Essays in Honor of Yorick Wilks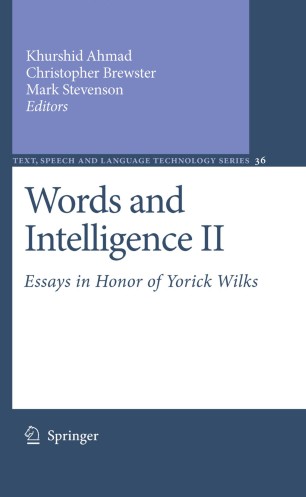 Table of contents
About this book
Introduction
Yorick Wilks is a central figure in the fields of Natural Language Processing and Artificial Intelligence. His influence has extends to many areas of these fields and includes contributions to Machine Translation, word sense disambiguation, dialogue modeling and Information Extraction.
This book celebrates the work of Yorick Wilks from the perspective of his peers. It consists of original chapters each of which analyses an aspect of his work and links it to current thinking in that area. His work has spanned over four decades but is shown to be pertinent to recent developments in language processing such as the Semantic Web.
This volume forms a two-part set together with Words and Intelligence I, Selected Works by Yorick Wilks, by the same editors.
Keywords
Artificial
Dialogue
Disambiguation
Machine
Translation
Wilks
artificial intelligence
machine translation
natural language processing
ontology
semantics
Bibliographic information