Religion and the Decline of Fertility in the Western World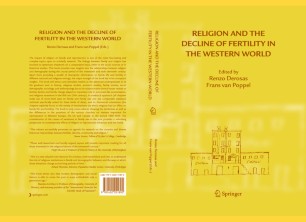 About this book
Introduction
The impact of religion on family and reproduction is one of the most fascinating and complex topics open to scholarly research. The linkage between family and religion has received no systematic treatment on a comparative basis, either in the social sciences or in historical studies. This book provides new insights into the relationships between religion and demography during the crucial period of the nineteenth and early twentieth century. Apart from providing a wealth of descriptive information on family life and fertility in different national and religious settings, the major strength of the book lies in its conceptual insights. The book will attract and stimulate readers at the advanced undergraduate or at the graduate level in history, religious studies, women's studies, family studies, social demography, sociology, and anthropology due to its subject matter (moral issues related to fertility decline and family change played an important role in processes like secularisation, and religious secessions in the19th and 20th century), its analytical approach (all chapters make use of micro-level data on family and family size and use comparable statistical methods specifically suited for these kinds of data), and its theoretical orientation (the chapters explicitly focus on the variety of mechanisms via which religions had an effect on family life and fertility). The book is truly cross-cultural, showing the similarities as well as the differences in the positions of the various churches on matters important for reproduction in Western Europe, the US and Canada in the period 1850-1950. The consideration of the causes of variations in family size in the past provides a refreshing perspective on contemporary effects of religion on reproductive behaviour and the family.
"This volume successfully promotes an agenda for research on the complex and diverse historical relationships between fertility, identity, community and religion." Simon Szreter, Fellow of St John's College, Cambridge
"These well-researched and lucidly argued papers will provide important reading for all those interested in the religious history of the nineteenth century." Hugh McLeod is Professor of Church History at the University of Birmingham
"This is a very valuable new resource for scholars, both established and new, to understand the role of religious institutions in family and demographic behavior and the ways in which those behaviors change across long periods of time." Arland Thornton, Director, Population Studies Center, University of Michigan
"This book shows also that modern demographic and social history is able to revive the past in ways unthinkable only a generation ago." Massimo Livi-Bacci is Professor of Demography, University of Florence, and honorary president of the "International Union for the Scientific Study of Population".
Keywords
Demography
Family
Fertility
Fertility decline
Fertility transition
Institution
Nation
Nineteenth century
Population
Religion
Sociology
Bibliographic information