© 2006
EMBODIMENT AND EDUCATION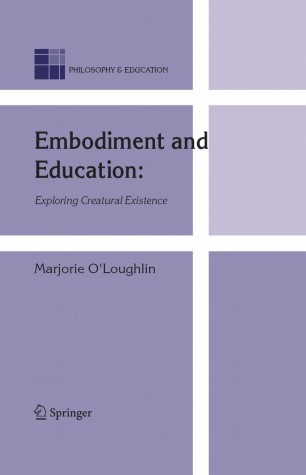 About this book
Introduction
Discursive accounts of the body have been prominent recently. While acknowledging the usefulness of these, the author, drawing upon specific philosophers of the body and a wide range of other theorists, focuses attention on the experiencing body - which she refers to as 'creatural existence'. Thinking in terms of the creatural, she argues, can better situate human beings in their environment, thus emphasizing a kind of 'ecological notion of subjectivity', in which place-based existence is understood anew.
The educational implications of focusing on what bodies 'do' and not so much in terms of how they are socially inscribed, presents them as practico-sensory totalities which should perhaps be seen as systems rather than an as a mere organism or entity. Such an articulation of creatural existence emphasizes animality, and in so doing reminds us of the centrality of the senses in all knowing and doing, including crucially, in relation to those practices which we have understood as 'work'. Multi-sensorial education is a major sub-theme of the book and the author argues persuasively for this by means of a critical analysis of the ocular centrism that is characteristic of contemporary culture.
With its strong philosophical anchoring and its judicial use of interdisciplinary sources this book will appeal to both undergraduate and graduate students and their teachers not only in the field of philosophy of education but those from many others disciplines. It will also interest primary and secondary school teachers, curriculum designers and education policy makers.
'Marjorie O'Loughlin shows in this book that embodiment ought to be central to human hopes to be whole persons, who are not merely productive but who are also expressive of our potentiality. Her 'creatural existence' grounds this in our fleshly selves, and she explores it through the emotions, through work, and through citizenship. Her achievement here is profound: in one book, we find an interdisciplinary account of the evidence for creatural existence, presented accessibly in first-person philosophical narrative, based mainly on Merleau-Ponty. If bodies matter more than ever in everyday life, educators should start with our fleshly selves and move creatively forward. O'Loughlin points out the direction...and pushes us persuasively: you can feel the nudge!'
David Beckett, Associate Professor, Faculty of Education, University of Melbourne
Keywords
Professor
education
education policy
knowledge
philosophy
university
Bibliographic information
Reviews
"The author's achievement here is profound: in one book, we find an interdisciplinary account of the evidence for creatural existence, presented accessibly in first-person philosophical narrative, based mainly on Merleau-Ponty. If bodies matter more than ever in everyday life, educators should start with our fleshly selves and move creatively forward. O'Loughlin points out the direction[...]and pushes us persuasively: you can feel the nudge!"
(David Beckett, Associate Professor, Faculty of Education, University of Melbourne)