© 2005
Geophysics of the Canary Islands
Results of Spain's Exclusive Economic Zone Program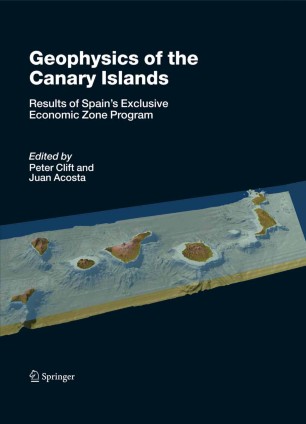 Table of contents
About this book
Introduction
This book contains the results of a 9 year (1995-2004) investigation of the Canary Islands Exclusive Economic Zone, using state of the art technology. The main result areas are:
a multibeam survey demonstrating the magnitude of catastrophic failures of the Canary Islands;
a comparison of the morphology of the Canary Islands with Hawaii;
the significance of hydrothermal activity in the Canary Channel associated with Mesozoic salt diapirs;
an analysis of the morphology and structure of the offshore extension of the Anaga massif in Tenerife island;
a detailed description of the archipelago gravity field and magnetic field of the Canary Islands.
All in all the wealth of new data and ideas presented in this collection of papers has rarely been equaled in an investigation of an oceanic island group.
This book is very useful for researchers, graduates and undergraduates interested in ocean research.
Reprinted from Marine Geophysical Researches Vol. 24 : No. 1-2, 2003
Keywords
Geophysics
Marine Gravity
Marine Magnetism
Multibeam mapping, Canary Island
Ocean
Salt diapirism
Submarine Avalanches, Geomorphology
Bibliographic information