Responsibility And Punishment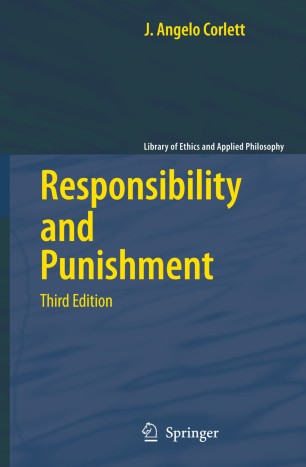 About this book
Introduction
Responsibility and Punishment, Third Edition presents a clear-headed defense of retributivism against several long-standing criticisms. In the end, a viable version of retributivism emerges as one which withstands more criticism than competing theories of responsibility and punishment. Extending the problem of wrong doing to collectives and compensation, Corlett explores the matter of reparations for past wrongs in the case of the crimes committed against Native Americans by the United States Government. No other philosophical work on responsibility and punishment exhibits this breadth of scope, as it delves deeply into particular concerns with retributivism, responsibility, and certain areas of compensation. Academicians and professionals in ethics, moral, social, political, and legal philosophy are likely to benefit from this analytical treatment of responsibility and punishment.
"In the Third Edition of Responsibility and Punishment, Angelo Corlett has made an outstanding book even better! Corlett's book is distinctive in the way it blends abstract theory with concrete application in a sophisticated way. There is work just on theory, and primarily applied work; but Corlett manages to meld the two in a unique and highly successful way. Highly recommended!"
John Martin Fischer, author of "The Metaphysics of Free Will" and "Responsibility and Control".
"This provocative and highly insightful piece of work constitutes a novel, significant, and welcome contribution to the literature on the moral justification of punishment. Corlett's development of an original version of retributivism, with special emphasis on principles of proportional punishment, is particularly engaging."
Ishtiyaque Haji, author of "Deontic Morality" and "Moral Appraisability".
J. Angelo Corlett is Professor of Philosophy & Ethics at San Diego State University, and author of over 75 articles in various leading philosophy and other academic journals, including the books: Analyzing Social Knowledge (Rowman and Littlefield Publishers, 1996); Terrorism: A Philosophical Analysis (Kluwer Academic Publishers, 2003), Philosophical Studies Series, Volume 101; Race, Racism, and Reparations (Cornell University Press, 2003). He also serves as the Editor-in –Chief of The Journal of Ethics: An International Philosophical Review (Springer), and is the editor of and contributor to Equality and Liberty: Analyzing Rawls and Nozick (Macmillan, 1990).
Keywords
Crime
Immanuel Kant
compensation
ethics
morality
philosophy
reparations
responsibility
retributivism
Bibliographic information