© 2005
Surviving Globalization?
Perspectives for the German Economic Model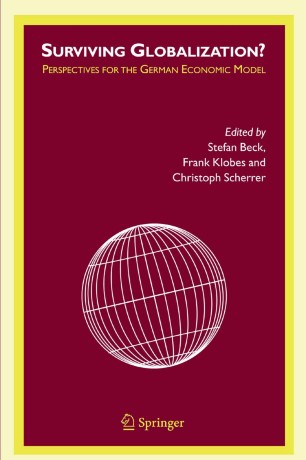 About this book
Introduction
society, and state (Streeck, 1999; Simonis, 1998). Interspersed between these most commonly named elements are the following: First, the high political integrating force of the German Model after WWII was based on the adoption and transformation of corporatist political structures from National Socialist Germany. Liberal capitalism was (re)introduced under political competition between Christian Democrats and Social Democrats, who eventually found common ground in the politically mediated compromise between capital and labor: "This compromise was negotiated and institutionalized at a time when the communist wing of the workers movement and the authoritarian voices of German capital – for various reasons – were excluded from political participation" (Streeck, 1999, p. 15; translation: SB). The partnership between firms and unions manifested itself in manifold institutional structures. Apart from the social partners' autonomy in matters of wage policy, worker codetermination at plant level and in operations is regarded as one of the special achievements of the German Model and has contributed substantially to social peace. The political coordination forms of concerted action, round tables, as well as modernization and crisis cartels gave birth to a highly complex political decision-making structure which, based on a federalist setup, has rightly been called "negotiation state" (Esser, 1998, p. 123). Second, the material foundation of this "Social Democratic class compromise" (Buci-Glucksmann & Therborn, 1981) consisted in the Federal Republic's – in the words of Göste Esping-Andersen – "conservative-liberal" form of welfare state.
Keywords
Institution
Nation
change
globalization
institutional
integration
parapluprod
policy
state
welfare
Bibliographic information