A Practical Guide to Service Learning
Strategies for Positive Development in Schools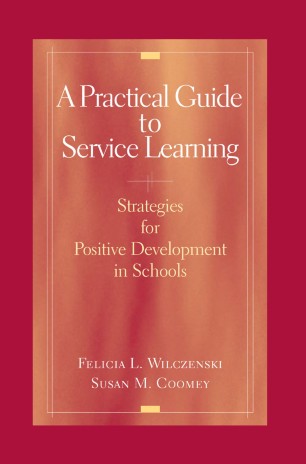 Table of contents
About this book
Introduction
The ultimate goal for school psychologists, teachers, and other allied mental health and educational professionals is to ensure that all children are able to achieve academic success in the classroom. Still, a significant number of schoolchildren feel caught in an academic, social-emotional vortex that can be demoralizing, isolating, and disorienting. Some may be cognitively impaired. Others may simply be bored. Many are well-adjusted but overwhelmed with academic and extracurricular demands.
Ensuring that all students achieve their full academic potential is no small feat. Service learning – an experiential approach to education that involves students in meaningful, real-world activities – can advance social, emotional, and academic curricula goals while simultaneously benefiting the students and their communities. It supports character development by providing situations in the community in which caring, helping, and collaboration as well as sensitivity to culture and social justice issues become integral parts of the educative process.
A Practical Guide to Service Learning: Strategies for Positive Development in Schools is a valuable resource that:
Describes how service learning – an intervention that can be both remedial or preventive and individual or systemic – can enable school psychologists and other educational and counseling professionals to expand their roles beyond working with special populations to serving students within the academic mainstream.
Highlights the connections between the positive psychology movement, the nurturing of purpose in youth, and the benefits of service learning.
Introduces case studies of school-based mental health professionals who have implemented service learning.
Provides practical materials and forms to guide mental health practitioners in organizing and assessing service learning activities.
School psychologists, counselors, allied educational and mental health practitioners – and anyone who works with children in schools – will find this volume a must-have reference.
Keywords
Career Exploration
Development Assets
Guidance
Intervention
Interventions
Resilience
School Counseling
School Psychology
Service Learning
Service-Learning
Social - Emotional Development
character
learning
Bibliographic information