Abstract
The current experiments used categorical mid-session reversal (MSR) to examine how eight pigeons utilized categorical and item-specific mechanisms to learn and solve a novel variation of this task. Employing a fixed order of trial-unique pictorial items from two categories (flowers and cars) on each simultaneous discrimination trial, categorical and item-specific information was available during each session's 80 trials. Choices to one category were rewarded for the first 40 trials, after which the correct category was reversed (e.g., car correct early → flower correct late). This procedure selectively impacts the time-modulated utility of categorical identification, but leaves exclusively item-specific information intact. Results revealed that categorical control emerged rapidly and before item-specific memorization, which came after extended experience. Both types of control occurred within a session, with control modulated by their time-based relative utility. The implications for the timing, ordering, and attention by animals to categorical and item-specific information is considered.
Access options
Buy single article
Instant access to the full article PDF.
US$ 39.95
Tax calculation will be finalised during checkout.
Subscribe to journal
Immediate online access to all issues from 2019. Subscription will auto renew annually.
US$ 79
Tax calculation will be finalised during checkout.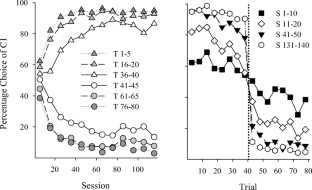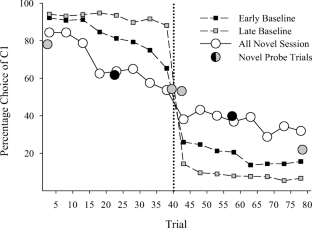 Additional information
Publisher's note
Springer Nature remains neutral with regard to jurisdictional claims in published maps and institutional affiliations.
Open Practices Statement
This experiment was not preregistered. The materials and data are available upon request from the corresponding author at Robert.Cook@tufts.edu.
Supplementary Information
About this article
Cite this article
Cook, R.G., Rayburn-Reeves, R.M. & Qadri, M.A.J. Within-session dynamics of categorical and memory mechanisms in pigeons. Psychon Bull Rev (2020). https://doi.org/10.3758/s13423-020-01842-4
Keywords
Categorization

Memorization

Cognitive flexibility

Pigeons