Behavioral measures of attention and cognitive control during a new auditory working memory paradigm
Abstract
Proactive control is the ability to manipulate and maintain goal-relevant information within working memory (WM), allowing individuals to selectively attend to important information while inhibiting irrelevant distractions. Deficits in proactive control may cause multiple cognitive impairments seen in schizophrenia. However, studies of cognitive control have largely relied on visual tasks, even though the functional deficits in schizophrenia are more frequent and severe in the auditory domain (i.e., hallucinations). Hence, we developed an auditory analogue of a visual ignore/suppress paradigm. Healthy adults (N = 40) listened to a series of four letters (600-ms stimulus onset asynchrony) presented alternately to each ear, followed by a 3.2-s maintenance interval and a probe. Participants were directed either to selectively ignore (I) the to-be-presented letters at one ear, to suppress (S) letters already presented to one ear, or to remember (R) all presented letters. The critical cue was provided either before (I) or after (S) the encoding series, or simultaneously with the probe (R). The probes were encoding items presented to either the attended/not suppressed ear ("valid") or the ignored/suppressed ear ("lure"), or were not presented ("control"). Replicating prior findings during visual ignore/suppress tasks, response sensitivity and latency revealed poorer performance for lure than for control trials, particularly during the suppress condition. Shorter suppress than remember latencies suggested a behavioral advantage when discarding encoded items from WM. The paradigm-related internal consistencies and 1-week test–retest reliabilities (n = 38) were good to excellent. Our findings validate these auditory WM tasks as a reliable manipulation of proactive control and set the stage for studies with schizophrenia patients who experience auditory hallucinations.
Keywords
Attention 
Auditory modality 
Proactive control 
Test–retest reliability 
Working memory 
The ability to selectively attend to goal-relevant information is essential to a properly functioning working memory (WM) system (see, e.g., see Jonides & Nee, 2006, for a review). This skill, referred to as proactive control, allows individuals to disregard task-irrelevant information while simultaneously maintaining and updating information needed to achieve specific goals. Proactive control has been empirically connected to performance on various WM tasks, such as those related to WM span (e.g., reading span task; Whitney, Arnett, Driver, & Budd, 2001). In the realm of neuropsychiatric disorders, proactive control has been identified as a putative source of multiple cognitive impairments seen in patients diagnosed with schizophrenia (Barch & Ceaser, 2012). Indeed, impairments in both cognitive control and WM are among the most frequently cited cognitive deficits associated with schizophrenia (e.g., Barch, 2005; Barch et al., 2004; Smith, Eich, Cebenoyan, & Malapani, 2011).
In the context of WM, cognitive control has been successfully examined in both healthy and psychiatric populations using a combination of tasks that require participants to either (1) prevent (ignore) irrelevant information from entering WM or (2) retroactively suppress irrelevant information that has already entered WM (Nee & Jonides, 2008, 2009; Smith et al., 2011). These so-called ignore/suppress tasks have been successfully used with schizophrenia patients (Eich, Nee, Insel, Malapani, & Smith, 2014; Smith et al., 2011) and have also been identified by the Cognitive Neuroscience Treatment Research to Improve Cognition in Schizophrenia (CNTRICS) consortium as one of two promising WM paradigms to study interference control (goal maintenance being the other) for the development of neuroimaging biomarkers in schizophrenia (Barch, Moore, Nee, Manoach, & Luck, 2012).
The purpose of the ignore/suppress tasks is to distinguish between perceptual encoding and maintenance of information within WM. In each task, participants are presented with a series of items (the encoding set), which is then followed by a brief delay (maintenance interval). The maintenance interval is followed by a probe, which consists of a stimulus that either was or was not present during encoding. The participant's task is to indicate whether the probe was included within a targeted subset of the encoding set. The critical difference between the ignore and suppress tasks lies in when (relative to encoding) the participant is given instructions on how to process (i.e., either ignore or suppress) items from the encoding set. In a typical example of this task, participants are presented with a list of words displayed in one of two different colors (e.g., teal or blue; Nee & Jonides, 2009). In the ignore task, prior to the start of encoding, participants are instructed to ignore any stimulus presented in one of the two colors (e.g., ignore all words presented in teal). In contrast, instructions for the suppress task do not appear until after all items from the set have been encoded and stored in WM (e.g., suppress information about items that were presented in teal when responding to the probe). The timing of the instructions allows for the dissociation of bottom-up attentional or perceptual processing of encoding items (via ignore) and the top-down cognitive/proactive control processes (via suppress). That is, the ignore task taps into the ability to filter out items that are task-irrelevant, whereas the suppress task measures the ability to actively manipulate information already held within WM.
The measurement of how well participants can either filter irrelevant information (ignore) or manipulate information stored in WM (suppress) lies in responses to three separate types of probes (see also Fig.
1
below). Probes that were presented during encoding and selectively attended are considered "valid." The critical comparison is between probes that were not presented at all during encoding ("controls") and probes that were presented during encoding but were not selectively attended ("lures"). Responses to both lure and control items are considered
negative
—when presented with either of these items, the correct response is
no
, the item was
not
part of the encoding set to which the participant should have been attending. The extent to which responses to lures and controls differ offers insight into how well the participant effectively (1) inhibited irrelevant information from entering WM or (2) manipulated information already stored in WM.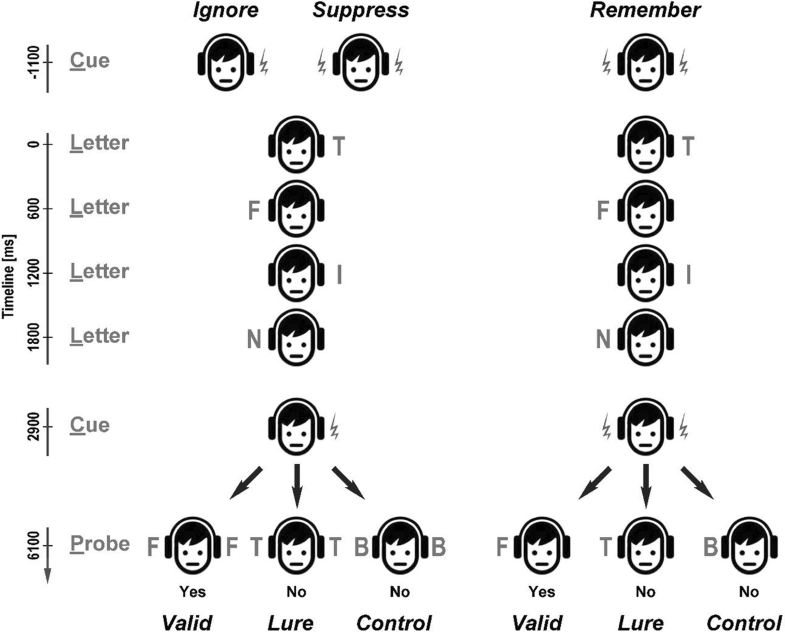 Behavioral results from these tasks in healthy populations reveal longer reaction times (RTs) and increased error rates in response to lure as compared to control trials. Furthermore, this difference is more pronounced in the suppress task than in the ignore task (e.g., Monsell, 1978; Nee & Jonides, 2008; Smith & Jonides, 1998). Smith et al. (2011) used the ignore/suppress paradigm to investigate perceptual and memorial selection processes in schizophrenia. In this study, 24 healthy controls (HC) showed poorer performance during suppress than ignore, as reflected by increased RTs and error rates for lure over control items. As compared to HC, 17 schizophrenia patients (SZ) showed a similar response pattern, and critically had particularly poorer performance in the suppress than ignore task, which Smith et al. interpreted as a deficit in selecting or manipulating information within WM. Eich et al. (2014) substantially replicated the behavioral suppress effects for 18 SZ patients.
Although most studies using visual ignore/suppress tasks have focused on verbal WM, comparable effects can also be observed with visual objects (Cyr et al., 2017). In sum, visual ignore/suppress tasks have proven to be powerful tools for studying the distinct roles of top-down cognitive control and bottom-up perceptual selection in the context of WM processing. For these reasons, these tasks have been identified as a particularly useful paradigm for the study of inhibitory control in patients with schizophrenia, assisting ongoing efforts to identify behavioral and neuroimaging markers that are predictive of treatment outcomes (Barch et al., 2012).
However, these tasks have not been employed in any context other than the visual modality, and yet, the examination of proactive control in the auditory domain would be of particular interest for studying cognitive impairments in schizophrenia, as patients show greater deficits in the auditory as opposed to the visual modality (e.g., Pelletier, Achim, Montoya, Lal, & Lepage, 2005). Electrophysiologic abnormalities in schizophrenia, particularly reductions of the P3 component thought to reflect cognitive processing, are more robust and common with tasks using auditory than visual stimuli (e.g., Ford, 1999; Jeon & Polich, 2003; Kayser, Tenke, Gil, & Bruder, 2009). These deficits may be directly related to the close association between language and phonological representations (Crow, 2004), the phonological code itself closely tied to working memory processes (Baddeley, 1983), and possibly to a higher occurrence of auditory than visual hallucinations in schizophrenia (Ford, 1999). Indeed, it has been proposed that auditory hallucinations in schizophrenia may result from a deficit in cognitive control (e.g., Badcock & Hugdahl, 2014; Hugdahl, 2009; Lewis-Hanna, Hunter, Farrow, Wilkinson, & Woodruff, 2011). An auditory ignore/suppress paradigm could therefore be of value for understanding the cognitive mechanisms behind auditory hallucinations.
Further motivation for the examination of auditory processing stems from notable differences in information processing that exist between auditory and visual modalities. In contrast to the visual system, where information is immediately available at the onset of stimulus presentation, auditory stimulus analysis requires the rapid and highly sequential temporal integration of sound (e.g., Ungerleider, Courtney, & Haxby, 1998; Ungerleider & Haxby, 1994). The implementation of a task that takes advantage of the sequential nature of auditory processing could aid in revealing mechanisms underlying specific deficits in patients with schizophrenia, involving receptive language or phonological processing, which have been hypothesized to be at the core of the disorder (e.g., Angrilli et al., 2009; Condray, 2005; Crow, 1997).
In the present study, we aimed to develop a feasible paradigm to examine cognitive control in the context of WM within the auditory domain. The auditory WM tasks were optimized for simultaneous recordings of event-related potentials (ERP) and oscillations (ERO), as these measures would likely reveal critical information on the role of "bottom-up" sensory or perceptual processes and "top-down" attentional or cognitive control processes in WM and their underlying brain mechanisms.1 The implemented tasks combine aspects of a serial position test (SPT) and dichotic listening tasks, which have revealed behavioral (Bruder et al., 2011) and ERP abnormalities in schizophrenia (Bruder et al., 1999; Kayser et al., 2006), along with the central aspect of visual ignore/suppress tasks, which engage cognitive control during WM processing.
In addition to examining auditory WM during ignore/suppress tasks, we aimed to further previous work through the inclusion of a novel task. Motivation for this stems from concerns regarding the interpretation of impaired performance on the suppress task relative to the ignore task, which applies to both healthy individuals and patients with schizophrenia (e.g., Nee & Jonides, 2008, 2009; Smith et al., 2011). In both the original visual tasks (and the proposed auditory tasks), the suppress task requires participants to maintain information about both the items from the encoding set (i.e., the content) and information regarding the context in which the item is to be remembered (e.g., which item was presented and in which color or location). This is also known as content–context binding (e.g., Cyr et al., 2017; Nee & Jonides, 2013). Contextual (or source) memory is not called on in the same way during the ignore task, in which contextual information can be disregarded prior to encoding, maintenance or retrieval. The additional memory load required to maintain and recall contextual information could result in poorer performance on the suppress task and thereby constitutes a potential confound.
Hence, we opted to include an auditory implementation of the original item-recognition task (Sternberg, 1966, 1969), given that the ignore and suppress tasks are variants of this item-recognition memory task (Smith et al., 2011). In this "remember" task, participants were instructed to remember all items in the encoding set prior to the start of encoding. This additional task was intended to serve as a control for the role of WM load as well as contextual (source) memory during the suppress task. The extent to which performance differs between suppress and remember tasks will demonstrate whether discarding irrelevant items already encoded in WM provides a distinct advantage during retrieval, as encoding demands are identical for suppress and remember tasks.
The overarching goal of the present study was to introduce a feasible test of proactive control during a WM paradigm within the auditory domain. Accordingly, we report behavioral evidence from new auditory WM tasks designed to emulate visual ignore/suppress tasks (e.g., Nee & Jonides, 2008, 2009). We sought (1) to determine whether the same pattern of behavioral results found in prior work with healthy individuals using visual tasks extends into the auditory domain, and (2) to assess the psychometric properties of the auditory tasks (i.e., internal consistency and temporal stability of behavioral performance measures) by administering comparable versions of these tasks to the same participants after one week. At the same time, we also expanded this paradigm by including an auditory analogue of an item-recognition (remember) task as a specific control condition for the suppress task. Achieving these goals would establish this new paradigm as a useful tool for examining and distinguishing "bottom-up" and "top-down" cognitive control processes in auditory WM, which would be of considerable value for future research with both healthy and psychiatric populations.
Specifically, we predicted poorer performance (decreased response accuracy, increased response latencies) during the suppress task than during the ignore task, and for lure than for control items. We further hypothesized that this condition difference would be greater during the suppress task than during the ignore task, as has been previously reported for the visual implementation of these tasks (e.g., Monsell, 1978; Nee & Jonides, 2008; Smith et al., 2011; Smith & Jonides, 1998). It was expected that these critical effects are robust and will therefore yield strong test–retest reliability and high internal consistency. With regard to the novel remember task, we hypothesized poorer performance for the remember as compared to the suppress task due to increased WM load at item retrieval.
Notes
Acknowledgements
This study was supported by grant MH106905 (to J.K.) from the National Institute of Mental Health (NIMH). The contribution of co-author K.H. was supported by funds from the European Research Council (Advanced Grant #693124), Helse-Vest (Grant #911793), and the Research Council of Norway (Grant #221550). Preliminary analyses of these data were presented at the 57th Annual Meeting of the Society for Psychophysiological Research, Vienna, Austria, October 11–15, 2017, and the 19th World Congress of Psychophysiology (International Organization of Psychophysiology), Lucca, Italy, September 4–8, 2018. Thanks are also due Andre Beauducel for discussing options for reporting test–retest reliabilities.
Open Practices Statement
The data and materials on which this report is based are available. The experiment was not preregistered.
Copyright information
© The Author(s) 2019
Open Access This article is distributed under the terms of the Creative Commons Attribution 4.0 International License (http://creativecommons.org/licenses/by/4.0/), which permits unrestricted use, distribution, and reproduction in any medium, provided you give appropriate credit to the original author(s) and the source, provide a link to the Creative Commons license, and indicate if changes were made.