Abstract
Noise spectra are studied in two situations: during the simultaneous boring of two holes in a large housing; and during the turning of a wheel-pair shaft on a special lathe. The spectral composition of the noise is analyzed.
This is a preview of subscription content, log in to check access.
Access options
Buy single article
Instant access to the full article PDF.
US$ 39.95
Price includes VAT for USA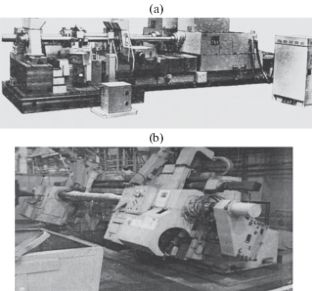 REFERENCES
1

ILO standards on occupational safety and health. Promoting a safe and healthy working environment, Proc. 98 Session of Int. Labor Conf., Geneva: Int. Labour Off., 2009.

2

Bastgen, A. and Holzner, C.L., Employment protection and the market for innovations, Labour Econ., 2017, vol. 46, pp. 77–93.

3

Pushenko, S.L., Strategic management of risks and labor protection, Inzh. Vestn. Dona, 2012, no. 1, pp. 95–99.

4

Finochenko, T.A. and Semiglazova, E.A., Professional risk control, Materialy Mezhdunarodnoi nauchno-prakticheskoi konferentsii "Transport i logistika: innovatsionnoe razvitie v usloviyakh globalizatsii tekhnologii i ekonoomicheskikh svyazei" (Proc. Int. Sci.-Pract. Conf. "Transport and Logistic: Innovative Development in Conditions of Global Technology and Economic Cooperation"), Rostov-on-Don: Rostovsk. Gos. Univ. Putei Soobshch., 2017, pp. 241–245.

5

Pereverzev, I.G., Finochenko, V.A., and Finochenko, T.A., Spetsial'naya otsenka uslovii truda: metodicheskoe posobie dlya chlenov komissii predpriyatii po provedeniyu spetsial'noi otsenki uslovii truda (Specific Assessment of Labor Conditions: Guide for Members of Industrial Commissions for Special Evaluation of Labor Conditions), Rostov-on-Don, 2016.

6

Finochenko, T.A. and Semiglazova, E.A., Occupational health and safety at automobile enterprises and transport shops, Inzh. Vestn. Dona, 2018, no. 11 (170), pp. 40–45.
About this article
Cite this article
Goguadze, M.G. Noise from Boring Machines and Shafting Lathes. Russ. Engin. Res. 40, 495–496 (2020). https://doi.org/10.3103/S1068798X20060118
Received:

Revised:

Accepted:

Published:

Issue Date:
Keywords:
noise

workplaces

shaft turning

shafting lathe

boring

noise spectra