Abstract
The article reviews laboratory and operational studies on the electrical effect on motor oils to reduce friction and wear of interfaces, improve engine performance, and reduce fuel consumption. The authors describe tests on a TRB-S-DE tribometer and SMT-1 friction machine upon entry of zinc, tin, copper, aluminum, iron, and carbon electrodes into motor oil and application of a DC voltage up to 100 V. At the optimal electrode voltage, the friction coefficient decreases markedly, as does wear by up to 2.7–2.9 times.
This is a preview of subscription content, log in to check access.
Access options
Buy single article
Instant access to the full article PDF.
US$ 39.95
Price includes VAT for USA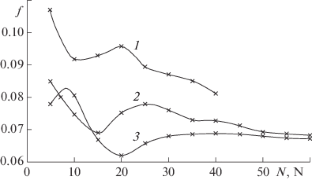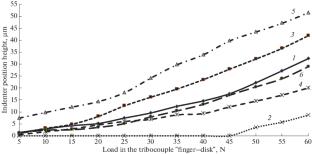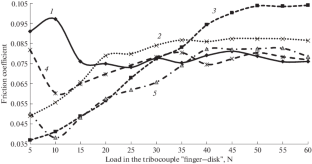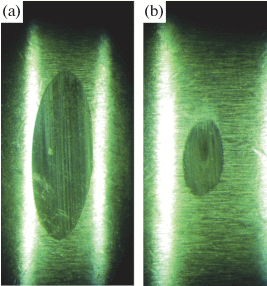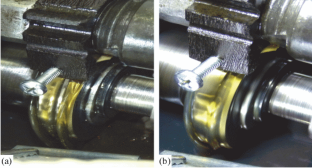 REFERENCES
1

Dunaev, A.V. and Filippova, E.M., Netraditsionnaya tribotekhnika dlya povysheniya resursa avtotraktornoi tekhniki. Itogi 25-letnego razvitiya. Monografiya (Nontraditional Tribology to Improve Service Life of Automobile and Tractor Machines: The Results of 25-Year Studies. Monograph), Moscow: Vseross. Nauchno-Issled. Tekhnol. Inst. Remonta Ekspl. Mash.-Trakt. Parka, 2017.

2

Rudnev, V.K., Kostin, N.N., Kurban, V.D., Starunov, V.M., Matyukhin, A.I., Kosolapov, V.B., and Lysikov, E.N., RF Patent 2101480, 1998.

3

Voronin, S.V. and Dunaev, A.V., Effects of electric and magnetic fields on the behavior of oil additives, J. Frict. Wear, 2015, vol. 36, no. 1, pp. 33–39.

4

Lyubimov, D.N., Dolgopolov, K.N., Vershinin, K.N., and Dunaev, A.V., Antifriction efficiency of oil polarization as an innovative factor in the modernization of machines, Tr. Vseross. Nauchno-Issled. Tekhnol. Inst. Remonta Ekspl. Mash.-Trakt.Parka, 2014, vol. 116, pp. 40–44.

5

Dubinin, A.D., Energetika treniya i iznosa detalei (Energy of Friction and Wear of Machine Parts), Kiev: Mashgiz, 1963.

6

Zaslavskii, Yu.S. and Artem'eva, V.P., Novoe v tribologii smzaochnykh materialov: Monografiya (New in Tribology of Lubricants: Monograph), Moscow: Neft' i Gaz, 2001.

7

Rybnikov, Yu.S., The electrophysical principles of the interaction of bodies during friction and the electromechanical nature of the self-organizing mode of electrical wear and electro-destruction of tribocouple materials during sliding and rolling friction, Trenie Smazka Mash. Mekh., 2012, no. 8, pp. 29–32.

8

Akhmatov, A.S., Molekulyarnaya fizika granichnogo treniya (Molecular Physics of Interface Friction), Moscow: Fizmatgiz, 1963.

9

Shimonaev, G.S., Penchul, A.F., Maryakhin, N.M., Yudina, L.E., Vipper, A.B., and Lisovskaya, M.A., The nature of charge carriers in motor oils with multifunctional additives, Mir Nefteprod., 1995, no. 2, pp. 44–47.
About this article
Cite this article
Gvozdev, A.A., Dunaev, A.V. Reduced Intensity of Wear During Electrical Action on Oils. J. Frict. Wear 41, 282–286 (2020). https://doi.org/10.3103/S106836662003006X
Received:

Revised:

Accepted:

Published:

Issue Date:
Keywords:
oil

electrical activation

tribometer

friction machine

friction

wear

engine

fuel consumption