Abstract
The software for determining charged track parameters of the Spin Physics Detector (SPD) experiment on the future Nuclotron based Ion Collider fAcility (NICA) collider (JINR, Dubna) is presented along with the results obtained. The use of this program allows prompt simulations of various magnetic field configurations and the tracking system of the SPD experiment to determine the optimal structure for better track reconstruction.
Access options
Buy single article
Instant access to the full article PDF.
US$ 39.95
Tax calculation will be finalised during checkout.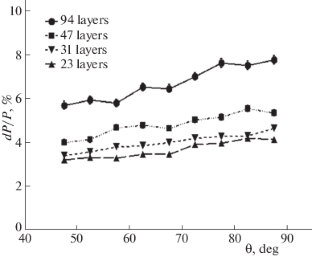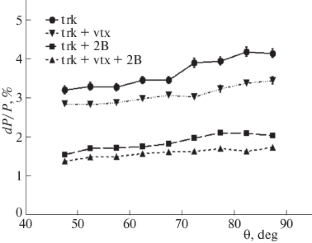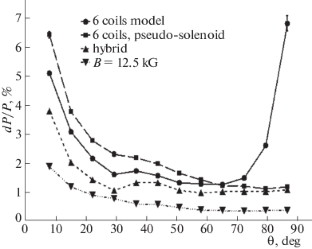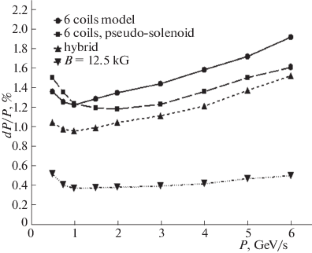 REFERENCES
1

I. Savin, A. Efremov, D. Pshekhonov, A. Kovalenko, O. Teryaev, O. Shevchenko, A. Nagajcev, A. Guskov, V. Kukhtin, and N. Toplilin, "Spin Physics Experiments at NICA-SPD with Polarized Proton and Deuteron Beams," Eur. Phys. J. A 52, 215 (2016). https://doi.org/10.1140/epja/i2016-16215-x

2

F. Gautheron et al. COMPASS Collaboration, COMPASS-II Proposal. CERN-SPSC-2010-014, SPSC-P-340 (CERN, Geneva, 2010). http://cds.cern.ch/record/1265628

3

R. E. Kalman, "A New Approach to Linear Filtering and Prediction Problems," Trans. ASME J. Basic Eng. 82, 35 (1960).

4

R. Fruhwirth, "Application of Kalman Filtering to Track and Vertex Fitting," Nucl. Instrum. Methods A 262, 444 (1987). https://doi.org/10.1016/0168-9002(87)90887-4

5

T. Bilka, N. Braun, T. Hauth, T. Kuhr, L. Lavezzi, F. Metzner, S. Paul, E. Prencipe, M. Prim, J. Rauch, J. Ritman, T. Schlueter, and S. Spataro, Implementation of Genfit2 as an Experiment Independent Track-Fitting Framework. arXiV:1902.04405v2 [physics.data-an] 13 February 2019.

6

E. E. Perepelkin, A. D. Kovalenko, A. A. Tarelkin, R. V. Polyakova, N. G. Inozemtseva, P. N. Sysoev, and M. B. Sadovnikova, "3D Calculations of Variants of the SPD Magnetic System Detector for the NICA Complex," Phys. Part. Nuclei Lett. 16, 140 (2019). https://doi.org/10.1134/S1547477119020092

7

SPDroot Program. https://git.jinr.ru/nica/spdroot

8

S. Agostinelli, J. Allisonas, K. Amako, et al., "Geant4 – A Simulation Toolkit," Nucl. Instrum. Methods A 506, 250 (2003). https://doi.org/10.1016/S0168-9002(03)01368-8
Funding
This study was supported by the Russian Foundation for Basic Research within the scientific project (Megascience—NICA) no. 18-02-40061.
Additional information
Translated by A. Kazantsev
About this article
Cite this article
Andreev, V.F., Gerasimov, S.G. SOFTWARE FOR DETERMINING TRACK PARAMETERS AND OPTIMIZING TRACK SYSTEM IN THE SPD EXPERIMENT. Bull. Lebedev Phys. Inst. 47, 371–375 (2020). https://doi.org/10.3103/S1068335620120118
Received:

Revised:

Accepted:

Published:

Issue Date:
Keywords:
track reconstruction

Kalman filter

track fitting

Monte Carlo simulation

NICA