Abstract
Yangon river has been facing with a problem of high rate of sedimentation as the reasons of deforestation, riverbank erosion, and flooding. A hundred million tons of sediments has been being dredged over 50 yr to maintain Yangon river waterway. Sediments daily produced from dredging work are directly dumped at a designated disposal area about 200 m far from dredging site to flash out these sediments by strong river flow. It may increase disposal-related turbidity disturbing sediment-settling into riverbed, and perhaps have a tendency to re-accumulate these materials into original dredging site because of the complex river flow at dredging site, known as inner bar area, where is close to a confluence of rivers and creek. This paper examines how to minimize the dredged amount at inner bar area by means of beneficial use. Therefore, sediment characteristics are needed to analyze because fine-grained sediments can easily attach pollutants giving an adverse effect to marine environment. Sediment samples from three different locations around inner bar area were collected with hand corer by diver, and analyzed U.S EPA methods: 10 129, 10 067, and 8000 for organic matters, inductive coupled plasma mass spectrometer for heavy metals, gas chromatography with mass spectrometer for persistent organic pollutants, and laser diffraction particle size analyzer. 14% of sand, 32% of silt, and 54% of clay were determined. The water contents in samples were 40.73%, 40.28%, and 31.40%. Lower values of harmful pollutants in samples than international standards were found. Therefore, sediments from inner bar may be supposed non-contaminated ones giving a better quality applied for beneficial use. Thus, without additional pollution-control treatments, appropriate technologies such as particle separation and dewatering techniques are described to produce commercial products, and to apply for engineering uses and environment enhancement as a sustainable practice.
Access options
Buy single article
Instant access to the full article PDF.
US$ 39.95
Tax calculation will be finalised during checkout.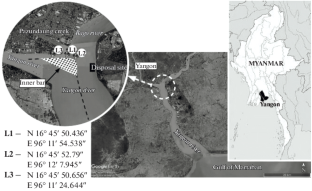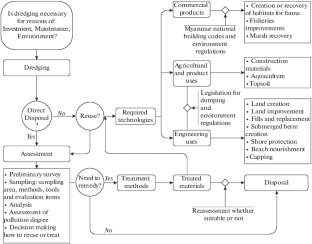 REFERENCES
1

Evaluating Environmental Effects of Dredged Material Management Alternatives: A Technical Framework, Washington, DC: US Environ. Prot. Agency, 2004.

2

Convention on the prevention of marine pollution by dumping of wastes and other matter, International Maritime Organization. http://www.imo.org/en/OurWork/Environment/LCLP/Pages/default.aspx#:~:text=The%20%22Convention%20on%20the%20Prevention,been%20in%20force%20since%201975.

3

Mulligan, C.N., Fukue, M., and Sato, Y., Sediments Contamination and Sustainable Remediation, Boca Raton, FL: CRC Press, 2010, pp. 19–289.

4

De Koning, R.J. and Janssen, M.P.J., Delft3D-FLOW Model of the Yangon Port Area, Delft: Delft Univ. Technol., 2016.

5

Thein, S.N.S. and Yang, H.L., Study on present status of Yangon Port and future development plans, Int. J. Sci. Res. Publ., 2019, vol. 9, no. 3, p. 289.

6

Aung, T.T., Okayasu, A., and Shimozono, T., Numerical simulation on sedimentation in Yangon river and its navigational channel, La Mer, 2013, vol. 51, pp. 91–104.

7

Htet, S.S. and Chang, Y.S., Estimation of sediment transport and long-term prediction of river elevation changes in Yangon River, J. Korean Soc. Coastal Ocean Eng., 2019, vol. 31, no. 6.

8

Data Collection Survey Report for Improvement of Navigation Channel of Yangon Port in Myanmar, Vol. 1: Main Report, Tokyo: Jpn. Int. Coop. Agency, 2016, pp. 22–142.

9

Miedema, S.A., Dredging Processes, the Loading of Trailing Suction Hopper Dredges, Delft: Delft Univ. Technol., 2012.

10

Lwin, A. and Khaing, M.M., Yangon River geomorphology identification and its environmental impacts analysis by optical and radar sensing techniques, Proc. XXII ISPRS Congr. "International Archives of the Photogrammetry Remote Sensing and Spatial Information Sciences," Hannover, 2012, vol. XXXIX–B8.

11

Sediment Sampling Guide and Methodologies, Columbus, OH: Ohio Environ. Prot. Agency, 2001.

12

Recycling and Reuse Approaches for Better Sustainability, Balkaya, N. and Guneysu, S., Eds., New York: Springer, 2018, pp. 21–27.

13

The Republic of the Union of Myanmar Data Collection Survey for Sewerage System Development in Yangon City: Final Report, Tokyo: Jpn. Int. Coop. Agency, 2019.

14

Harrington, J. and Smith, G., Guidance on the Beneficial Use of Dredge Material in Ireland, Johnstown Castle: Irish Environ. Prot. Agency, 2013.

15

Sustainable Management of Sediment Resources: Sediment and Dredged Material Treatment, Bortone, G. and Palumbo, L., Eds., Amsterdam: Elsevier, 2007, vol. 2, pp. 79–194.

16

Alvarez-Guerra, M., Alvarez-Guerra, E., Alonso-Santurde, R., Andres, A., Coz, A., Soto, J., Gomez-Arozamena, J., and Viguri, J.R., Sustainable management options and beneficial uses for contaminated sediments and dredged material, Fresenius Environ. Bull., 2008, vol. 17, no. 10.

17

Hong, G.J., Jiang, J.A., and Lin, F., Beneficial use of dredged material in Yangtze estuary: review and prospect, Proc. 2009 Int. Conf. on Energy and Environment Technology, Washington, DC: IEEE Comput. Soc., 2009.

18

Myanmar port authority law, 2015. http://www.mpa.gov.mm/sites/default/files/10-11-2017%20law% 20eng1_1.pdf.

19

Environmental conservation law, 2012. https://www.dica.gov.mm/en/environmental-regulation.

20

Myanmar National Building Code, 2016. https://www.mes.org.mm/content/myanmar-national-building-code.
Funding
This research was supported by Korea Institute of Ocean Science and Technology (PO0136B), Republic of Korea.
About this article
Cite this article
Khin Myat Noe, Kyoungrean Kim Preliminary Framework for Sustainable Beneficial use of Dredged Materials in Yangon River, Myanmar. J. Water Chem. Technol. 42, 514–521 (2020). https://doi.org/10.3103/S1063455X20060089
Received:

Revised:

Accepted:

Published:

Issue Date:
Keywords:
Yangon river

inner bar

dredged materials

remediation techniques

beneficial use