Abstract
Reverse dielectric permittivity ε'(Е=) is investigated for ferroelectric ceramics (1 − x)Ba0.95Pb0.05TiO3 + xCo2O3. It is established that the domain contribution, which plays the most important role in the process of repolarization, is reduced substantially, in proportion to an increase in the concentration of Co2O3.
Access options
Buy single article
Instant access to the full article PDF.
US$ 39.95
Tax calculation will be finalised during checkout.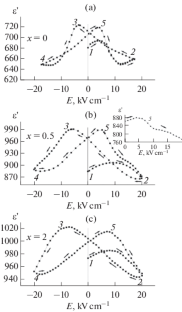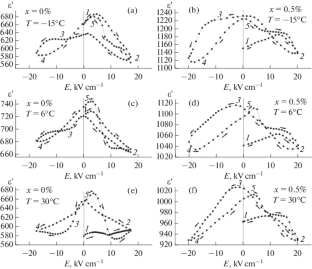 REFERENCES
1

Lebedev, A.I., Sluchinskaya, I.A., Erko, A., et al., Phys. Solid State, 2009, vol. 51, p. 991.

2

Li, W., Qi, J., Wang, Y., et al., Mater. Lett., 2002, vol. 57, p. 1.

3

Li, Q., Qi, J., Wang, Y., et al., J. Eur. Ceram. Soc., 2001, vol. 21, p. 2217.

4

Markiewicz, E., Bujakiewicz-Korońska, R., Majda, D., et al., J. Electroceram., 2014, vol. 32, p. 92.

5

Burkhanov, A.I., Dikov, R.V., Bormanis, K., and Kalvane, A., Bull. Russ. Acad. Sci.: Phys., 2019, vol. 83, no. 9, p. 1094.

6

Jaffe, B., Cook, W., and Jaffe, H., Piezoelectric Ceramics, London: Academic, 1971.

7

Smolenskii, G.A., Bokov, V.A., Isupov, V.A., et al., Fizika segnetoelektricheskikh yavlenii (Physics of Ferroelectric Phenomena), Leningrad: Nauka, 1985.

8

Drougard, M.E. and Young, D.R., Phys. Rev., 1954, vol. 95, no. 6, p. 1561.
ACKNOWLEDGMENTS
The authors thank A. Kalvane for sintering their samples.
Funding
The reported study was funded by the Russian Foundation for Basic Research, project no. 19-32-90216.
Additional information
Translated by A. Shishulin
About this article
Cite this article
Burkhanov, A.I., Dikov, R.V. & Bormanis, K. Reverse Dependences of the Dielectric Permittivity in Ferroelectric Ceramics (1 − x)Ba0.95Pb0.05TiO3 + xCo2O3 . Bull. Russ. Acad. Sci. Phys. 84, 1563–1565 (2020). https://doi.org/10.3103/S1062873820120102
Received:

Revised:

Accepted:

Published:

Issue Date: