Abstract
This paper is aimed at determination of the ranges of changes in the relative geometric dimensions of an unrestrained gutter-shaped metal plate deformed by an explosion with no destruction, based on experimental studies. The results can be used for the development of stable structures under the action of explosion products.
Access options
Buy single article
Instant access to the full article PDF.
US$ 39.95
Tax calculation will be finalised during checkout.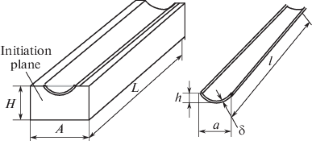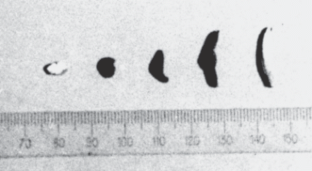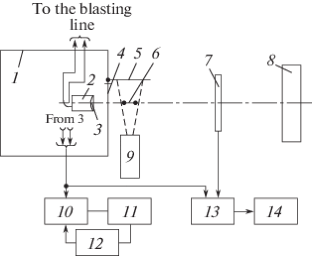 REFERENCES
1

Baum, F.A., Orlenko, L.P., Stanyukovich, K.P., Chelyshev, V.P., and Shekhter, B.I., Fizika vzryva (Physics of the Explosion), Moscow: Nauka, 1975.

2

Rabotnov, Yu.N., Mekhanika deformiruemogo tverdogo tela (Mechanics of a Deformable Solid), Moscow: Nauka, 1988.

3

Popov, A.M., Teoriya vzryva i goreniya (Explosion and Combustion Theory), Moscow: VVIA im. N.E. Zhukovskogo, 2003.

4

Miropol'skii, F.P., Vishnyakov, O.L., Popov, A.M., and Sarkisyan, R.S., Aviatsionnye boepripasy i ikh issledovanie (Aircraft Ammunition and their Research), Moscow: VVIA im. N.E. Zhukovskogo, 1996.

5

Aleksandrov, B.P., Postnikov, A.G., Popov, A.M., Drozdov, A.L., et al., Rukovodstvo k laboratornym i prakticheskim zanyatiyam (Laboratory and Practice Guide), Moscow: VVIA im. N.E.Zhukovskogo, 1993.

6

Glazunov, V.A., Popov, A.M., Zagarskikh, V.I., and Kuzin, E.N., Assessment of the effects of high-explosive ordnance by objects, in Sbornik trudov 7-go Mezhdunarodnogo simpoziuma "Spetsial'naya svyaz' i bezopasnost' informatsii: tekhnologiya, proizvodstvo, upravlenie" (Proceedings of the 7th International Symposium on Special Communications and Information Security: Technology, Production, Management, Krasnodar, Terskol, 2019), Moscow: Anal. Tsentr Minobrnauki, 2019, p. 149.

7

Popov, A.M., Muzhichek, S.M., Skrynnikov, A.A., and Popov, M.A., Prilozheniya zadach gazodinamiki. Monografiya (Applications of Gas Dynamics Problems), Moscow: RUSAINS, 2019.

8

Popov, A.M., Description of the plate deformation scheme by a function of complex variables, in Mezhdunarodnaya konferentsiya RAN Mashiny, tekhnologii i materialy dlya sovremennogo mashinostroeniya, posvyashchennaya 80-letiyu IMASh im. A.A. Blagonravova (Proceedings of the International Conference of RAS on Machines, Technologies and Materials for Modern Mechanical Engineering, Dedicated to the 80th Anniversary of IMASH Named after A.A. Blagonravov), Izhevsk: Inst. Komp'yut. Issled., 2018, p. 143.

9

Popov, A.M. and Valiev, R.M., Sistema statisticheskikh metodov obrabotki eksperimental'nykh dannykh v mashinostroenii. Monografiya (The System of Statistical Methods for Processing Experimental Data in Mechanical Engineering), Moscow: Tekhnol. Strategich. Menedzhmenta, 2018.

10

Sedov, L.I., Mekhanika sploshnoi sredy (Mechanics of Continuous Media), Moscow: Nauka, 1995; Singapore: World Scientific, 1997, vols. 1, 2.

11

Loitsyanskii, L.G., Mekhanika zhidkosti gaza (Mechanics of Liquids and Gases), Moscow: Nauka, 1973; Amsterdam: Elsevier, 1966.
Ethics declarations
The authors declare that they have no conflict of interest.
Additional information
Translated by O. Polyakov
About this article
Cite this article
Popov, A.M., Muzhichek, S.M. & Zaytsev, M.A. Deformation of Unrestrained Gutterlike Metal Plates under Explosive Loading. J. Mach. Manuf. Reliab. 49, 611–617 (2020). https://doi.org/10.3103/S1052618820070122
Received:

Accepted:

Published:

Issue Date:
Keywords:
deformation by explosion

explosive charge

gutterlike cladding

active part

jet charge groove.