Abstract
Helicobacter pylori is the main cause of gastritis, peptic ulcers, gastric mucosa-associated lymphoid tissue lymphoma (MALT) and gastric cancer. H. pylori Infects more than half of the world's population. Antibiotic treatments are not ideal because of antibiotic side effects, re-infection and increased antibiotic resistance. Vaccination against H. pylori is considered as an alternative with the suitable cost for eradication therapy. Th1 immune response plays an important role in vaccine-induced protection against H. pylori infection. An effective vaccine should be able to change the immune balance in favor of the Th1 immune response. Epitope vaccines are believed to elicit more specific and safe immune responses than other vaccines against Helicobacter pylori infection. Catalase is one of the most important immunogenic antigens of H. pylori. We found that the seven epitopes of H. pylori catalase can produce a significant Th1responses by expressing IFN-γ. A decrease in regulation levels of IL-4 was observed after stimulation with catalase epitopes. These results confirm strong response of Th1 immune to H. pylori compared to Th2 immune responses. Understanding of cellular immunity against H. pylori infection guides us to design of H. pylori appropriate vaccines better.
This is a preview of subscription content, log in to check access.
Access options
Buy single article
Instant access to the full article PDF.
US$ 39.95
Price includes VAT for USA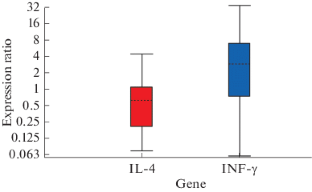 REFERENCES
1

Li, B., Chen, L., Sun, H., Yang, W., Hu, J., He, Y., et al., Immunodominant epitope-specific Th1 but not Th17 responses mediate protection against Helicobacter pylori infection following UreB vaccination of BALB/c mice, Sci. Rep., 2015, vol. 5, p. 14 793.

2

Lv, X., Song, H., Yang, J., Li, T., Xi, T., and Xing, Y., A multi-epitope vaccine CTB-UE relieves Helicobacter pylori-induced gastric inflammatory reaction via up-regulating microRNA-155 to inhibit Th17 response in C57/BL6 mice model, Hum. Vaccines Immunother., 2014, vol. 10, pp. 3561–3569.

3

Li, H.-B., Zhang, J.-Y., He, Y.-F., Chen, L., Li, B., Liu, K.-Y., et al., Systemic immunization with an epitope-based vaccine elicits a Th1-biased response and provides protection against Helicobacter pylori in mice, Vaccine, 2012, vol. 31, pp. 120–126.

4

Zhang, X., Zhang, J., Yang, F., Wu, W., Sun, H., Xie, Q., et al., Immunization with heat shock protein A and γ-glutamyl transpeptidase induces reduction on the Helicobacter pylori colonization in mice, PLoS One, 2015, vol. 10, p. e0 130 391.

5

Li, Y., Chen, Z., Ye, J., Ning, L., Luo, J., Zhang, L., et al., Antibody production and Th1-biased response induced by an epitope vaccine composed of cholera toxin B unit and Helicobacter pylori Lpp20 epitopes, Helicobacter, 2016, vol. 21, pp. 234–248.

6

Arnold, I.C., Hitzler, I., Engler, D., Oertli, M., Agger, E.M., and Müller, A., The C-terminally encoded, MHC class II-restricted T cell antigenicity of the Helicobacter pylori virulence factor CagA promotes gastric preneoplasia, J. Immunol., 2011, vol. 186, pp. 6665–6672.

7

Li, Y., Jiang, Y., Xi, Y., Zhang, L., Luo, J., He, D., et al., Identification and characterization of H-2 d restricted CD4+ T cell epitopes on Lpp20 of Helicobacter pylori, BMC Immunol., 2012, vol. 13, p. 68.

8

Amedei, A., Cappon, A., Codolo, G., Cabrelle, A., Polenghi, A., Benagiano, M., et al., The neutrophil-activating protein of Helicobacter pylori promotes Th1 immune responses, J. Clin. Invest., 2006, vol. 116, pp. 1092–1101.

9

Chen, L., Li, B., Yang, W.C., He, J.L., Li, N.Y., Hu, J., et al., A dominant CD4+ T-cell response to Helicobacter pylori reduces risk for gastric disease in humans, Gastroenterology, 2013, vol. 144, pp. 591–600.

10

Harris, A.G., Hinds, F.E., Beckhouse, A.G., Kolesnikow, T., and Hazell, S.L., Resistance to hydrogen peroxide in Helicobacter pylori: Role of catalase (KatA) and Fur, and functional analysis of a novel gene product designated 'KatA-associated protein', KapA (HP0874), Microbiology, 2002, vol. 148, pp. 3813–3825.

11

Rashidi, N., Moghim, S., Fagheri, J., and Safaei, H.G., Catalase epitopes vaccine design for Helicobacter pylori: A bioinformatics approach, Afr. J. Biotechnol., 2011, vol. 10, pp. 8895–8901.

12

Ghasemian, H.S., Faghri, J., Moghim, S., Nasr, B.E., Fazeli, H., Makvandi, M., et al., Production of IFN-γ and IL-4 against intact catalase and constructed catalase epitopes of Helicobacter pylori from T-cells, Jundishapur J. Microbiol., 2015, vol. 8, p. e24 697.

13

Mirzaei, N., Poursina, F., Moghim, S., Rashidi, N., and Safaei, H.G., The study of H. pylori putative candidate factors for single- and multi-component vaccine development, Crit. Rev. Microbiol., 2017, vol. 43, pp. 631–650.

14

Zhong, Y., Anderl, F., Kruse, T., Schindele, F., Jagusztyn-Krynicka, E.K., Fischer, W., et al., Helicobacter pylori HP0231 influences bacterial virulence and is essential for gastric colonization, PLoS One, 2016, vol. 11, p. e0 154 643.

15

Ning, Y., Ye, J., Wen, J., Wu, D., Chen, Z., Lin, Y., et al., Identification of two Lpp20 CD4+ T cell epitopes in Helicobacter pylori-infected subjects, Front. Microbiol., 2018, vol. 9, p. 884.

16

Zhang, S., Desrosiers, J., Aponte-Pieras, J.R., DaSilva, K., Fast, L.D., Terry, F., et al., Human immune responses to H. pylori HLA Class II epitopes identified by immunoinformatic methods, PLoS One, 2014, vol. 9, p. e94 974.

17

Pan, X., Ke, H., Niu, X., Li, S., Lv, J., and Pan, L., Protection against Helicobacter pylori infection in BalB/c mouse model by oral administration of multivalent epitope-based vaccine of cholera toxin B subunit-hUUc, Front. Immunol., 2018, vol. 9, p. 1003.

18

Yang, J., Dai, L.-X., Pan, X., Wang, H., Li, B., Zhu, J., et al., Protection against Helicobacter pylori infection in BALB/c mice by oral administration of multi-epitope vaccine of CTB-UreI-UreB, Pathog. Dis., 2015, vol. 73, p. ftv026.

19

Zhou, W.-Y., Shi, Y., Wu, C., Zhang, W.-J., Mao, X.-H., Guo, G., et al., Therapeutic efficacy of a multi-epitope vaccine against Helicobacter pylori infection in BALB/c mice model, Vaccine, 2009, vol. 27, pp. 5013–5019.

20

Zarei, M., Mosayebi, G., Khansarinejad, B., and Abtahi, H., Antigenic and immunogenic evaluation of Helicobacter pylori FlaA epitopes, Iran. J. Basic Med. Sci., 2017, vol. 20, p. 920.

21

Wang, B., Pan, X., Wang, H., Zhou, Y., Zhu, J., Yang, J., et al., Immunological response of recombinant H. pylori multi-epitope vaccine with different vaccination strategies, Int. J. Clin. Exp. Pathol., 2014, vol. 7, p. 6559.

22

Guo, L., Yang, H., Tang, F., Yin, R., Liu, H., Gong, X., et al., Oral immunization with a multivalent epitope-based vaccine, based on NAP, Urease, HSP60, and HpaA, provides therapeutic effect on H. pylori infection in Mongolian gerbils, Front. Cell. Infect. Microbiol., 2017, vol. 7, p. 349.
Funding
Ahvaz Jundishapur University of Medical Sciences has funded our research.
Ethics declarations
Conflict of interests. The authors declare that they have no conflict of interest.
Statement of compliance with standards of research involving humans as subjects. All procedures performed in studies involving human participants were in accordance with the ethical standards of the institutional and/or national research committee and with the 1964 Helsinki Declaration and its later amendments or comparable ethical standards. Informed consent was obtained from all individual participants involved in the study.
About this article
Cite this article
Manoochehr Makvandi, Neissi, N., Tarighi, P. et al. Evaluation of the Genes Expression Related to the Immune System in Response to Helicobacter pylori Catalase Epitopes. Mol. Genet. Microbiol. Virol. 35, 47–51 (2020). https://doi.org/10.3103/S089141682001005X
Received:

Revised:

Accepted:

Published:

Issue Date:
Keywords:
Helicobacter pylori

epitopes

catalase

immune response