Abstract—
Analysis of a translated text's functional equivalence to its original based on the attainment of rhythmic equivalence is an extremely important task of modern linguistics. The rhythmic component is an integral part of functional equivalence, which cannot be attained without reproducing the rhythmic devices of the original text. For the purposes of analyzing rhythmic devices in an original literary text and its translations, the authors have developed the software tool ProseRhythmDetector, which can find and visualize lexical and syntactic devices in English- and Russian-language prose, specifically anaphora, epiphora, symploce, anadiplosis, epanalepsis, reduplication, epistrophe, polysyndeton, and aposiopesis. The objective of this study is to present the results of the testing of ProseRhythmDetector on two English-language literary texts and their Russian translations: "Villette" by Charlotte Brontë and "The Black Prince" by Iris Murdoch. Using the results obtained by the software tool, the authors cross-referenced rhythmic devices in the original and translated texts and compared rhythm aspects and their contexts. The experiment made it possible to identify specific characteristics of a translator's rendition of the author's style, as well as detect and explain cases in which the use of rhythmic devices in the translated texts do not correspond to the originals. The application of the ProseRhythmDetector software tool significantly reduced the researchers' workload by automatically retrieving lexical and syntactic devices with a rather high accuracy (from 62 to 93% for different rhythmic devices).
Access options
Buy single article
Instant access to the full article PDF.
US$ 39.95
Tax calculation will be finalised during checkout.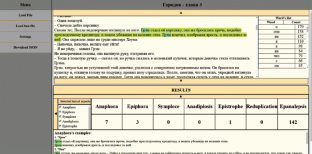 REFERENCES
1

Golyakova, L.A., The rhythm of a literary work of art: A communicative-pragmatic aspect, Vestn. Permsk. Univ., Ross. Zarub. Filol., 2011, no. 3, pp. 94–99.

2

Golubeva-Monatkina, N.I., On the problem of prose rhythm, Izv. Ross. Akad. Nauk, Ser. Liter. Yazyka, 2017, vol. 76, no. 2, pp. 16–27.

3

Golubeva-Monatkina, N.I., On the rhythm of literary prose in the light of M.M. Bakhtin's ideas and translation, Russ. Yazyk Kul't. Zerkale Perevoda, 2016, vol. 1, pp. 105–113.

4

Ivanova-Luk'yanova, G.N., The rhythm of prose in reality and perception, Tr. Inst. Russ. Yazyka im. V. V. Vinogradova, 2016, vol. 7, no. 7, pp. 365–382.

5

Fenenko, N.A., Linguocultural adaptation of the text in translation: Limits of the possible and the permissible, Vestn. Voronezh. Gos. Univ., Ser.: Lingvist. Mezhkul't. Kommun., 2001, vol. 1, no. 7, pp. 70–75.

6

Delmonte, R., Computing poetry style, Proceedings of 1st International Workshop ESSEM 2013/CEUR Workshop Proc., 2013, pp. 148–155.

7

Bobenhausen, K. and Hammerich, B., Literary metrics, linguistic metrics, and the algorithmic analysis of German poetry using Metricalizer (2), Langages, 2015, vol. 3, pp. 67–88.

8

Niculescu, I. and Trausan-Matu, S., Rhythm analysis of texts using Natural Language Processing, RoCHI, 2016, pp. 107–112.

9

Niculescu, I. and Trausan-Matu, S., Rhythm analysis in chats using Natural Language Processing, RoCHI, 2017, pp. 69–74.

10

Kishalova, L.V., Analysis of the features of the rhythmic structure of texts of different styles of speech, Vestn. Bryansk. Gos. Univ., 2016, vol. 27, no. 1, pp. 257–261.

11

Boychuk, E., et al., Automated approach for rhythm analysis of French literary texts, Proceedings of 15th Conference of Open Innovations Association FRUCT, 2014, pp. 15–23.

12

Damasevicius, R., Kapociute-Dzikiene, J., and Wozniak, M., Towards rhythmicity analysis of text using empirical mode decomposition, Proceeding of the 9th International Joint Conference on Knowledge Discovery, Knowledge Engineering and Knowledge Management, 2017, vol. 1, pp. 310–317.

13

Kelly, A.R., et al., Toward an ontology of rhetorical figures, Proceedings of the 28th ACM International Conference on Design of Communication, 2010, pp. 123–130.

14

Hromada, D.D., Initial experiments with multilingual extraction of rhetoric figures by means of PERL-compatible regular expressions, Proceedings of the Second Student Research Workshop associated with RANLP, 2011, pp. 85–90.

15

Toldova, S., et al., Error analysis for anaphora resolution in Russian: New challenging issues for anaphora resolution task in a morphologically rich language, Proceedings of the Workshop on Coreference Resolution beyond OntoNotes, 2016, pp. 74–83.

16

Dubremetz, M. and Nivre, J., Rhetorical figure detection: Chiasmus, epanaphora, epiphora, Front. Digital Humanit., 2018, vol. 5.
Funding
FUNDING
The study was supported by the Russian Foundation for Basic Research, project no. 19-07-00243.
ADDITIONAL INFORMATION
Nadezhda S. Lagutina, orcid.org/0000-0002-6137-8643, PhD, associate professor.
Ksenia V. Lagutina, orcid.org/0000-0002-1742-3240, postgraduate student.
Elena I. Boychuk, orcid.org/0000-0001-6600-2971, PhD, associate professor.
Inna A. Vorontsova, orcid.org/0000-0001-5897-9299, Dr.Sc., associate professor.
Ilya V. Paramonov, orcid.org/0000-0003-3984-8423, PhD, associate professor.
Ethics declarations
The authors declare that they have no conflicts of interest.
Additional information
Translated by A. Ovchinnikova
About this article
Cite this article
Lagutina, N.S., Lagutina, K.V., Boychuk, E.I. et al. Automated Rhythmic Device Search in Literary Texts Applied to Comparing Original and Translated Texts as Exemplified by English to Russian Translations. Aut. Control Comp. Sci. 54, 697–711 (2020). https://doi.org/10.3103/S0146411620070147
Received:

Revised:

Accepted:

Published:

Issue Date:
Keywords:
prose rhythm

rhythm analysis

natural language processing

rhythmic devices

automation