Abstract
The use of geophysical well logging for interpreting structurally complex oil-saturated intervals of the Lower and Middle Jurassic horizons that are characterized by a high average number of permeable intervals and by the presence of semiconductor minerals (pyrite, siderite, glauconite, and others) is considered. The complex of geological and geophysical information that has been aggregated and research methodology that has been developed for areas with hard-to-recover reserves is developed based on the example of deposits that have been in operation for many years.
This is a preview of subscription content, log in to check access.
Access options
Buy single article
Instant access to the full article PDF.
US$ 39.95
Price includes VAT for USA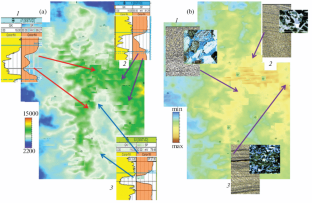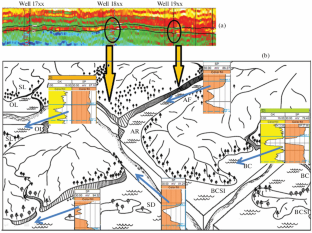 REFERENCES
1

Alekseev, V.P., Fedorov, Yu.N., Maslov, A.V., et al., Sostav i genezis otlozhenii tyumenskoi svity Shaimskogo neftegazonosnogo raiona (Zapadnaya Sibir') (Structure and Correlation of Deposits of the Tyumen Formation of the Shaim Oil-and-Gas-Bearing Region (Western Siberia)), Ekateriburg: UGGU, 2007.

2

Lisovskii, N.N. and Khalimov, E.M., The classification of HTR reserves, Vestn. TsKR Rosnedra, 2009, no. 6.

3

Muromtsev, V.S., Elektrometricheskaya geologiya peschanykh tel – litologicheskikh lovushek nefti i gaza (Electrometric Geology of Sand Bodies as Lithological Traps for Oil and Gas), Leningrad: Nedra, 1984.

4

Shelepov, V.V., Zaripov, O.G., Kamaletdinov, R.A., and Chernova, L.I., Conditions of formation and structure of the BV-8 horizon of Povkhovskoe oil field (Western Siberia), Geol., Geofiz., Razrab. Neft. Gaz. Mestorozhd., 1995, no. 2.

5

Skorobogatov, V.A., The Jurassic productive complex of Western Siberia: past, present, future, Nauchn.-Tekhn. Sb. Vesti Gaz. Nauki, 2017, no. 3(3), pp. 36–58.

6

Tyukavkina, O.V., Modern methods of detection of the zones of complex reservoirs with HTR reserves for effective design solutions, Izv. Vuzov. Gorn. Zh., 2013, no. 8, pp. 50–58.
Additional information
Translated by N. Astafiev
About this article
Cite this article
Shelepov, V.V., Tyukavkina, O.V. Geophysical Methods for Determining the Reservoir Properties of Structurally Complex Lower–Middle Jurassic Reservoirs within Hydrocarbon Fields in the Latitudinal Ob Region. Moscow Univ. Geol. Bull. 75, 145–149 (2020). https://doi.org/10.3103/S0145875220020088
Received:

Revised:

Accepted:

Published:

Issue Date:
Keywords:
geophysical investigation methods (geophysical well logging)

complex structure natural reservoir

αSPP amplitude

facies analysis