Abstract—The presence of hydroxycinnamic acids in the leaves of Malus sylvestris Mill. and Malus domestica Borkh. is established by using HPLC analysis. The quantitative determination of hydroxycinnamic acids is carried out by spectrophotometric analysis. It is found that the maximum amount of hydroxycinnamic acids accumulates in the plant during the fruiting phase.
This is a preview of subscription content, log in to check access.
Access options
Buy single article
Instant access to the full article PDF.
US$ 39.95
Price includes VAT for USA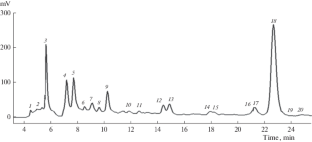 REFERENCES
1

Rastitel'nye resursy Rossii: dikorastushchie tsvetkovye rasteniya, ikh komponentnyi sostav i biologicheskaya aktivnost' (Plant Resources of Russia: Wild Flowering Plants, Their Composition, and Biological Activity), St. Petersburg: KMK, 2009, p. 205.

2

Celsus, A.C. [Aulus Cornelius], De medicina, Cambridge: Harvard Univ. Press, 1935.

3

Avicenna (Ibn Sina), The Canon of Medicine, Bakhtiar, L., Ed., Chicago: Kazi, 1999.

4

Liaudanskas, M., Viškelis, P., Raudonis, R., Kviklis, D., Uselis, N., and Janulis, V., Sci. World J., 2014, vol. 76, no. 2, p. 155.

5

Leontowicz, M., Gorinstein, S., and Leontowicz, H., J. Agric. Food Chem., 2003, no. 51, p. 5780.

6

Petkovsek, M., Slatnar, A., Stampar, F., and Veberic, R., J. Sci. Food Agric., 2010, vol. 90, no. 14, p. 2366.

7

Gosch, C., Halbwirth, H., Kuhn, J., and Miosic, S., Plant Sci., 2009, vol. 176, no. 2, p. 223.

8

GOST (State Standard) R ISO 5725-1-2002: Accuracy (Trueness and Precision) of Measurement Methods and Results. Part 1. General Principles and Definitions, Moscow: Izd. Standartov, 2002.

9

ICH Topic Q2 (R1): Validation of Analytical Methods: Text and Methodology, London: Eur. Med. Agency, 1995.
Ethics declarations
The authors declare that they have no conflict of interest.
About this article
Cite this article
Nesterova, N.V., Samylina, I.A., Bobkova, N.V. et al. Quantitative Determination of Hydroxycoric Acids and the Analysis of the Dynamics of Their Accumulation in Malus sylvestris Leaves. Moscow Univ. Chem. Bull. 74, 339–342 (2019). https://doi.org/10.3103/S0027131419060129
Received:

Published:

Issue Date:
Keywords:
Malus sylvestris Mill.

hydroxycinnamic acids

HPLC

spectrophotometry