Abstract
Recent studies reported a significant contribution of microRNAs (miRNAs) in plant response to elicitors. The aim of our study was to analyse the effect of exogenously applied plant-derived elicitor cobalt-diglycyrrhizinate on Triticum aestivum L. genome based on the functional characterization of stress associated miRNAs. Our results confirmed the impact of cobalt-diglycyrrhizinate on plant genome in a way of plant response stimulation via expression of stress-related miRNAs markers. We found that both miRNAs markers (miR168 and miR395) are involved in response to plant-based elicitor stimuli. The role of miR168 and miR395 as functional markers sensitive to applied elicitors has been confirmed. Marker miR168 is suitable for the mapping of plant genome response to native elicitor, lower concentration of an elicitor is more suitable for plant immune system stimulation and its inappropriate concentrations may be toxic to the plant. Plant genome very sensitively reacts to elicitor stimuli and the question of the appropriate concentration and the time point of elicitor application are crucial.
This is a preview of subscription content, log in to check access.
Access options
Buy single article
Instant access to the full article PDF.
US$ 39.95
Price includes VAT for USA
Subscribe to journal
Immediate online access to all issues from 2019. Subscription will auto renew annually.
US$ 199
This is the net price. Taxes to be calculated in checkout.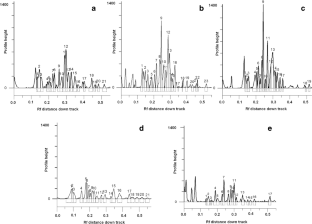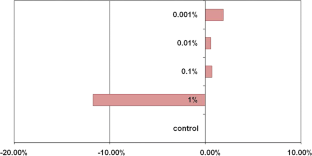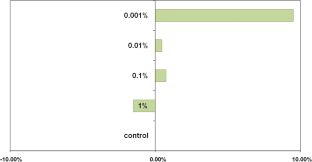 Abbreviations
miRNA:

MicroRNA

qRT-PCR:

Quantitative real-time polymerase chain reaction

CDCP:

Cell division control protein

TBE:

Tris-borate EDTA

PAGE:

Polyacrylamide gel electrophoresis

Ct:

Cycle threshold
References
Badkhane Y, Yadav AS, Bajaj A, Sharma AK, Raghuwanshi DK (2014) Glycyrrhiza glabra L. a miracle medicinal herb. Indo am. j. pharm. res 4:5808–5816

Baldi A, Srivastava AK, Bisaria VS (2009) Fungal elicitors for enhanced production of secondary metabolites in plant cell suspension cultures. In: Varma A, Kharkwal AC (eds) Symbiotic Fungi: soil biology 18. Springer-Verlag, Berlin Heidelberg, pp 373–380

Baldrich P, Kakar K, Siré C, Moreno AB, Berger A, García-Chapa M, López-Moya JJ, Riechmann JL, Segundo BS (2014) Small RNA profiling reveals regulation of Arabidopsis miR168 and heterochromatic siRNA415 in response to fungal elicitors. BioMed Central Genomics 15:1083. https://doi.org/10.1186/1471-2164-15-1083

Baldrich P, Campo S, Wu MT, Liu TT, Hsing YIC, Segundo BS (2015) MicroRNA-mediated regulation of gene expression in the response of rice plants to fungal elicitors. RNA Biol 12:847–863. https://doi.org/10.1080/15476286.2015.1050577

Baltina LA (2003) Chemical modification of glycyrrhizic acid as a route to new bioactive compounds for medicine. Curr Med Chem 10:155–171. https://doi.org/10.2174/0929867033368538

Baltina LA, Kondratenko RM, Baltina LA, Baschenko NZ, Pliasunova OA (2009) Synthesis and biological activity of new glycyrrhizic acid conjugates with aminoacids and dipeptides. Bioorg Khim 35:563–571. https://doi.org/10.1134/S1068162009040141

Barciszewska-Pacak M, Milanowska K, Knop K, Bielewicz D, Nuc P, Plewka P, Pacak AM, Vazquez F, Karlowski W, Jarmolowski A, Szweykowska-Kulinska Z (2015) Arabidopsis microRNA expression regulation in a wide range of abiotic stress responses. Front Plant Sci 6:140. https://doi.org/10.3389/fpls.2015.00410

Barvkar VT, Pardeshi VC, Kale SM, Qiu S, Rollins M, Datla R, Gupta VS, Kadoo NY (2013) Genome-wide identification and characterization of microRNA genes and their targets in flax (Linum usitatissimum): characterization of flax miRNA genes. Planta 237:1149–1161. https://doi.org/10.1007/s00425-012-1833-5

Bej S, Basak J (2014) MicroRNAs: the potential biomarkers in plant stress response. Am J Plant Sci 5:748–759. https://doi.org/10.4236/ajps.2014.55089

Begheldo M, Nonis A, Trevisan S, Ruperti B, Quaggiotti S (2014) The dynamic regulation of microRNAs circuits in plant adaptation to abiotic stresses: a survey on molecular, physiological and methodological aspects. Environ Exp Bot 144:65–79. https://doi.org/10.1016/j.envexpbot.2014.05.011

Bošeľová D, Žiarovská J, Hlavačková L, Ražná K, Bežo M (2016) Comparative analysis of different methods of Hedera helix DNA extraction and molecular evidence of the functionality in PCR. Acta Fytotechn Zootechn 19:144–149. https://doi.org/10.15414/afz.2016.19.04.144-149

Burketova L, Trda L, Ott PG, Valentova O (2015) Bio-based resistance inducers for sustainable plant protection against pathogens. Biotechnol Adv 33:994–1004. https://doi.org/10.1016/j.biotechadv.2015.01.004

Chandra JH, Gunasekaran H (2017) Screening of phytochemical, antimicrobial and antioxidant activity of Glycyrrhiz glabra root extract. J Environ Biol 138:161–165. https://doi.org/10.22438/jeb/38/1/MRN-441

Cluzet S, Torregrosa C, Jacquet C, Lafitte C, Fournier J, Mercier L, Salamagne S, Briand X, Esquerré-Tugayé MT, Dumas B (2004) Gene expression profiling and protection of Medicago truncatula against a fungal infection in response to an elicitor from green algae Ulva spp. Plant Cell Environ 27:917–928. https://doi.org/10.1111/j.1365-3040.2004.01197.x

Dalimov DM, Isaev YT, Askarov IR (1999) Synthesis of some biogenic metal diglycyrrhizinate derivatives and their complex compounds with ammonia and ethylendiamine. Uzb khim zh:24–25. https://doi.org/10.1080/10426500490463664

Dalme M (2014) Glycyrrhiza glabra (Liquorice) - a potent medical herb. Int J Herb Med 2:132–136

Dean R, van Kan JAL, Pretorius ZA, Hammond-Kosack KE, Di Pietro A, Spanu PD, Rudd JJ, Dickman M, Kahmann R, Ellis J, Foster GD (2012) The top 10 fungal pathogens in molecular plant pathology. Mol Plant Pathol 13:414–430. https://doi.org/10.1111/j.1364-3703.2011.00783.x

Erson-Bensan AE (2014) Introduction to MicroRNAs in biological systems. In: Yousef M, Allmer J (eds) MiRNomics: MicroRNA biology and computational analysis. Springer Science + Business Media, New York, pp 1–14

Fu D, Ma B, Mason AS, Xiao M, We L, An Z (2013) MicroRNA-based molecular markers: a novel PCR-based genotyping technique in Brassica species. Plant Breed 132:375–381. https://doi.org/10.1111/pbr.12069

Garrido-Gala J, Frías V, Perdices-Hoyo M, Hernández-Ros JM, Rodríguez-Olmos Á, Copa-Patiño JL, Muñoz-Blanco J, Caballero JL (2014) Natural elictors of plant defense response in strawberry. J Berry Res 4:37–45. https://doi.org/10.3233/JBR-140064

Gala GJ, Frías V, Hoyo MP, Hern JM, Ros A, Rodr A, Olmosb I, Pati JLC, Blanco JM, Caballero JL, Soliverib J (2014) Natural elicitors of plant defense response in strawberry. J Berry Res 4:37-45. https://doi.org/10.3233/JBR-140064

Govindaraju S, Indra Arulselvi P (2016) Effect of cytokinin combined elicitors (l-phenylalanine, salicylic acid and chitosan) on in vitro propagation, secondary metabolites and molecular characterization of medicinal herb–Coleus aromaticus Benth (L). J Saudi Soc Agri Sci. https://doi.org/10.1016/j.jssas.2016.11.001

Hlavačková L, Ražná K (2015) Polymorphism of specific miRNAs in the context of flax (Linum usitatissimum L.) genome adaptability to abiotic stress. In: Book of Abstracts. 22th Conference "MendelNet 2015". Mendelova univerzita, Brno, November 11–12, 2015. pp. 416–420.

Htwe NMPS, Luo ZQ, Jin LG, Nadon B, Wang KJ, Qiu LJ (2015) Functional marker development of miR1511-InDel and allelic diversity within the genus Glycine. BMC Genomics 16:467. https://doi.org/10.1186/s12864-015-1665-3

Isaev YI, Dalimov DN, Askrov IR (1999) Synthesis of deglycyrrhizinates of some microelements. Chem prirod sed. Special edition. 71–72

Jones-Rhoades MW, Bartel DP (2004) Computational identification of plant microRNAs and their targets, including a stress-induced miRNA. Mol Cell 14:787–799. https://doi.org/10.1016/j.molcel.2004.05.027

Jones-Rhoades MW, Bartel DP, Bartel B (2006) MicroRNAs and their regulatory roles in plants. Annu rev plant biol 57:19–53. https://doi.org/10.1146/annurev.arplant.57.032905.105218

Kruszka K, Pieczynski M, Windels D, Bielewicz D, Jarmolowski a, Szweykowska-Kulinska Z, Vazquez F (2012) role of microRNAs and other sRNAs of plants in their changing environments. J Plant Physiol 169:1664–1672. doi: https://doi.org/10.1016/j.jplph.2012.03.009

Kruszka K, Pacak A, Swida-Barteczka A, Nuc P, Alaba S, Wroblewska Z, Karlowski W, Jarmolowski A, Szweykowska-Kulinska Z (2014) Transcriptionally and post-transcriptionally regulated microRNAs in heat stress response in barley. J Exp Bot 65:6123–6135. https://doi.org/10.1093/jxb/eru353

Kumar D, Dutta S, Singh D, Prabhu KV, Kumar M, Mukhopadhyay K (2017) Uncovering leaf rust responsive miRNAs in wheat (Triticum aestivum L.) using high-throughput sequencing and prediction of their targets through degradome analysis. Planta 245:161–182. https://doi.org/10.1007/s00425-016-2600-9

Lavanya SN, Niranjan-Raj S, Amruthesh KN (2016) Transcript profiling of vital defense proteins upregulated during 3, 5-dichloroanthranilic acid (DCA) mediated induced resistance against pearl millet downy mildew disease. Int J Life Sci 5:46–54

Li L, Yi H, Xue M, Yi M (2017) miR398 and miR395 are involved in response to SO2 stress in Arabidopsis thaliana. Ecotoxicology 26:1181–1187. https://doi.org/10.1007/s10646-017-1843-y

Liang G, Yu D (2010) Reciprocal regulation among miR395, APS and SULTR2;1 in Arabidopsis thaliana. Plant Signal Behav 5:1257–1259. https://doi.org/10.4161/psb.5.10.12608

Liu Y, Zhang P, Song M, Hou J, Qing M, Wang W, Liu C (2015) Transcriptome analysis and development of SSR molecular markers in Glycyrrhiza uralensis Fisch. PLoS One 10:e0143017. https://doi.org/10.1371/journal.pone.0143017

Medeiros F, Resende M, Medeiros F, Zhang H, Paré P (2009) Defense gene expression induced by a coffee-leaf extract formulation in tomato. Physiol Mol Plant Pathol 74:175–183. https://doi.org/10.1016/j.pmpp.2009.11.004

Melnikova NV, Dmitriev AA, Belenikin MS, Speranskaya AS, Krinitsina AA, Rachinskaia AA, Lakunina VA, Krasnov GS, Snezhkina AV, Sadritdinova AF, Uroshlev LA, Koroban NV, Samatadze NV, Amosova AV, Zelenin AV, Muravenko OV, Bolsheva NL, Kudryavtseva AV (2015) Excess fertilizer response miRNAs revealed in Linum usitatissimum L. Biochemie 109:36–41. https://doi.org/10.1016/j.biochi.2014.11.017

Melnikova NV, Dmitriev AA, Belenikin MS, Koroban NV, Speranskaya AS, Krinitsina AA, Krasnov GS, Lakunina VA, Snezhkina AV, Sadritdinova AF, Kishlyan NV, Rozhmina TA, Klimina KM, Amosova AV, Zelenin AV, Muravenko OV, Bolsheva NL, Kudryavtseva AV (2016) Identification, expression analysis, and target prediction of flax genotroph micrornas under normal and nutrient stress conditions. Front Plant Sci 7:399. https://doi.org/10.3389/fpls.2016.00399

Meyers BC, Green PJ (Eds.) (2010) Plant MicroRNAs, Methods and Protocols. Humana Press, New York, NY, 267 p.

Mondal TK, Ganie SA (2014) Identification and characterization of salt responsive miRNA-SSR markers in rice (Oryza sativa). Gene 535:204–209. https://doi.org/10.1016/j.gene.2013.11.033

Murashige T, Skoog F (1962) A revised medium for rapid growth and bioassays with tabacco tissue cultures. Physiol plant 15:473–497. https://doi.org/10.1111/j.1399-3054.1962.tb08052.x

Neutelings G, Fénart S, Lucau-Danila A, Hawkins S (2012) identification and characterization of miRNAs and their potential targets in flax. J Plant Physiol 169:1754–1766. https://doi.org/10.1016/j.jplph.2012.06.011

Oliveira MDM, Varanda CMR, Félix MRF (2016) Induced resistance during the interaction pathogen x plant and the use of resistance inducers. Phytochem Lett 15:152–156. https://doi.org/10.1016/j.phytol.2015.12.011

Patent CN104861016A. Glycyrrhizic acid metal complex preparation method. 2015. https://patents.google.com/patent/CN104861016A/en

Povero G, Loreti E, Pucciariello C, Santaniello A, Di Tommaso D, Di Tommaso G, Kapetis D, Zolezzi F, Piaggesi A, Perata P (2011) Transcript profiling of chitosan-treated Arabidopsis seedlings. J Plant Res 124:619–629. https://doi.org/10.1007/s10265-010-0399-1

Qiu D, Pan X, Wilson IW, Li F, Liu M, Teng W, Zhang B (2009) High throughput sequencing technology reveals that the taxoid elicitor methyl jasmonate regulates microRNA expression in Chinese yew (Taxus chinensis). Gene 436:37–44. https://doi.org/10.1016/j.gene.2009.01.006

Ražná K, Nôžková J, Hlavačková L, Brutch N, Porokhovinova E, Shelenga T, Pavlov A (2015) Genotyping of flax genetic resources by miRNA-based molecular markers and morphology. Agriculture 61:129–138. https://doi.org/10.1515/agri-2015-0018

Ražná K, Khasanova N, Ivanišová E, Davranov Q, Habán M (2018) Antioxidant properties of cumin (Bunium persicum Boiss.) extract and its protective role against ultrasound-induced oxidative stress tested by microRNA based markers. Potr S J F Sci 12:11–19. https://doi.org/10.5219/838

Saghai-Maroof MA, Soliman KM, Jorgensen JA, Allard RW (1984) Ribosomal DNA spacer-length polymorphisms in barley: Mendelian inheritance, chromosomal location, and population dynamics. PNAS 81:8014–8018. https://doi.org/10.1073/pnas.81.24.8014

Samota MK, Sasi M, Awana M, Yadav OP, Mithra SVA, Tyagi A, Kumar S, Singh A (2017) Elicitor-induced biochemical and molecular manifestations to improve drought tolerance in rice (Oryza sativa L.) through seed-priming. Front plant Sci 8:934. https://doi.org/10.3389/fpls.2017.00934

Shukla LI, Chinnusamy V, Sunkar R (2008) The role of microRNAs and other endogenous small RNAs in plant stress responses. Biochim Biophys Acta-Gene Regul Mech 1779:743–748. https://doi.org/10.1016/j.bbagrm.2008.04.004

Sunkar R (2010) MicroRNAs with macro-effects on plant stress responses. Semin Cell Dev Biol 21:805–811. https://doi.org/10.1016/j.semcdb.2010.04.001

Thakur M, Sohal BS (2013) Role of elicitors in including resistance in plants against pathogen infection: a review. ISRN Biochem 2013:762412. https://doi.org/10.1155/2013/762412

Várallyay É, Válóczi A, Ágyi Á, Burgyán J, Havelda Z (2010) Plant virus-mediated induction of miR168 is associated with repression of ARGONAUTE1 accumulation. EMBO J 29:3507–3519. https://doi.org/10.1038/emboj.2010.215

Vaucheret H, Mallory AC, Bartel DP (2006) AGO1 homeostasis entails coexpression of MIR168 and AGO1 and preferential stabilization of miR168 by AGO1. Mol Cell 22:129–136. https://doi.org/10.1016/j.molcel.2006.03.011

Wang ZY, Athar M, Bickers DR (2000) Licorice in foods and herbal drugs. Chemistry, pharmacology, toxicology and uses. In: Mezza G, Oomah BD (eds) Herbs, Botanicals & Teas. Technomic Publishing Co. Inc, Lancaster, pp 321–353

Wang D, Pang YX, Wang WQ, Wan CY, Hou JL, Yu FL, Wang QL, Liu FB, Zhang XD (2013) Effect of molybdenum on secondary metabolic process of glycyrrhizic acid in Glycyrrhiza uralensis Fisch. Biochem Syst Ecol 50:93–100. https://doi.org/10.1016/j.bse.2013.03.045

Wang L, Yang R, Yuan B, Liu Y, Liu C (2015) The antiviral and antimicrobial activities of licorice, a widely-used Chinese herb. Acta Pharm Sin B 5:310–315. https://doi.org/10.1016/j.apsb.2015.05.005

Wiesel L, Newton AC, Elliott I, Booty D, Gilroy EM, Birch PRJ, Hein I (2014) Molecular effects of resistance elicitors from biological origin and their potential for crop protection. Front Plant Sci 5:655. https://doi.org/10.3389/fpls.2014.00655

Wu F, Guo Q, Zhang W, Jin W (2015) Identification and analysis of powdery mildew-responsive miRNAs in wheat. J Phytopathol 163:264–270. https://doi.org/10.1111/jph.12315

Xie Z, Khanna K, Ruan S (2010) Expression of microRNAs and its regulation in plants. Sem Cell Dev Biol 21:790–797. https://doi.org/10.1016/j.semcdb.2010.03.012

Yadav CBY, Muthamilarasan M, Pandey G, Prasad M (2014) Development of novel microRNA-based genetic markers in foxtail millet for genotyping applications in related grass species. Mol Breed 34:2219–2224. https://doi.org/10.1007/s11032-014-0137-9

Zhao JP, Jiang XL, Zhang BY, Su XH (2012) Involvement of microRNA-mediated gene expression regulation in the pathological development of stem canker disease in Populus trichocarpa. PLoS One 7:e44968. https://doi.org/10.1371/journal.pone.0044968
Funding
This work was supported by AgroBioTech Research Centre built in accordance with the project Building "AgroBioTech" Research Centre ITMS 26220220180, by project of Slovak ScientificAgency of Ministry of Education of the Slovak Republic, VEGA, No. 1/0849/18 and by project of The Slovak Research and Development Agency APVV-15-0156.
Ethics declarations
Conflict of interest
The authors declare that they have no conflict of interest.
Additional information
Publisher's note
Springer Nature remains neutral with regard to jurisdictional claims in published maps and institutional affiliations.
About this article
Cite this article
Ražná, K., Ablakulova, N., Žiarovská, J. et al. Molecular characterization of the effect of plant-based elicitor using microRNAs markers in wheat genome. Biologia (2020). https://doi.org/10.2478/s11756-020-00546-3
Received:

Accepted:

Published:
Keywords
Plant elicitor

miR168; miR395

qRT-PCR

Triticum aestivum L