Abstract
Due to the increasingly heated debate on the potential threat of genetically modified (GM) crops to human health and environment, regulations and laws relevant to GM crops have been issued in many countries and regions to strictly restrict their cultivation and application. Therefore, fast and accurate method to realized on-site detection of GM crops is greatly demanded. In this work, a novel isothermal amplification method termed denaturation bubble-mediated strand exchange amplification (SEA) was proposed first time to detect GM crops. Fluorescence assay based on SEA could accurately distinguished GM and non-GM soybean by detecting agrobacterium tumefaciens nopaline synthase (NOS) terminator, which was widely incorporated in GM crops. Moreover, this feasible and specific method could detect NOS terminator from as low as 200 pg/μL total genomic DNA of GM soybean. In addition, in the actual sample detection, the result of colorimetric assay based on SEA results could be directly observed by the naked eyes within 58 min. Compared with the traditional methods based on PCR, which normally required complex equipment, skilled technicians and long operation time, this simple, fast and precise method is more desirable for the on-site GM crops detection.
This is a preview of subscription content, log in to check access.
Access options
Buy single article
Instant access to the full article PDF.
US$ 39.95
Price includes VAT for USA
Subscribe to journal
Immediate online access to all issues from 2019. Subscription will auto renew annually.
US$ 199
This is the net price. Taxes to be calculated in checkout.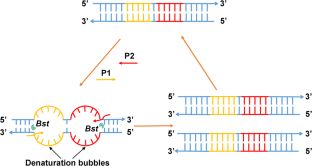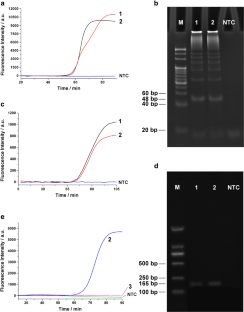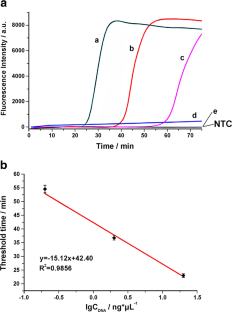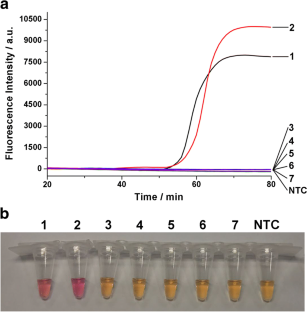 Data availability
We make sure that all data and materials support our published claims and comply with field standards.
Abbreviations
GM:

Genetically modified

NOS:

Nopaline synthase

FDA:

Food and Drug Administration

US EPA:

United States Environmental Protection Agency

USDA:

United States Department of Agriculture

PCR:

Polymerase chain reaction

SEA:

Strand exchange amplification

LAMP:

Loop-mediated isothermal amplification

RCA:

Rolling-circle amplification

RPA:

Recombinase polymerase amplification

DNA:

Deoxyribonucleic acid

HPLC:

High performance liquid chromatography

NCBI:

National Center for Biotechnology Information

dNTPs:

Deoxy-ribonucleoside triphosphates

NTC:

No template control

PAGE:

Polyacrylamide gel electrophoresis

Tt:

Threshold time
Acknowledgments
The authors sincerely thank Qingdao Grain and Oils Quality Inspection Center for GM bean samples. This work was supported by National Natural Science Foundation of China (No.31670868 and No.21675094), and Shandong Province Natural Science Fund Major Basic Research Project (ZR2017ZC0123).
Funding
This work was funded by National Natural Science Foundation of China (No.31670868 and No.21675094), and Shandong Province Natural Science Fund Major Basic Research Project (ZR2017ZC0123).
Ethics declarations
Conflict of interest
There are no conflicts of interest to declare.
Consent to participate
All the authors are consent to participate to this work.
Consent for publication
All the authors are consent this manuscript publishing in Biologia.
Ethics approval
Not applicable.
Code availability
Not Applicable
Additional information
Publisher's note
Springer Nature remains neutral with regard to jurisdictional claims in published maps and institutional affiliations.
Electronic supplementary material
About this article
Cite this article
Liu, Y., Li, Y., Li, M. et al. A novel isothermal detection method for the universal element of genetically modified soybean. Biologia (2020). https://doi.org/10.2478/s11756-020-00541-8
Received:

Accepted:

Published:
Keywords
Isothermal nucleic acid amplification

SEA

Colorimetric detection

GM soybean

On-site detection