Abstract
The gene sequence encoding the mannose-binding homodimeric protein Allium sativum leaf agglutinin (ASAL) was introduced into maize inbred lines to achieve resistance against sap-sucking corn leaf aphids in transgenic lines. Maize transformants were generated after the co-cultivation of immature maize embryos with the Agrobacterium strain LB4404 harbouring a recombinant Ti-binary ASAL construct driven by the polyubiquitin promoter. The preliminary screening of maize transformants was performed via GUS histochemical analysis, and PCR and Southern blotting confirmed the insertion of the transgene and its stable integration in five transgenic maize lines. Transcript abundance was quantified by a quantitative real-time PCR assay, which revealed variable expression of the ASAL transgene among five transgenic maize lines. The highest mRNA expression of the ASAL gene was found in the A23 transgenic maize line, while the lowest expression was found in the AU1 transgenic maize line. In planta bioassays in the T1 progeny of the transgenic maize lines revealed high resistance against corn leaf aphids compared to the control non-transgenic line. The mortality of the infesting aphids (Rhopalosiphum maidi) was found to vary from 40 to 71% compared to that of the non-transgenic control maize line.
This is a preview of subscription content, log in to check access.
Access options
Buy single article
Instant access to the full article PDF.
US$ 39.95
Price includes VAT for USA
Subscribe to journal
Immediate online access to all issues from 2019. Subscription will auto renew annually.
US$ 199
This is the net price. Taxes to be calculated in checkout.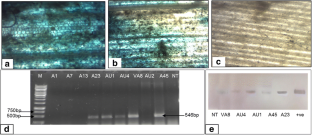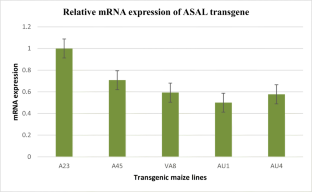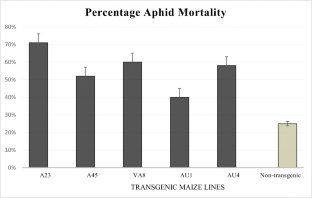 Abbreviations
ASAL:

Allium sativum leaf agglutinin

GUS:

β-glucuronidase

PCR:

Polymerase chain reaction

TMVΩ:

TMVΩ translational enhancer

T1 :

first generation progeny plants

Bt:

Bacillus thuringenesis

NOS:

nopaline synthase gene
References
Arabjafari KH, Jalali SK (2007) Identification and analysis of host plant resistance in leading maize genotypes against spotted stem borer, Chilo partellus (Swinhoe) (Lepidoptera: Pyralidae). Pak J Biol Sci 10(11):1885–1895. https://doi.org/10.3923/pjbs.2007.1885.1895

Banerjee N, Sengupta S, Roy A, Ghosh P, Das K (2011) Functional alteration of a dimeric insecticidal lectin to a monomeric antifungal protein correlated to its oligomeric status. PLoS One 6(4):e18593. https://doi.org/10.1371/journal.pone.0018593

Betsiashvili M, Ahern KR, Jander G (2015) Additive effects of two quantitative trait loci that confer Rhopalosiphum maidis (corn leaf aphid) resistance in maize inbred line Mo17. J Exp Bot 66:571–578. https://doi.org/10.1093/jxb/eru379

Boddupally D, Tamirisa S, Gundra SR, Vudem DR, Khareedu VR (2018) Expression of hybrid fusion protein (Cry1Ac: ASAL) in transgenic rice plants imparts resistance against multiple insect pests. Sci Rep 8(1):1–10. https://doi.org/10.1038/s41598-018-26881-9

Carena MJ, Glogoza P (2004) Resistance of maize to the corn leaf aphid: a review. Maydica 49(4):241–254

Chakraborti D, Sarkar A, Mondal HA, Das S (2009) Tissue specific expression of potent insecticidal, Allium sativum leaf agglutinin (ASAL) in important pulse crop, chickpea (Cicer arietinum L.) to resist the phloem feeding Aphis craccivora. Transgenic Res 18:529–44. https://doi.org/10.1007/s11248-009-9242-7

Dutta I, Majumder P, Saha P, Ray K, Das S (2005a) Constitutive and phloem specific expression of Allium sativum leaf agglutinin ASAL to engineer aphid Lipaphis erysimi resistance in transgenic Indian mustard. Brassica juncea. Plant Sci 169(6):996–1007. https://doi.org/10.1016/j.plantsci.2005.05.016

Dutta I, Saha P, Majumder P, Sarkar A, Chakraborty D (2005b) The efficacy of a novel insecticidal protein Allium sativum leaf lectin ASAL against homopteran insects monitored in transgenic tobacco. Plant Biotechnol 3(6):601–611. https://doi.org/10.1111/j.1467-7652.2005.00151.x

EL-Ghareeb D, Osman GH, El-baz AF (2012) Isolation, cloning, and overexpression of vip3Aa gene isolated from a local Bacillus thuringiensis. Biocontrol Sci Techn 22:11–21. https://doi.org/10.1080/09583157.2011.635288

El-Menofy WH, Osman GH, Assaeedi A, Salama MS (2014) Construction of A Novel recombinant baculovirus containing Cry1Ab insecticidal protein from Bacillus thuringiensis. Biol Proced Online 16:7

Falak N, Munir H, Faridullah, Din M (2003) Insects Pests of Maize and Their Losses. Asian J of Plant Sci 2:412–414

Faria CA, Wa¨ckers FL, Pritchard J, Barrett DA, Turlings TCJ (2007) High susceptibility of Bt maize to aphids enhances the performance of parasitoids of lepidopteran pests. PLoS One 2(7):e600. https://doi.org/10.1371/journal.pone.0000600

Fitches E, Wiles D, Douglas AE, Hinchliffe G, Audsley N, Gatehouse JA (2008) The insecticidal activity of recombinant garlic lectins towards aphids. Insect Biochem Mol Biol 38(10):905–915. https://doi.org/10.1016/j.ibmb.2008.07.002

Gatehouse AMR, Davison GM, Stewart JN, Galehouse LN, Kumar A, Geoghegan IE, Birch ANE, Gatehouse JA (1999) Concanavalin A inhibits development of tomato moth (Lacanobia oleracea) and peach-potato aphid (Myzus persicae) when expressed in transgenic potato plants. Mol Breed 5(2):153–165

Godfray HCJ, Beddington JR, Crute IR, Haddad L, Lawrence D, Muir JF, Toulmin C (2010) Food security: the challenge of feeding 9 billion people. Science 327(5967):812–818. https://doi.org/10.1126/science.1185383

Hatfield JL, Dold C (2018) Climate change impacts on corn phenology and productivity. In: Production and Human Health in Changing Climate. IntechOpen pp 95–114. ISBN: 978-1-78984-156-5. https://doi.org/10.5772/intechopen.76933

Kanrar S, Venkateshwari J, Kirti PB, Chopra VL (2002) Transgenic Indian mustard (Brassica juncea) with resistance to mustard aphid (Lipaphis erysimi Kalt.). Plant Cell Rep 20:976–981. https://doi.org/10.1007/s00299-001-0422-z

Kanyamasoro MG, Karungi J, Asea G, Gibson P (2012) Determination of the heterotic groups of maize inbred lines and the inheritance of their resistance to the maize weevil. African Crop Sci J 20:99–104. ISSN 1021–9730/2012

Karban R (2011) The ecology and evolution of induced resistance against herbivores. Funct Ecol 25(2):339–347. https://doi.org/10.1111/j.1365-2435.2010.01789.x

Li Z, Yang P, Tang H, Wu W, Yin H, Liu Z, Zhang L (2014) Response of maize phenology to climate warming in Northeast China between 1990 and 2012. Reg Environ Change 14(1):39–48. https://doi.org/10.1007/s10113-013-0503-x

Livak KJ, Schmittgen TD (2001) Analysis of Relative Gene Expression Data Using Real-Time Quantitative PCR and the 2- ∆∆CT Method. Methods 25(4):402–408. https://doi.org/10.1006/meth.2001.1262

Louis J, Basu S, Varsani S, Castano-Duque L, Jiang V, Williams WP, Felton GW, Luthe DS (2015) Ethylene Contributes to maize insect resistance1-Mediated Maize Defense against the Phloem Sap-Sucking Corn Leaf Aphid. Plant Physiol 169:313–324

Macedo MLR, Oliveira CFR, Oliveira CT (2015) Insecticidal activity of plant lectins and potential application in crop protection. Molecules 20(2):2014–2033. https://doi.org/10.3390/molecules20022014

Mondal HA, Chakraborti D, Majumder P, Roy P, Roy A, Swati Gupta Bhattacharya SG, Das S (2011) Allergenicity assessment of allium sativum leaf agglutinin, a potential candidate protein for developing sap sucking insect resistant food crops. PLoS One 6(11):e27716. https://doi.org/10.1371/journal.pone.0027716

Murashige T, Skoog F (1962) A revised medium for rapid growth and bio assays with tobacco tissue cultures. Physiol Plant 15(3):473–497

Nagadhara D, Ramesh S, Pasalu IC, Rao YK, Sarma NP, Reddy VD, Rao KV (2004) Transgenic rice plants expressing the snowdrop lectin (gna) exhibit high-level resistance to the white-backed planthopper (Sogetella furcifera). Theor Appl Genet 109:1399–1405. https://doi.org/10.1007/s00122-004-1750-5

Nie CR, Luo SM, Lin CX, Zeng RS, Huang JH et al (2005) Status of DIMBOA and phenolic acids in transgenic Bt corn. Aust J Agric Res 56:83–837. https://doi.org/10.1071/AR04321

Osman GEH, Already R, Assaeedi ASA, Organji SR, El-Ghareeb D, Abulreesh HH, Althubiani AS (2015) Bioinsecticide bacillus thuringiensis a comprehensive review. Egypt J Biol Pest Control 25(1):2771–2288

Porebski S, Bailey LG, Baum BR (1997) Modification of a CTAB DNA extraction protocol for plants containing high polysaccharide and polyphenol components. Plant Mol Biol Rep 15(1):8–15 ()

Rahbe Y, Deraison C, Bonade-Bottino M, Girard C, Nardon C, Jouanin L (2003) Effects of the cysteine protease inhibitor oryzacystatin (OC-I) on different aphids and reduced performance of Myzus persicae on OC-I expressing transgenic oilseed rape. Plant Sci 164:441–450. https://doi.org/10.1016/S0168-9452(02)00402-8

Ramachandraiah G, Chandra NR (2000) Sequence and structural determinants of mannose recognition. Proteins Struc Func Genet 39(4):358–364. https://doi.org/10.1002/(SICI)1097-0134(20000601)39:4<358::AID-PROT80>3.0.CO;2-M

Roy A, Das S (2015) Molecular Mechanism underlying the entomotoxic effect of colocasia esculenta tuber agglutinin against dysdercus cingulatus. Insects 6(4):827–846. https://doi.org/10.3390/insects6040827

Saha P, Majumder P, Dutta I, Ray T, Roy SC, Das S (2006) Transgenic rice expressing Allium sativum leaf lectin with enhanced resistance against sap-sucking insect pests. Planta 223(6):1329–1343. https://doi.org/10.1007/s00425-005-0182-z

Saha P, Chakraborti D, Sarkar A, Dutta I, Basu D (2007) Characterization of vascular-specific RSs1 and rolC promoters for their utilization in engineering plants to develop resistance against hemipteran insect pests. Planta 226:429–442. https://doi.org/10.1007/s00425-007-0493-3

Shiferaw B, Prasana BM, Hellin J, Bänziger M (2011) Crops that feed the world: Past successes and future challenges to the role played by maize in global food security. Food Secur 3:307–327. https://doi.org/10.1007/s12571-011-0140-5

So YS, Ji HC, Brewbaker JL (2010) Resistance to corn leaf aphid (Rhopalosiphum maidis Fitch) in tropical corn (Zea mays L.). Euphytica 172:373–381. https://doi.org/10.1007/s10681-009-0044-z

Taylor AP (2017) Insects Are Increasingly Evolving Resistance to Genetically Modified Crops. The Scientist Magazine. https://www.the-scientist.com/the-nutshell/insects-are-increasingly-evolving-resistance-to-genetically-modified-crops-30750. Accessed 13 Dec 2019

Tzin V, Fernandez-Pozo N, Richter A, Schmelz EA, Schoettner M, Schäfer M, Ahern KR, Meihls LN, Kaur H, Huffaker A, Mori N, Degenhardt J, Mueller LA, Jander G (2015) Dynamic Maize Responses to Aphid Feeding Are Revealed by a Time Series of Transcriptomic and Metabolomic Assays. Plant Physiol 169:727–1743. https://doi.org/10.1104/pp.15.01039

Upadhyay SK, Singh PK (2012) Receptors of garlic (Allium sativum) lectins and their role in insecticidal action. Protein J 31(6):439–446. https://doi.org/10.1007/s10930-012-9423-8

Vajhala CSK, Sadumpati VK, Nunna HR, Puligundla SK, Vudem DR, Khareedu VR (2013) Development of Transgenic cotton lines expressing allium sativum agglutinin (ASAL) for enhanced resistance against major sap-sucking pests. PLoS One 8(9):e72542. https://doi.org/10.1371/journal.pone.0072542

Vandenborre G, Smagghe G, Van Damme EJM (2011) Plant lectins as defense proteins against phytophagous insects. Phytochemistry 72(13):1538–1550. https://doi.org/10.1016/j.phytochem.2011.02.024

Vijayan M, Chandra N (1999) Lectins. Curr. Opin Struct Biol 9(6):707–714. https://doi.org/10.1016/S0959-440X(99)00034-2

Walski T, De Schutter K, Cappelle K, Van Damme EJM, Smagghe G (2017) Distribution of glycan motifs at the surface of midgut cells in the cotton leafworm (Spodoptera littoralis) demonstrated by lectin binding. Front Physiol 8:1020. https://doi.org/10.3389/fphys.2017.01020

War AR, Paulraj MG, Ahmad T, Buhroo AA, Hussain B, Ignacimuthu S, Sharma HC (2012) Mechanisms of plant defense against insect herbivores. Plant Signal Behav 7:1306–1320. https://doi.org/10.4161/psb.21663

Will T, Tjallingii WF, Thönnessen A, van Bel AJ (2007) Molecular sabotage of plant defense by aphid saliva. Proc Natl Acad Sci 104(25):10536–10541. https://doi.org/10.1073/pnas.0703535104

Yarasi B, Sadumpati V, Immanni CP, Vudem DR, Khareedu VR (2008) Transgenic rice expressing Allium sativum leaf agglutinin (ASAL) exhibits high-level resistance against major sap-sucking pests. BMC Plant Biol 8:102. https://doi.org/10.1186/1471-2229-8-102

Zhu-Salzman K, Zeng R (2015) Insect response to plant defensive protease inhibitors. Annu Rev Entomol 60:233–252. https://doi.org/10.1146/annurev-ento-010814-020816
Ethics declarations
Conflict of interest
All authors also declare that there exist no conflicts of interest and have approved the manuscript for submission in this journal.
Electronic supplementary material
About this article
Cite this article
Bhatti, M.U., Riaz, S., Toufiq, N. et al. The potential and efficacy of Allium sativum leaf lectin (ASAL) against sap-sucking insect pests of transgenic maize. Biologia (2020). https://doi.org/10.2478/s11756-020-00533-8
Received:

Accepted:

Published:
Keywords
Corn leaf aphid

Mannose binding lectin

Transgenic maize

In planta bioassay