Abstract
Artificial enhancement of fish populations by stocking is widespread practice. Yet, very little is known about short-term dispersal, capture efficiency and the effect of fish size and habitat suitability. Asp (Leuciscus aspius Linnaeus, 1758) was chosen as a model species, because of its protection in the Svihov Reservoir and common stocking to increase predator fish abundance in many biomanipulated waters. 0+ fluorescent-marked asp were stocked in dam, middle and tributary sites of Svihov Reservoir and subsequently monitored weekly for three weeks intervals by boat electrofishing for two consecutive years. Despite similar numbers of asp stocked, the recapture was six-times lower in a year with low water level and high macrophyte density. All captured asp were identified as of hatchery origin. In the dam site most asp were recaptured in or close to the semi-closed bay with shallow water, where they were stocked. In the middle site asp spread from the unsuitable site of stocking in all directions and only very few individuals were recaptured. In the tributary site, asp dispersion was the most evident in 2017 in the direction towards the dam in the littoral zone opposite the bank that was the bank of stocking. In comparison the highest recapture was found at the site of stocking in 2018. The recaptured asp were of similar or larger size than the average stocked asp, which may suggest size-dependent mortality. The mortality of stocked asp may be affected by failure in foraging and antipredator behaviour. This research highlights the importance of post-release monitoring.
This is a preview of subscription content, log in to check access.
Access options
Buy single article
Instant access to the full article PDF.
US$ 39.95
Price includes VAT for USA
Subscribe to journal
Immediate online access to all issues from 2019. Subscription will auto renew annually.
US$ 199
This is the net price. Taxes to be calculated in checkout.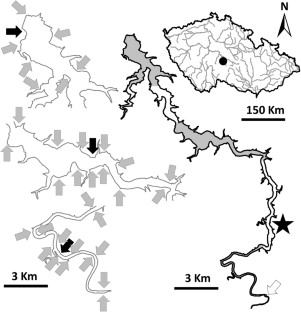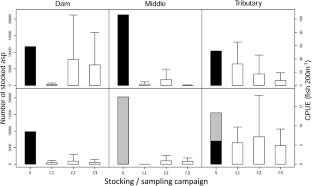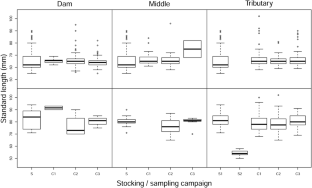 References
Adámek Z, Opačak A (2005) Prey selectivity in pike (Esox lucius), zander (Sander lucioperca) and perch (Perca fluviatilis) under experimental conditions. Biologia 60:567–570

Adámek Z, Kubec V, Sukop I (1988) Growth and food characteristics of the fry of rapacious carp (Aspius aspius) under pond conditions. Živoč Výr 33:907–915

Araki H, Schmid C (2010) Is hatchery stocking a help or harm? Evidence, limitations and future directions in ecological and genetic surveys. Aquaculture 308:2–11. https://doi.org/10.1016/j.aquaculture.2010.05.036

Bayley PB, Austen DJ (2002) Capture efficiency of a boat electrofisher. Trans Am Fish Soc 131:435–451. https://doi.org/10.1577/1548-8659(2002)131<0435:CEOABE>2.0.CO;2

Blabolil P, Ricard D, Peterka J, Říha M, Jůza T, Vašek M, Prchalová M, Čech M, Muška M, Seďa J, Mrkvička T, Boukal DS, Kubečka J (2016) Predicting asp and pikeperch recruitment in a riverine reservoir. Fish Res 173:45–52. https://doi.org/10.1016/j.fishres.2015.08.003

Bolland JD, Cowx IG, Lucas MC (2009) Dispersal and survival of stocked cyprinids in a small English river: comparison with wild fishes using a multi-method approach. J Fish Biol 74:2313–2328. https://doi.org/10.1111/j.1095-8649.2009.02244.x

Brown C, Day RL (2002) The future of stock enhancements: lessons for hatchery practice from conservation biology. Fish Fish 3:79–94. https://doi.org/10.1046/j.1467-2979.2002.00077.x

Casselman JM, Lewis CA (1996) Habitat requirements of northern pike (Essox lucius). Can J Fish Aquat Sci 53:161–174. https://doi.org/10.1139/f96-019

Cowx IG (1994) Stocking strategies. Fish Manag Ecol 1:15–30. https://doi.org/10.1111/j.1365-2400.1970.tb00003.x

Donabaum K, Schagerl M, Dokulil MT (1999) Integrated management to restore macrophyte domination. Hydrobiologia 395(396):87–97. https://doi.org/10.1023/A:1017015200790

Doyle RM, Perez-Enriquez R, Takagi M, Taniguchi N (2001) Selective recovery of founder genetic diversity in aquacultural broodstocks and captive, endangered fish populations. Genetica 111:291–304. https://doi.org/10.1023/A:1013772205330

Ersbak K, Haase BL (1983) Nutritional deprivation after stocking as a possible mechanism leading to mortality in stream-stocked brook trout. N Am J Fish Manag 3:142–151. https://doi.org/10.1577/1548-8659(1983)3<142:NDASAA>2.0.CO;2

Fredrich F (2003) Long-term investigations of migratory behaviour of asp (Aspius aspius L.) in the middle part of the Elbe River, Germany. J Appl Ichthyol 19:294–302. https://doi.org/10.1046/j.1439-0426.2003.00504.x

Freyhof J, Kottelat M (2018) The IUCN red list of threatened species:2018 www.iucnredlist.org.

Grift RE, Buijse AD, Van Densen WLT, Machiels MAM, Kranenbarg J, Klein Breteler JGP, Backx JJGM (2003) Suitable habitats for 0-group fish in rehabilitated floodplains along the lower river Rhine. River Res Appl 19:353–374. https://doi.org/10.1002/rra.711

Halačka K, Lusk S (1995) Mortality in eggs of nase, Chondrostoma nasus, during incubation. Folia Zool 44:51–56

Halačka K, Mareš J, Vetešník L, Blabolil P (2019) Application of the alizarin red S mass marking technique and its detection in stocked asp (Leuciscus aspius). Biologia. https://doi.org/10.2478/s11756-019-00247-6

Huntingford FA (2004) Implications of domestication and rearing conditions for the behaviour of cultivated fishes. J Fish Biol 65:122–142. https://doi.org/10.1111/j.1095-8649.2004.00562.x

Jurajda P, Regenda J (2004) Littoral 0+ fish assemblages in three reservoirs of the Nové Mlýny dam (Czech Republic). Czech J Anim Sci 49:450–457

Jůza T, Vašek M, Kratochvíl M, Blabolil P, Čech M, Draštík V, Frouzová J, Muška M, Peterka J, Prchalová M, Říha M, Tušer M, Kubečka J (2014) Chaos and stability of age-0 fish assemblages in a temperate deep reservoir: unpredictable success and stable habitat use. Hydrobiologia 724:217–234. https://doi.org/10.1007/s10750-013-1735-y

Kara HM (2012) Freshwater fish diversity in Algeria with emphasis on alien species. Eur J Wildl Res 58:243–253. https://doi.org/10.1007/s10344-011-0570-6

Kaukoranta M, Pennanen JT (1990) Propagation and management of the asp, Aspius aspius (L.), in Finland. In: van Densen WLL, Steinmetz B, Hughes RH (eds) Management of freshwater fisheries, Proceedings of a symposium organized by the European inland fisheries advisory commission, Göteborg, Sweden, 31 May-3 June, vol 1988. Pudoc, Wageningen, pp 67–73

Kottelat M, Freyhof J (2007) Handbook of European freshwater fishes. Copeia, Berlin

Kouřil J, Přikryl I (1988) Working fecundity of the females of asp (Aspius aspius L.) of the Zelivka dam reservoir, subjected to stripping. Bulletin VURH Vodnany 4:16–19

Krpo-Ćetković J, Hegediš A, Lenhardt M (2010) Diet and growth of asp, Aspius aspius (Linnaeus, 1758), in the Danube River near the confluence with the Sava River (Serbia). J Appl Ichthyol 26:513–521. https://doi.org/10.1111/j.1439-0426.2010.01456.x

Kucharczyk D, Nowosad J, Łuczyńki MJ, Targońska K (2006) New technique for fertilizing eggs of burbot, asp and ide under hatchery conditions. Anim Reprod Sci 172:143–147. https://doi.org/10.1016/j.anireprosci.2016.07.012

Li J (1999) An appraisal of factors constraining the success of fish stock enhancement programmes. Fish Manag Ecol 6:161–169. https://doi.org/10.1046/j.1365-2400.1999.00145.x

Martyniak A, Heese T (1994) Growth rate and age composition of asp, Aspius aspius [L., 1758] from Pierzchaly reservoir. Acta Ichthyol Piscat 24:55–67

Miranda LE, Kratochvíl M (2008) Boat electrofishing relative to anode arrangement. Trans Am Fish Soc 137:1358–1362. https://doi.org/10.1577/T07-243.1

Prchalová M, Kubečka J, Čech M, Frouzová J, Draštík V, Hohausová E, Jůza T, Kratochvíl M, Matěna J, Peterka J, Říha M, Tušer M, Vašek M (2009) The effect of depth, distance from dam and habitat on spatial distribution of fish in an artificial reservoir. Ecol Freshw Fish 18:247–260. https://doi.org/10.1111/j.1600-0633.2008.00342.x

R Developement Core Team (2018) R: A Language and Environment for Statistical Computing. R Foundation for Statistical Computing, Vienna, Austria. Available online at https://www.R-project.org/. Accessed 20 Jan 2018

Scharbert A, Borcherding J (2013) Relationships of hydrology and life-history strategies on the spatio-temporal habitat utilisation of fish in European temperate river floodplains. Ecol Indic 29:348–360. https://doi.org/10.1016/j.ecolind.2013.01.009

Sliwiński J (2009) Diet and growth of asp Aspius aspius (L.) larvae reared in carp ponds. Rocz Nauk PZW 22:163–176

Šmejkal M, Baran R, Blabolil P, Vejřík L, Prchalová M, Bartoň D, Mrkvička T, Kubečka J (2017a) Early life-history predator-prey reversal in two cyprinid fishes. Sci Rep 7:6924. https://doi.org/10.1038/s41598-017-07339-w

Šmejkal M, Ricard D, Vejřík L, Mrkvička T, Vebrová L, Baran R, Blabolil P, Sajdlová Z, Vejříková I, Prchalová M, Kubečka J (2017b) Seasonal and daily protandry in a cyprinid fish. Sci Rep 7:4737. https://doi.org/10.1038/s41598-017-04827-x

Svåsand T, Skilbrei OT, Van der Meeren GI, Holm M (1998) Review of morphological and behavioural differences between reared and wild individuals: implications for sea-ranching of Atlantic salmon, Salmo salar L., Atlantic cod, Gadus morhua L., and European lobster, Homarus gammarus L. Fish Manag Ecol 5:473–490. https://doi.org/10.1046/j.1365-2400.1998.560473.x

Svåsand T, Kristiansen TS, Pedersen T, Salvanes AGV, Engelsen R, Naevdal G, Nødtvedt M (2000) The enhancement of cod stocks. Fish Fish 1:173–205. https://doi.org/10.1046/j.1467-2979.2000.00017.x

Targońska K, Kucharczyk D, Kujawa R, Mamcarz A, Zarski D (2010) Controlled reproduction of asp, Aspius aspius (L.) using luteinizing hormone releasing hormone (LHRH) analogues with dopamine inhibitors. Aquaculture 306:407–410. https://doi.org/10.1016/j.aquaculture.2010.05.027

Vašek M, Eloranta AP, Vejříková I, Blabolil P, Říha M, Jůza T, Šmejkal M, Matěna J, Kubečka J, Peterka J (2018) Stable isotopes and gut contents indicate differential resource use by coexisting asp (Leuciscus aspius) and pikeperch (Sander lucioperca). Ecol Freshw Fish 27:1054–1065. https://doi.org/10.1111/eff.12414

Vostradovský J (1974) On the biology of asp (Aspius aspius L.) in the water-supply reservoir Svihov (Zelivka). Czech J Anim Sci 19:683–688

Wang S, Hard JJ, Utter F (2001) Salmonid inbreeding: A review. Rev Fish Biol Fish 11:301–319. https://doi.org/10.1023/A:1021330500365

Zohary T, Ostrovsky I (2011) Ecological impacts of excessive water level fluctuations in stratified freshwater lakes. Inland Waters 1:47–59. https://doi.org/10.5268/IW-1.1.406
Acknowledgments
Thanks are given to J. Mareš, P. Michalička, Z. Prachař, M. Říha, K. Soukalová, L. Vetešník for assistance in the field and helpful suggestions during manuscript preparation, to L. Belfield for editing the English and to Vltava River Authority for enabling the fieldwork. This study was supported from ERDF/ESF project "Biomanipulation as a tool for improving water quality of dam reservoirs (No. CZ.02.1.01/0.0/0.0/16_025/0007417)", by NAZV projects QK1920011" Methodology of predatory fish quantification in drinking-water reservoirs to optimize the management of aquatic ecosystems" and QK1920326 "Aquaculture of rheophilous fish".
Ethics declarations
Ethical approval
All applicable international, national and institutional guidelines for the care and use of animals were followed.
Conflict of interest
The authors declare no potential conflict of interests.
Additional information
Publisher's note
Springer Nature remains neutral with regard to jurisdictional claims in published maps and institutional affiliations.
About this article
Cite this article
Blabolil, P., Bartoň, D., Halačka, K. et al. The fate of 0+ asp (Leuciscus aspius) after being stocked in a reservoir. Biologia 75, 989–996 (2020). https://doi.org/10.2478/s11756-019-00355-3
Received:

Accepted:

Published:

Issue Date:
Keywords
Dispersion

Fishery management

Hatchery production

Heavily modified water body

Sampling