Abstract
Myosin heavy chain 11 (MYH11), a member of the myosin family, is an actin-based cytoskeletal motor protein. Limited previous studies have revealed that the Myh11 gene is expressed in cumulus cells, cumulus-oocyte complexes, and ovarian theca cells. However, its expression profiles in mouse tissues, oocytes and preimplantation embryos are largely unknown. Here, we found that the MYH11 protein was expressed in multiple mouse tissues. In the ovary, the MYH11 protein was highly expressed in oocytes and smooth muscle fiber cells. After ovulation and fertilization, Myh11 mRNA expression had sharply declined in zygotes and could not be detected from 8-cell to blastocyst stages, while the protein persisted until the blastocyst stage. Furthermore, the MYH11 protein was localized in the cytoplasm of oocytes and preimplantation embryos. These results provide the first evidence that MYH11 is enriched in oocytes and early embryos and might play a key role in oogenesis and early embryogenesis of mice.
Access options
Buy single article
Instant access to the full article PDF.
US$ 39.95
Tax calculation will be finalised during checkout.
Subscribe to journal
Immediate online access to all issues from 2019. Subscription will auto renew annually.
US$ 119
Tax calculation will be finalised during checkout.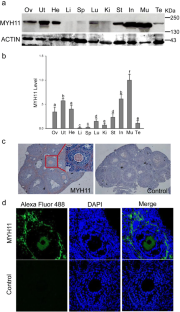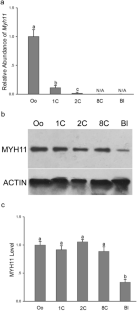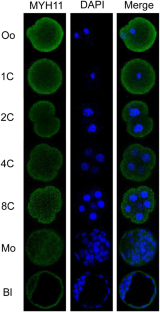 Acknowledgments
The authors thank Professor Wenchang Zhang for helpful discussions. This work was supported by grants from the National Natural Science Foundation of China (grant number 31672415), Fujian Provincial Natural Science Foundation (grant number 2018 J01594), and FAFU Program for Distinguished Young Scholars (grant number XJQ201509).
Ethics declarations
Competing interests
The authors have declared that no competing interests exist.
Additional information
Publisher's note
Springer Nature remains neutral with regard to jurisdictional claims in published maps and institutional affiliations.
About this article
Cite this article
Fang, J., Meng, D., Huo, J. et al. Expression and localization of MYH11 in mouse tissues, oocytes and preimplantation embryos. Biologia 75, 961–967 (2020). https://doi.org/10.2478/s11756-019-00353-5
Received:

Accepted:

Published:

Issue Date:
Keywords
Myosin heavy chain 11

Expression profile

Oocyte

Preimplantation embryo

Mouse