Abstract
This study was carried out to evaluate the variation of diversity and composition of benthic insects in streams, along an altitudinal gradient in an arid area of Belezma National Park, Northern East of Algeria. Benthic entomofauna was sampled in the spring season of 2015, 2017 and 2018 at 28 sampling sites distributed along 4 streams unaffected by human pressure. The altitudinal gradient varies between 1045 m and 1500 m. At each site, we measured 5 physicochemical parameters of water and other physical factors describing each site (velocity, depth and width). All of these environmental factors vary significantly with altitude. A total of 78 taxa belonging to 55 families and 8 orders of benthic insects were identified. Both diversity and abundance of studied entomofauna vary with altitudinal gradient. The highest values of diversity were found in the fourth altitudinal zone (AZ4: up to 1400 m, total taxa richness = 52) and AZ3 (1300 to 1400 m, Shannon index = 3.16). The average number of individuals in AZ1 is higher than in all the other altitudinal zones (mean individuals number = 102.75). The General Linear Model analysis shows that the altitudinal gradient is in favour of high diversity but in disfavour of population abundance. The hierarchical clustering analysis revealed three cluster groups of benthic insects, which are altitudinal indicators. Diptera and Ephemeroptera in downstream stations are mainly replaced by Coleoptera in upstream ones.
Access options
Buy single article
Instant access to the full article PDF.
US$ 39.95
Tax calculation will be finalised during checkout.
Subscribe to journal
Immediate online access to all issues from 2019. Subscription will auto renew annually.
US$ 119
Tax calculation will be finalised during checkout.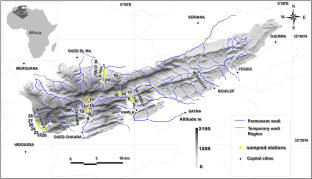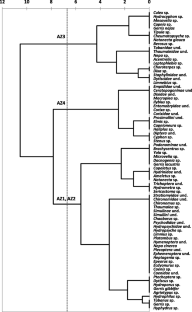 References
AFNOR (2005) Qualité de l'eau. Dosage des matières en suspension Méthode par filtration sur filtre en fibres de verre NF EN 872. In AFNOR Report

Allan JD (1975) Faunal replacement and longitudinal zonation in an alpine stream. Verh Int Ver Theor Angew Limnol 19:1646–1652

Allan JD (1995) Stream ecology. The structure and function of running waters. Chapman and Hall, London

Arab A, Lek S, Lounaci A, Park YS (2009) Spatial and temporal patterns of benthic invertebrate communities in an intermittent river (North Africa). Ann Limnol Int J Lim 40:317–327. https://doi.org/10.1051/limn/2004029

Badri A, Giudicelli J, Prevot G (1987) Effets d'une crue sur la communauté d'invertébrés benthiques d'une rivière méditerranéenne, le Rdat (Maroc). Acta Ecol Ecol Gen 4:481–500

Beauchard O, Gagneur J, Brosse S (2003) Macroinvertebrate richness patterns in north African streams. J Biogeogr 30:1821–1833. https://doi.org/10.1111/j.1365-2699.2003.00954.x

Begon M, Harper JL, Townsend CR (1996) Ecology: individuals, populations and communities, 3rd edn. Blackwell Science, Oxford, UK

Benzina I, Si Bachir A, Saheb M, Santoul F, Céréghino R (2018) Macroinvertebrate communities respond to anthropogenic pressure in arid-land streams of north East Algeria. Vie et milieu - Life and Environment 68:271–280

Berg EA (1948) A simple objective technique for measuring flexibility in thinking. J Gen Psychol 39:15–22. https://doi.org/10.1080/00221309.1948.9918159

Bott TL, Brock JT, Dunn CS, Naiman RJ, Ovink RW, Petersen RC (1985) Benthic community metabolism in four temperate stream systems: an inter-biome comparison and evaluation of the river continuum concept. Hydrobiologia 123:3–45. https://doi.org/10.1007/BF00006613

Boukerker H, Si Bachir A (2015) Biodiversity of xylophagous insects and their role in the Cedrus atlantica forests decline in the national park of Belezma, Batna (Algeria). Courrier du Savoir 20:79–90

Boumaiza M (1994) Recherches sur les eaux courantes de Tunisie. Faunistique, Écologie et Biogéographie. Thèse de doctorat d'état es. Sciences Biologiques. Faculté Sciences Tunis, Tunisie, 429 pp

Bouzidi A, Giudicelli J (1994) Ecologie et distribution spatiale des macro-invertébrés des eaux courantes du Haut-Atlas marocain. Revue de la Faculté des Sciences Marrakech 8:23–43

Brosse S, Arbuckle CJ, Townsend CR (2003) Habitat scale and biodiversity: influence of catchment, stream reach and bedform scales on local invertebrate diversity. Biodivers Conserv 12:2057–2075. https://doi.org/10.1023/A:1024107915183

Bush A, Nipperess D, Turak E, Hughes L (2012) Determining vulnerability of stream communities to climate change at the landscape scale. Freshw Biol 57:1689–1701. https://doi.org/10.1111/j.1365-2427.2012.02835.x

Buss DF, Baptista DF, Silveira MP, Nessimian JL, Dorvillé LFM (2002) Influence of water chemistry and environmental degradation on macroinvertebrate assemblages in a river basin in south-East Brazil. Hydrobiologia 481:125–136. https://doi.org/10.1023/A:1021281508709

Céréghino R, Oertli M, Bazzanti C, Coccia A, Compin J, Biggs N, Bressi P, Grillas A, Hull T, Kalettka SO (2012) Biological traits of European pond macroinvertebrates. Hydrobiologia 689:51–61. https://doi.org/10.1007/s10750-011-0744-y

Charvet S, Statzner B, Usseglio-Polatera P, Dumont B (2000) Traits of benthic macroinvertebrates in semi-natural French streams: an initial application to biomonitoring in Europe. Freshw Biol 43:277–296. https://doi.org/10.1046/j.1365-2427.2000.00545.x

Dedieu N, Rhone M, Vigouroux R, Céréghino R (2015) Assessing the impact of gold mining in headwater streams of eastern Amazonia using Ephemeroptera assemblages and biological traits. Ecol Indic 52:332–340. https://doi.org/10.1016/j.ecolind.2014.12.012

Doledec S, Chessel D (1989) Rythmes saisonniers et composantes stationnelles en milieu aquatique II- Prise en compte et élimination d'effets dans un tableau faunistique. Acta Ecol Ecol Gen 10:207–232 http://pbil.univ-lyon1.fr/R/articles/arti060.pdf

Frissell CA, Liss WJ, Warren CE, Hurley MD (1986) A hierarchical framework for stream habitat classification: viewing streams in a watershed context. Environ Manag 10:199–214. https://doi.org/10.1007/BF01867358

Garrido J, Alaez MF, Cueto JAR (1994) Geographical distribution of Adephaga and Polyphaga (Coleoptera) in the Cantabrian Mountains (Spain): specific richness and analysis of the altitude factor. Arch Hydrobiol 131(3):353–380

Gaschignard O (1984) Impact d'une crue sur les macroinvertébrés benthiques d'un bras du Rhône. Verh Int Ver Limnol 22:1997–2001

Gaston KJ, Spicer JI (1998) Biodiversity: an introduction. Blackwell Science, Oxford

Giudicelli J, Dakki M, Dia A (1985) Caractéristiques abiotiques et hydrobiologiques des eaux courantes méditerranéennes. Verh Int Ver Limnol 22:2094–2101

Heino J, Muotka T, Myrkä H, Paavola R, Haemaelaeinen H, Koskenniemi E (2003) Defining macroinvertebrate assemblage types of headwater streams: implications for bioassessment and conservation. Ecol Appl 13:842–852. https://doi.org/10.1890/1051-0761(2003)013[0842:DMATOH]2.0.CO;2

Henriques-Oliveira AL, Nessimian JL (2010) Aquatic macroinvertebrate diversity and composition in streams along an altitudinal gradient in southeastern Brazil. Biota Neotropica 10:115–128. https://doi.org/10.1590/S1676-06032010000300012

Hynes HBN (1971) Zonation of the invertebrate fauna in a west Indian stream. Hydrobiologia 38:1–8. https://doi.org/10.1007/BF00036787

Jacobsen D (2004) Contrasting patterns in local and zonal family richness of stream invertebrates along an Andean altitudinal gradient. Freshw Biol 49:1293–1305. https://doi.org/10.1111/j.1365-2427.2004.01274.x

Jacobsen D, Schultz R, Encalada A (1997) Structure and diversity of stream invertebrate assemblages: the influence of temperature with altitude and latitude. Freshw Biol 38:247–261. https://doi.org/10.1046/j.1365-2427.1997.00210.x

Jacobsen D, Dangles O, Andino P, Espinosa R, Hamerlik L, Cadier E (2010) Longitudinal zonation of macroinvertebrates in an Ecuadorian glacier-fed stream: do tropical glacial systems fit the temperate model? Freshw Biol 55:1234–1244. https://doi.org/10.1111/j.1365-2427.2009.02348.x

Jiang XM, Xiong J, Qiu JW, Wu JM, Wang JW, Xie ZC (2010) Structure of macroinvertebrate communities in relation to environmental variables in a subtropical Asian river system. Int Rev Hydrobiol 95:42–57. https://doi.org/10.1002/iroh.200811131

Lang C, Raymond O (1993) Empirical relationships between diversity of invertebrate communities and altitude in rivers: application to biomonitoring. Aquat Sci 55:188–196. https://doi.org/10.1007/BF00877448

Lounaci A, Brosse S, Thomas AGB, Lek S (2000) Abundance, diversity and community structure of macroinvertebrates in an Algerian stream: the Sebaou Wadi. Annls Limnol 36:123–133. https://doi.org/10.1051/limn/2000008

Magurran AE (2004) Measuring biological diversity. Blackwell Publishing, Malden MA

Merz JR, Ochikubo Chan LK (2005) Effects of gravel augmentation on macroinvertebrate assemblages in a regulated California river. River Res Appl 21:61–74. https://doi.org/10.1002/rra.819

Minshall GW (1988) Stream ecosystem theory: a global perspective. J North Amer Benthol Soc 57:263–288. https://doi.org/10.2307/1467294

Miserendino ML, Pizzolon LA (2000) Macroinvertebrates of a fluvial system in Patagonia: altitudinal zonation and functional structure. Arch Hydrobiol 150:55–83. https://doi.org/10.1127/archiv-hydrobiol/150/2000/55

Myers N, Mittermeier RA, Mittermeier CG, Da Fonseca GAB, Kent J (2000) Biodiversity hotspots for conservation priorities. Nature 403:853–858. https://doi.org/10.1038/35002501

Nelson SM, Lieberman DM (2002) The influence of flow and other environmental factors on benthic invertebrates in the Sacramento River, USA. Hydrobiologia 489:117–129. https://doi.org/10.1023/A:1023268417851

Palmer C, Palmer A, O'Keeffe J, Palmer R (1994) Macroinvertebrate community structure and altitudinal changes in the upper reach of a warm temperate southern African river. Freshw Biol 32:337–347. https://doi.org/10.1111/j.1365-2427.1994.tb01130.x

Pires AM, Cowx IG, Coelho MM (1999) Seasonal changes in fish community structure of intermittent streams in the middle reaches of the Guadiana basin (Portugal). J Fish Biol 54:235–249. https://doi.org/10.1006/jfbi.1998.0860

Pringle CM, Ramirez A (1998) Use of both benthic and drift sampling techniques to assess tropical stream in vertebrate communities along an altitudinal gradient, Costa Rica. Freshw Biol 39:359–373. https://doi.org/10.1046/j.1365-2427.1998.00311.x

R Development Core Team (2018) R: a language and environment for statistical computing. Vienna: R Foundation for statistical Computing. Available at http://Rproject.org

Ramirez JJ, Roldán PG, Yepes GA (2004) Altitudinal variation of the numerical structure and biodiversity of the taxocenosis of Ephemeroptera in the south, north, and central regions of the Department of Antioquia, Colombia. Acta Limnol Bras 16(4):329–339

Ricklefs RE, Schluter D (1993) Species diversity in ecological communities. University of Chicago Press, Chicago

Rosenberg DM, Resh VH (1993) Freshwater biomonitoring and benthic macroinvertebrates. Chapman & Hall, New York, NY

Soldner M, Stephen I, Ramos L, Angus R, Wells NC, Grosso A, Crane M (2004) Relationship between macroinvertebrate fauna and environmental variables in small streams of the Dominican Republic. Water Res 38:863–874. https://doi.org/10.1016/S00431354(03)00406-8

Suren A (1994) Macroinvertebrate communities of streams in western Nepal: effects of altitude and land use. Freshw Biol 32:323–336. https://doi.org/10.1111/j.1365-2427.1994.tb01129.x

Tachet H, Richoux M, Bournaud M, Usseglio-Polatera P (2014) Invertébrés d'eau douce : Systématique, Biologie, Ecologie. CNRS éditions, Paris

Tate CM, Heiny JS (1995) The ordination of benthic invertebrate communities in the South Platte River basin in relation to environmental factors. Freshw Biol 33:439–454. https://doi.org/10.1111/j.1365-2427.1995.tb00405.x

Vinson MR, Hawkins CP (1998) Biodiversity of stream insects: variation at local, basin and regional scales. Annu Rev Entomol 43:271–293. https://doi.org/10.1146/annurev.ento.43.1.271

Vought LBM, Kullberg A, Petersen RC (1998) Effect of riparian structure, temperature and channel morphometry on detritus processing in channelized and natural woodland streams in southern Sweden. Aquat Conserv Mar Freshw Ecosyst 8:273–285. https://doi.org/10.1002/(SICI)1099-0755(199803/04)8:23.0.CO;2-X

Ward JV (1986) Altitudinal zonation in a rocky mountain stream. Arch Hydrobiol Suppl 74:133–199

Williams DD, Feltmate BW (1992) Aquatic insects. CAB International XIII, Wallingford, Oxon. https://doi.org/10.1002/aqc.3270030315

Zouakh DE, Meddour A (2018) Longitudinal ecological zonation in four Algerian streams. Leban Sci J 19(2):135-149. https://doi.org/10.22453/LSJ-019.2.135149

Zouggaghe F, Moali A (2009) Variabilité structurelle des peuplements de macro- invertébrés benthiques dans le bassin versant de la Soummam (Algérie, Afrique du Nord). Rev Écol (Terre Vie) 64(4):305–321
Acknowledgments
The authors are extremely grateful to the Belezma National Park office for facilitating the fieldwork within the park territory. We quote, especially: Said Abderhmani, Park Director and Karim Gaagaa, chief of the sector of Hamla. Abdelkrim Arar and Amina Labed are also thanked for their invaluable help.
Ethics declarations
Conflict of interest
The authors declare that they have no conflict of interest.
Additional information
Publisher's note
Springer Nature remains neutral with regard to jurisdictional claims in published maps and institutional affiliations.
About this article
Cite this article
Benzina, I., Si Bachir, A., Ghazi, C. et al. How altitudinal gradient affects the diversity and composition of benthic insects in arid areas streams of northern East Algeria?. Biologia 75, 567–577 (2020). https://doi.org/10.2478/s11756-019-00326-8
Received:

Accepted:

Published:

Issue Date:
Keywords
Altitudinal gradient

Diversity

Abundance

Benthic insects

Stream

Arid area