Abstract
Three black kite (Milvus migrans migrans) pulli (siblings, BK1, BK2, and BK3) from the same nest in eastern Slovakia were tagged with telemetry (GPS/GSM) loggers on 1 July 2016. BK1 (female), BK2 (male) and BK3 (female) occupied post-fledging areas until 12 August 2016 when they began to migrate southeast. BK1 wintered in Libya, returned to Turkey in the summer, then wintered in Israel. After spending the winter there, it returned to Europe, looped the Baltic Sea and stayed in western Russia throughout the summer. During the autumn, it passed Ukraine and travelled along the Black Sea and wintered in Syria then it moved again to Europe. It used 18 temporary settlement areas (TSA) during its journey until 12 June 2019 when it was roadkilled in Norway. BK2 migrated to the northern tip of the Red Sea and crossed the sea where positions of the bird spatiotemporally coincided with a position of transcontinental cargo ship. It is expected that the bird died whilst on the cargo ship and its body was passively carried on-board and discarded on the west coast of the Red Sea. BK3 reached the northern outpost of the Red Sea in Saudi Arabia. It then continued southeast along the east coast of the Red Sea to Yemen and crossed the Strait of Bab-el-Mandeb to Africa. It wintered mainly in Sudan, Southern Sudan and Uganda, then returned along the west coast of the Red Sea and the east coast of the Mediterranean Sea arriving to the Turkey/Syria border area. Only two TSA were revealed on its route. The migration behaviour among these floaters during natal dispersal was substantially different and covered surprisingly large parts of Europe and North and East Africa.
Access options
Buy single article
Instant access to the full article PDF.
US$ 39.95
Tax calculation will be finalised during checkout.
Subscribe to journal
Immediate online access to all issues from 2019. Subscription will auto renew annually.
US$ 119
Tax calculation will be finalised during checkout.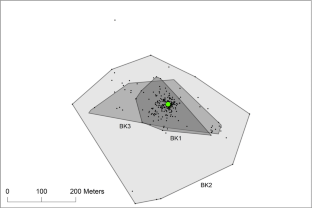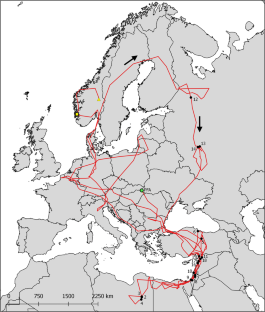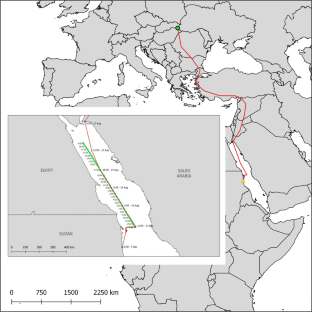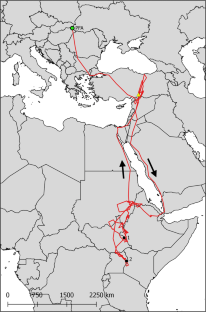 References
Bairlein F, Dierschke J, Dierschke V, Salewski V, Geiter O, Hüppop K, Köppen U, Fiedler W (2014) Atlas des Vogelzugs, Ringfunde deutscher Brut- und Gastvögel. AULA-Verlag, Wiebelsheim

BirdLife International (2015) Milvus migrans. The IUCN red list of threatened species 2015: e.T22734972A60310651. Accessed 18 May 2019

Biricik M, Karakaş R (2011) Black kites (Milvus migrans) winter in southeastern Anatolia, Turkey. J Raptor Res 45:370–373. https://doi.org/10.3356/JRR-10-109.1

Bustamante J, Hiraldo F (1989) Post-fledging dependence period and maturation of flight skills in the black kite Milvus migrans. Bird Study 36:199–204

Bustamante J, Hiraldo F (1990) Factors influencing family rupture and parent-offspring conflict in the black kite Milvus migrans. Ibis 132:58–67

Cepák J, Klvaňa P, Formánek J, Horák D, Jelínek M, Schröpfer L, Škopek J, Zárybnický J (2008) Atlas migrace ptáků České a Slovenské Republiky. Aventinum, Prague

Csörgo T, Karcza Z, Halmos G, Magyar G, Gyurácz J, Szép T, Bankovics A, Schmidt A, Schmidt E (2009) Magyar madárvonulási atlasz. Kossuth Kiadó, Budapest

Ferguson-Lees J, Christie DA (2001) Raptors of the world. Helm identification guides. Christopher Helm, London

Forero MG, Donázar JA, Hiraldo F (2002) Causes and fitness cosequences of natal dispersal in a population of black kites. Ecology 83:858–872. https://doi.org/10.1890/0012-9658(2002)083[0858:CAFCON]2.0.CO;2

Gamauf A, Dosedel R (2012) Satellite telemetry of saker falcons (Falco cherrug) in Austria: juvenile dispersal at the wetermost distribution limit of the species. Aquila 119:65–78

Literák I, Balla M, Peške L, Vyhnal S, Chrašč P (2017a) Prvé výsledky telemetrického sledovania hají tmavých (Milvus migrans) označených v Medzibodroží. In: Balla M, Čapek M, Danko Š, Fulín M, Chrašč P, Kloubec B, Literák I, Mošanský L, Pačenovský S, Peške L, Repel M, Šimková A, Vyhnal, S. Vtáctvo slovenskej časti Medzibodrožia. Slovenská ornitologická společnosť/Birdlife Slovensko, Bratislava, pp 418–420

Literák I, Horal D, Alivizatos H, Matušík H (2017b) Common wintering of black kites (Milvus migrans migrans) in Greece, and new data on their wintering elsewhere in Europe. Slovak Raptor J 11:91–102

Meyburg BU, Meyburg C (2009) GPS-Satelliten-Telemetrie bei einem adulten Schwarzmilan (Milvus migrans): Aufenthaltsraum während der Brutzeit, Zug und Überwinterung. Populationsökologie Greifvogel- und Eulensarten 6:243–248

Nemček V, Uhrin M, Chavko J, Deutschova L, Maderič B, Noga M (2016) Habitat structure of temporary settlement areas of young Saker falcon Falco cherrug females during movements in Europe. Acta Ornithol 51:93–103

Nunes G, Hoffmann LS, Macena BCL, Bencke GA, Bugoni L (2015) A black kite Milvus migrans on the Saint Peter and Saint Paul archipelago, Brazil. Rev Bras Ornitol 23:31–35

Panuccio M, Agostini N, Mellone U, Bogliani G (2013) Circannual variation in movement patterns of the black kite (Milvus migrans migrans): a review. Ethol Ecol Evol 26:1–18. https://doi.org/10.1080/03949370.2013.812147

Penteriani V, Mar Delgado M (2009) Thoughts on natal dispersal. J Raptor Res 43:90–98. https://doi.org/10.3356/JRR-08-39.1

Pétursson G, Kolbeinsso Y (2018) Black kites in Iceland. The Icelandic Birding Pages. https://notendur.hi.is/yannk/status_milmig.html. Accessed 28 December 2018

Prommer M, Bagyura J (2008) Dangerous journeys of sakers of the Carpatian Basin. In Sielicki J, Mizera T: Peregrine falcon populations – status and perspectives in the 21st century. Turul, Warsaw, pp 443–452

Prommer M, Milobog Y, Gavrilyuk M, Vetrov V (2014) Juvenile dispersal of saker falcons in Ukraine according satellite telemetry. Biologichni Nauki, Visnik Cherkatskogo Universitetu 36(329):129–134

Sarà M (2003) The colonization of Sicily by the black kite (Milvus migrans). J Raptor Res 37:167–172

Sergio F, Tavecchia G, Blas J, López L, Tanferna A, Hiraldo F (2011) Variation in age-structured vital rates of a long-lived raptor: implications for population growth. Basic Appl Ecol 12:107–115

Suh A, Kriegs JO, Brosius J, Schmitz J (2011) Retroposon insertions and the chronology of avian sex chromosome evolution. Mol Biol Evol 28:2993–2997. https://doi.org/10.1093/molbev/msr147

Tanferna A, López-Jiménez L, Blas J, Hiraldo F, Sergio F (2012) Different location sampling frequencies by satellite tags yield different estimates of migration performance: pooling data require a common protocol. PLoS One 7(11):e49659. https://doi.org/10.1371/journal.pone.0049659

Tsvelykh AN, Panjushkin VE (2002) Zimovki chernogo korshuna (Milvus migrans) in Ukraine [Wintering of black kite (Milvus migrans) in Ukraine]. Vest Zool 36:81–83. (In Russian with English summary)

Welch G, Welch H (1988) The autumn migration of raptors and other soaring birds across the Bab-el-Mandeb Straits. Sandgrouse 10:26–50
Acknowledgements
We thank Slávka Miňová and Vladimír Pečeňák for the cooperation in the field. We thank Connor Panter for the English language editing. A telemetry study of black kites from eastern Slovakia was permitted by Ministry of Environment of the Slovak Republic (Permission No. MŽP SR 4930/2016-2.3).
Ethics declarations
Conflict of interest
The author declare that they have no conflict of interest.
Additional information
Publisher's note
Springer Nature remains neutral with regard to jurisdictional claims in published maps and institutional affiliations.
About this article
Cite this article
Literák, I., Balla, M., Vyhnal, S. et al. Natal dispersal of black kites from Slovakia. Biologia 75, 591–598 (2020). https://doi.org/10.2478/s11756-019-00323-x
Received:

Accepted:

Published:

Issue Date:
Keywords
Milvus migrans

Telemetry

Postfledging area

Temporary settlement area

Migration