Abstract
Background
Animal trypanosomiasis (Surra) caused by Trypanosoma evansi (T. evansi) is known to be one of the important haemoprotozoan parasites that causes great economical loss on animal production due to mortality and loss of condition.
Methods
A cross-sectional study was designed to evaluate the prevalence and risk factors associated with T. evansi infection among cattle in Peninsular Malaysia. Polymerase chain reaction (PCR) was employed on 1045 blood samples collected from 43 farms. A well-structured questionnaire was used to collect data on risk factors associated with T. evansi prevalence. The RoTat 1.2 set of primers was used to amplify products of 205 base pair.
Results
The overall prevalence was found to be 17.9% (187/1045; 95% CI = 15.66–20.31). Trypanosoma evansi was detected among cattle in all the States of Peninsular Malaysia. Breeds of cattle and closeness to waste area, where the risk factors significantly (p < 0.05) associated with the PCR positivity of T. evansi among cattle in Peninsular Malaysia.
Conclusion
This appears to be the first time a comprehensive survey on the prevalence and risk factors of T. evansi infection in cattle using molecular tools is been carried out in the entire states of Peninsular Malaysia. The findings from this study will provide baseline information on the molecular prevalence of the haemoflagellate and its associated risk factors among cattle for an improved beef and dairy production in Peninsular Malaysia.
Access options
Buy single article
Instant access to the full article PDF.
US$ 39.95
Tax calculation will be finalised during checkout.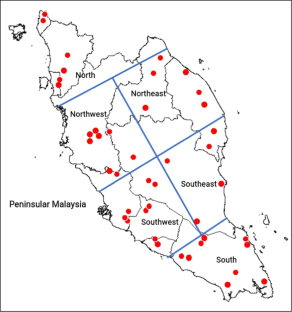 References
1.

Desquesnes M, Holzmuller P, Lai D-H, Dargantes A, Lun ZR, Jittaplapong S (2013) Trypanosoma evansi and surra: a review and perspectives on origin, history, distribution, taxonomy, morphology, hosts, and pathogenic effects. Bio Med Res Int 2013:22

2.

Aradaib IE, Majid AA (2006) A simple and rapid method for detection of Trypanosoma evansi in the dromedary camel using a nested polymerase chain reaction. Kinetoplastid Biol Dis 5:2–7

3.

Luckins AG (1998) Trypanosoma evansi in Asia. Parasitol Today 4:137–142

4.

Shyam KP, Gupta SK, Singh A, Chaudhary SS, Gupta JP (2013) Detection of Trypanosoma evansi in whole blood of domestic animals by DNA amplification method. Indian J Anim Res 47(5):456–459

5.

Desquesnes M, Dargantes A, Lai DH, Lun ZR, Holzmuller P, Jittapalapong S (2013) Trypanosoma evansi and surra: a review and perspectives on transmission, epidemiology and control, impact, and zoonotic aspects. Bio Med Res Int. 2013:20

6.

Dargantes AP (2010) Epidemiology, control and potential insect vectors of Trypanosoma evansi (surra) in village livestock in southern Philippines. Ph.D. Thesis, Murdoch University, Australia

7.

Losos GJ (1980) Diseases caused by Trypanosoma evansi, a review. Vet Res Commun 4:165–181

8.

Gardiner PR, Mahmoud MM (1990) In salivarian trypanosomes causing disease in livestock outside Sub-Saharan Africa. In: Baker JR (ed) Parasitic protozoa, 3rd edn. Academic Press, New York, pp 1–68

9.

Payne RC, Sukanto IP, Bazeley K, Jones TW (1993) The effect of Trypanosoma evansi infection on the oestrous cycle of Friesian Holstein heifers. Vet Parasitol 51:1–11

10.

Damayanti R, Graydon RJ, Ladds PW (1994) The pathology of experimental Trypanosoma evansi infection in the Indonesian buffalo (Bubalus bubalis). J Comp Pathol 110:237–252

11.

Hilali M, Abdel-Gawad A, Nassar A, Abdel-Wahab A (2006) Hematological and biochemical changes in water buffalo calves (Bubalus bubalis) infected with Trypanosoma evansi. Vet Parasitol 139:237–243

12.

Lang PS (2001) Studies on incidence and control of Trypanosomiasis in buffalos caused by Trypanosome avansi steel 1885 in North Vietnam. Proceedings Buffalo Workshop

13.

Killick-Kendrick R (1968) The diagnosis of trypanosomiasis of livestock. A review of current techniques. Vet Bull 38:191–197

14.

Mahmound MM, Gray AR (1980) Trypanosomiasis due to Trypanosoma evansi (steel, 1885) Balbiani, a review of recent research. Trop Anim Health Prod 12:35–47

15.

Sukhumsirichart W, Khuchareontaworn S, Sarataphan N, Viseshakul N, Chansiri K (2000) Application of PCR-based assay for diagnosis of Trypanosoma evansi in different animals and vector. J Trop Med Parasitol 23:1–6

16.

Fraser H, Symond CL (1909) Surra in the federation of Malay states report. J Comp Pathol 22:185–192

17.

Salleh MBH (1984) Prevalence of blood-borne protozoa in UPM cattle. DVM Dissertation, Universiti Putra Malaysia

18.

Nurulaini R, Premaalatha B, Zaini CM, Adnan M, Chandrawathani P, Fazly Ann ZA, Enie Aryanti A, Ramlan M (2013) Trypanosomiasis outbreak in deer, cattle, buffaloes and pigs in Perak. Malays J Vet Res 4(1):55–58

19.

Arunasalam V, Chandrawathani P, Sivanandan S (1995) An outbreak of Trypanosoma evansi infection in pigs. J Vet Malays 7:71–73

20.

Adrian SAVM (2008) Investigation of Trypanosomiasis at a deer farm in Lenggong, Perak. DVM Dissertation, Universiti Putra Malaysia

21.

Rahman WA, Fong S, Chandrawathani P, Nurulaini R, Zaini CM, Premalaatha B (2012) Comparative seroprevalences of bovine trypanosomiasis and anaplasmosis in five states of Malaysia. Trop Biomed 29(1):65–70

22.

Ola-Fadunsin SD, Gimba FI, Abdullah DA, Sharma RSK, Abdullah FJF, Sani RA (2018) Epidemiology and risk factors associated with Anaplasma marginale infection of cattle in Peninsular Malaysia. Parasitol Int 67:659–665

23.

Urakawa T, Verloo D, Moens L, Büscher P, Majiwa PAO (2001) Trypanosoma evansi: cloning and expression in Spodoptera fugiperda insect cells of the diagnostic antigen RoTat 1.2. Exp Parasitol 99:181–189

24.

Urdaz-Rodriguez JH (2007) Epidemiology of bovine anaplasmosis and babesiosis in commercial dairy farms of Puerto Rico. Ph.D. Thesis, University of Florida

25.

Sani RA, Chandrawathani P, Salim NB (1995) Diagnosis of Trypanosoma evansi infection in cattle and buffaloes in West Malaysia. In: Proceeding of Seventh National Biotechnology Seminar, Langkawi, Ministry of Science, Technology and Environment

26.

Chandrawathani P, Luckins AG, Jamnah O, Adnam M, Zaini CM, Cheah TS (1998) Serological prevalence bovine trypanosomiasis in Peninsular Malaysia. In: Proceeding of the 10th Veterinary Association Malaysia Scientific Congress, Shah Alam

27.

Nur Mahiza MI (2010) Prevalence of Bovine Haemoparasites and Risk Factors Associated with Trypanosoma evansi Infection in Malaysia. MSc. Dissertation, Universiti Putra Malaysia

28.

Luckins AG, Boid R, Rae P, Mahmoud M, Elmalik KH, Gray AR (1979) Serodiagnosis of infection with Trypanosoma evansi in camels in Sudan. Trop Anim Health Prod 11:1–12

29.

Nantulya VM, Bajyana SE, Hamers R (1986) Apparent exhaustion of the variable antigen repertoires of Trypanosoma vivax in infected cattle. Infect Immun 44:735–738

30.

Alingu RA, Muhanguzi D, MacLeod E, Waiswa C, Fyfe J (2014) Bovine trypanosome species prevalence and farmers' trypanosomiasis control methods in south-western Uganda. J S Afr Vet Assoc 85(1):1–5

31.

Sehgal RNM, Jones HI, Smith TB (2005) Blood parasites of some West African rainforest birds. J Vet Med Sci 67(3):295–301

32.

Akinpelu AI (2008) Prevalence and intensity of blood parasites in wild pigeons and doves (Family: Columbidae) from Shasha Forest Reserve, Ile-Ife, Nigeria. Asian J Anim Vet Adv 3:109–114

33.

Kamis AB, Sharifah-Azian BSY, Zainal-Abidin AH (1986) Trypanosoma evansi infection in the Gerbil: the influence of gonadectomy and testosterone. Trop Biomed 3:135–140

34.

Sharma A, Singla LD, Tuli A, Kaur P, Singh BM (2015) Detection and assessment of risk factors associated with natural concurrent infection of Trypanosoma evansi and Anaplasma marginale in dairy animals by duplex PCR in eastern Punjab. Trop Anim Health Prod 47:251–257

35.

Weny G, Okwee-Acai J, Okech SG, Tumwine G, Ndyanabo S, Abigaba S, Goldberg TL (2017) Prevalence and risk factors associated with hemoparasites in cattle and goats at the edge of Kibale National Park Western Uganda. J Parasitol 103(1):69–74

36.

Cheah TS, Sani RA, Chandrawathani P, Bahri S, Dahlan I (1999) Epidemiology of Trypanosoma evansi infection in crossbred dairy cattle in Malaysia. Trop Anim Health Prod 31(1):25–31

37.

Krinsky WL (1976) Animal disease agents transmitted by horse flies and deer flies (Diptera: Tabanidae). J Med Entomol 13:225–275

38.

Stephen LE (1986) Trypanosomiasis: a veterinary perspective. Pergamon Press, Oxford

39.

Taylor DB, Moon RD, Mark DR (2012) Economic impact of stable flies (Diptera: Muscidae) on dairy and beef cattle production. J Med Entomol 49(1):198–209

40.

Tunnakundacha S, Desquesnes M, Masmeatathip R (2017) Comparison of Vavoua, Malaise and Nzi traps with and without attractants for trapping of Stomoxys spp. (Diptera: Muscidae) and tabanids (Diptera: Tabanidae) on cattle farms. AgricNat Resour 51:319–323
Ethics declarations
Conflict of Interest
The authors declare that they have no conflict of interest among them.
Ethical Approval
This study protocol was approved by the Research and Ethical Committee of the Faculty of Veterinary Medicine, Universiti Putra Malaysia. International, national, and/or institutional guidelines for the collection of blood samples from cattle were adequately followed.
Additional information
Publisher's Note
Springer Nature remains neutral with regard to jurisdictional claims in published maps and institutional affiliations.
This article has been retracted. Please see the retraction notice for more detail: https://doi.org/10.1007/s11686-021-00349-9
About this article
Cite this article
Ola-Fadunsin, S.D., Gimba, F.I., Abdullah, D.A. et al. RETRACTED ARTICLE: Molecular Prevalence and Epidemiology of Trypanosoma evansi Among Cattle in Peninsular Malaysia. Acta Parasit. 65, 165–173 (2020). https://doi.org/10.2478/s11686-019-00150-9
Received:

Accepted:

Published:

Issue Date:
Keywords
Cattle

Peninsular Malaysia

Polymerase chain reaction (PCR)

Risk factors

RoTat 1.2 gene

Trypanosoma evansi