Abstract
Aims
To assess pathological changes associated with natural infections of the trematode Odhneriotrema incommodum in wild-caught American alligators Alligator mississippiensis and assess potential first intermediate hosts.
Materials and methods
Tongues from two wild-caught alligators were obtained from a commercial alligator processor in Port Gibson, Mississippi, USA. Tongues were subjected to gross parasitological examination and routine histological assessment. Eggs were expressed from adult trematodes collected from these tongues into distilled water, where they hatched into infectious miracidia. The snails Planorbella trivolvis, Physa gyrina, and Biomphalaria havanensis were exposed to these miracidia and observed for cercarial emergence for 200 days post-exposure.
Results
Histological assessment of alligator tongues revealed marked hemorrhage, necrosis, presence of bacteria, and inflammation at sites of Odhneriotrema incommodum attachment, differing from previous histological reports from controlled experimental studies. Cercarial emergence was not observed in snails exposed to infectious miracidia.
Conclusions
Wild-caught alligators infected with Odhneriotrema incommodum exhibit more severe pathology than was previously noted from experimentally infected alligators. This adverse pathology may be associated with microbes present in eutrophic natural habitats that are absent from controlled environments used in experimental exposures. Impacts of this parasite in wild alligator populations are likely underestimated and damage associated with parasite attachment could increase host susceptibility to secondary infections. Given the importance of alligators as game animals and sustained demand for alligator products, further study into the role of O. incommodum on alligator health is warranted. Results of snail exposures to miracidia suggest these snail species are not suitable first intermediate hosts for this trematode and the true first intermediate host of O. incommodum remains unknown.
Access options
Buy single article
Instant access to the full article PDF.
US$ 39.95
Tax calculation will be finalised during checkout.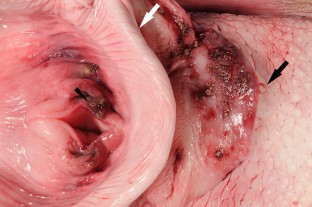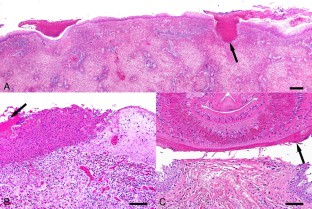 References
1.

Eversole CB, Henke SE, Turner BL, Glasscock SN, Powell RL, Wester DB, Ballard BM (2018) A theoretical population and harvest model for American alligators (Alligator mississippiensis). Herpetol Monogr 32:22–33

2.

Nickum MJ, Masser M, Reigh R, Nickum JG (2017) Alligator (Alligator mississippiensis) Aquaculture in the United States. Rev Fish Sci Aquacult 26:86–98

3.

Leidy J (1856) A synopsis of Entozoa and some of their ecto-congeners observed by the author. Proc Acad Nat Sci Phil 8:42–58

4.

Leidy J (1884) Distoma and Filariae. Proc Acad Nat Sci Phil 36:47–48

5.

Leidy J (1890) Notices on entozoa. Proc Acad Nat Sci Phil 42:410–418

6.

Canavan WPN (1933) A redescription of Distomum incommodum Leidy, from Alligator mississippiensis, and creation of a new genus (Homoscaphis) for it. Parasitol 25(4):501–509

7.

McIntosh A (1935) Odhneriotrema incommodum (Leidy, 1856), a trematode from the mouth of Alligator mississippiensis (Daudin). J Parasitol 21(1):53–55

8.

Leigh WH (1960) The Florida spotted gar, as the intermediate host for Odhneriotrema incommodum (Leidy, 1856). J Parasitol 46(5 Supplement 2):16

9.

Leigh WH (1963) An unusual host-parasite relationship between Alligator mississippiensis and the trematode Odhneriotrema incommodum (Leidy, 1856). J Parasitol 49(5 Supplement 2):40

10.

Leigh WH (1978) Studies on Odhneriotrema incommodum (Leidy 1856) (Trematoda: Clinostomidae) from Alligator mississippiensis. J Parasitol 64(5):831–834

11.

Woodyard ET, Rosser TG, Rush SA (2017) Alligator wrestling: morphological, molecular, and phylogenetic data on Odhneriotrema incommodum (Leidy, 1856) (Digenea: Clinostomidae) from Alligator mississippiensis Daudin, 1801 in Mississippi, USA. Parasitol Res 116(11):2981–2993

12.

Yost MC, Pote LM, Wise DJ, Dorr BS, Richardson TD (2009) Biomphalaria havanensis identified as a potential intermediate host for the digenetic trematode Bolbophorus damnificus. N Am J Aquac 71(1):10–15

13.

Rosser TG, Alberson NR, Khoo LH, Woodyard ET, Pote LM, Griffin MJ (2016) Characterization of the life cycle of a fish eye fluke, Austrodiplostomum ostrowskiae (Digenea: Diplostomidae), with notes on two other diplostomids infecting Biomphalaria havanensis (Mollusca: Planorbidae) from catfish ponds in Mississippi, USA. J Parasitol 102(2):260–274

14.

Rosser TG, Alberson NR, Khoo LH, Woodyard ET, Wise DJ, Pote LM, Griffin MJ (2016) Biomphalaria havanensis is a natural first intermediate host for the trematode Bolbophorus damnificus in commercial catfish production ponds in Mississippi. N Am J Aquac 78(3):189–192

15.

Alberson NR, Rosser TG, Buddenborg SK, Khoo LH, Loker ES, Richardson TD, Woodyard ET, Wise DJ, Pote LM, Griffin MJ (2017) North and South American haplotypes of Drepanocephalus auritus (Digenea: Echinostomatidae) are released from Biomphalaria havanensis (Mollusca: Planorbidae) inhabiting catfish aquaculture ponds in Mississippi, USA. Comp Parasitol 84(2):87–101

16.

Pinto HA, Caffara M, Fioravanti ML, Melo AL (2015) Experimental and molecular study of cercariae of Clinostomum sp. (Trematoda: Clinostomidae) from Biomphalaria spp. (Mollusca: Planorbidae) in Brazil. J Parasitol 101(1):108–113

17.

Lockyer AE, Olson PD, Østergaard P, Rollinson D, Johnston DA, Attwood SW, Southgate VR, Horak P, Snyder SD, Le TH, Agatsuma T, McManus DP, Carmichael AC, Naem S, Littlewood DTJ (2002) The phylogeny of the Schistosomatidae based on three genes with emphasis on the interrelationships of Schistosoma Weinland, 1858. Parasitol 126:203–224

18.

Steenkiste NV, Locke SA, Catelin M, Marcogliese DJ, Abbott CL (2015) New primers for DNA barcoding of digeneans and cestodes (Platyhelminthes). Mol Ecol Resour 15:945–952

19.

Kumar S, Stecher G, Tamura K (2016) MEGA7: Molecular evolutionary genetics analysis version 7.0 for bigger data sets. Mol Biol Evol 33:1870–1874

20.

Locke SA, McLaughlin JD, Dayanandan S, Marcogliese DJ (2010) Diversity and specificity in Diplostomum spp metacercariae in freshwater fishes revealed by cytochrome c oxidase I and internal transcribed spacer sequences. Int J Parasitol 40(3):333–343

21.

Caffara M, Locke SA, Gustinelli A, Marcogliese DJ, Fioravanti ML (2011) Morphological and molecular differentiation of Clinostomum complanatum and Clinostomum marginatum (Digenea: Clinostomidae) metacercariae and adults. J Parasitol 97(5):884–891

22.

Shotts EB, Gaines JL, Martin L, Prestwood AK (1972) Aeromonas-induced deaths among fish and reptiles in an eutrophic inland lake. J Am Vet Med Assoc 161(6):603–607

23.

Aho JM, Uglem GL, Moore JP, Larson OR (1991) Bacteria associated with the tegument of Clinostomum marginatum (Digenea). J Parasitol 77(5):784–786

24.

Ulgem GL, Larson OR, Aho JM, Lee KJ (1991) Fine structure and sugar transport functions of the tegument in Clinostomum marginatum (Digenea: Clinostomatidae): Environmental effects on the adult phenotype. J Parasitol 77(5):658–662

25.

Hunter GW, Hunter WS (1934) The life cycle of the yellow grub of fish. J Parasitol 20:325
Acknowledgements
We would like to thank Mr. Woodrow Cain and Mrs. Vecie Cain of Port Gibson, Mississippi for providing us with alligators for study. This work would have been impossible without their generosity. We also acknowledge Ricky Flynt and the Mississippi Department of Wildlife, Fisheries and Parks for the issuance of hunting permits that allowed for the collection of wild alligators used in the present study. This project was supported by the College of Veterinary Medicine at Mississippi State University, the College of Forest Resources at Mississippi State University, and the IUCN-SSC Crocodile Specialist Group Fritz Huchzermeyer Veterinary Science Student Research Assistance Scheme awarded to ETW.
Ethics declarations
Conflict of Interest
On behalf of all authors, the corresponding author states that there is no conflict of interest.
Ethical Standards
The corresponding author declares on behalf of all authors that alligators collected in the present study were collected under hunting permits issued to hunters as part of the Mississippi Department of Wildlife, Fisheries and Parks Alligator Program. Alligator tongues were opportunistically collected after processing, and no alligators were killed for the purposes of this study. Ethical standards for the treatment and euthanasia of snails were followed.
Additional information
Publisher's Note
Springer Nature remains neutral with regard to jurisdictional claims in published maps and institutional affiliations.
About this article
Cite this article
Woodyard, E.T., Baumgartner, W.A., Rush, S.A. et al. Pathology associated with Odhneriotrema incommodum infection in wild-caught American alligators Alligator mississippiensis and assessment of potential first intermediate snail hosts. Acta Parasit. 65, 144–150 (2020). https://doi.org/10.2478/s11686-019-00142-9
Received:

Accepted:

Published:

Issue Date:
Keywords
Alligator

Alligator mississippiensis
Biomphalaria havanensis
Odhneriotrema incommodum
Planorbella trivolvis

Trematode