Abstract
Aim
The present study was designed to check the molecular detection of Anaplasma marginale and Theileria annulata in blood samples of horses and donkeys collected from Dera Ghazi Khan District in Punjab and to document their phylogenetic origin and their association with studied epidemiological factors (sex and age) and complete blood count parameters, if any.
Methods and results
A total of 195 blood samples were collected from apparently healthy horses (N = 141) and donkeys (N = 54). A. marginale DNA was detected by PCR in 4.9% (7/141) horse and in 9.2% (5/54) of donkey blood samples. Prevalence of T. annulata was 5.6% (8/141) and 11.1% (6/54) in horse and donkey samples, respectively. While 1.4% (N = 2) horses and 3.7% (N = 2) donkeys were found co-infected with both parasites. Representative amplicon for both parasites was confirmed by DNA sequenced and partial DNA sequence of the major surface protein–1b encoding gene of A. marginale and cytochrome b gene from T. annulata were submitted to the GenBank database under the accession number MK792344-MK792348. Epidemiological data analysis revealed that female horses were more prone to A. marginale (P = 0.02) while female donkeys were more susceptible to A. marginale (P < 0.001) and T. annulata (P < 0.001) infection. It was observed that horse and donkey infected either with Anaplasma marginale or Theileria annulata had significantly disturbed red and white blood cell counts and their associated parameters.
Conclusion
This is a first ever study regarding molecular detection of A. marginale and T. annulata in equine blood samples from Pakistan. We recommend that this multiplex PCR protocol should be used for the detection of Anaplasma marginale and Theileria annulata in livestock for their proper diagnosis and treatment.
Access options
Buy single article
Instant access to the full article PDF.
US$ 39.95
Tax calculation will be finalised during checkout.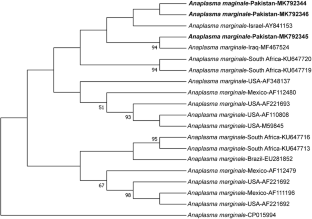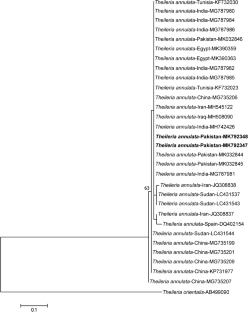 References
1.

Government of Pakistan (2002) Economic Survey 2001–2002, Economic Advisory Wing, Finance Division, Islamabad

2.

Hussain M, Saeed Z, Gulsher M, Shaikh RS, Ali M, Akhtar M, Iqbal F (2016) Molecular detection and seasonal prevalence of Trypanosoma brucei and its effect on hematobiochemical parameters in donkeys from Dera Ghazi Khan District in Southern Punjab, Pakistan. Pak J Zool 48(6):1781–1786

3.

Hussain M, Saeed Z, Gulsher M, Shaikh RS, Ali M, Ahmad AN, Hussain I, Akhtar M, Iqbal F (2016) A report on the molecular detection and seasonal prevalence of Trypanosomiasis in Dromedary Camels from Dera Ghazi Khan District in Southern Punjab (Pakistan). Trop Biomed 32(2):268–275

4.

Hairgrove T, Schroeder ME, Budke CM, Rodgers S, Chung C et al (2015) Molecular and serological in-herd prevalence of Anaplasma marginale infection in Texas cattle. Prev Vet Med 119:1–9

5.

Cacci S, Camma C, Onuma M, Severini C (2000) The b-tubulin gene of Babesia and Theileria parasites is an informative marker for species discrimination. Int J Parasitol 30(1181–1185):2

6.

Jabbar A, Abbas T, Sandhu ZUD, Saddiqi HA, Qamar MF, Gasser RB (2015) Tick-borne diseases of bovines in Pakistan: major scope for future research and improved control. Parasites Vectors 8:283–289

7.

Razzaq F, Khosa T, Ahmad S, Hussain M, Saeed Z, Khan MA, Shaikh RS, Ali M, Iqbal F (2015) Prevalence of Anaplasma phagocytophilum in horses from Southern Punjab (Pakistan). Trop Biomed 32(2):233–239

8.

Bilgiç HB, Karagenc T, Simuunza M, Shiels B, Tait A, Eren H, Weir W (2013) Development of multiplex PCR assay for simultaneous detection of Theileria annulata Babesia bovis and Anaplasma marginale in cattle. Exp Parasitol 133:222–229

9.

Kimura M (1980) A simple method for estimating evolutionary rate of base substitutions through comparative studies of nucleotide sequences. J Mol Evol 16:111–120

10.

Kumar S, Stecher G, Tamura K (2016) MEGA7: molecular evolutionary genetics analysis version 7.0 for bigger datasets. Mol Biol Evol 33:1870–1874

11.

Torina A, Alongi A, Naranjo V, Scimeca S, Nicosia S, Di Marco V, Caracapa S, Kocan KM, de la Fuente J (2008) Characterization of Anaplasma infections in Sicily, Italy. Ann N Y Acad Sci 1149(1):90–93. https://doi.org/10.1196/annals.1428.065

12.

Javed K, Ijaz M, Ali MM, Khan I, Mehmood K, Ali S (2014) Prevalence and hematology of tick borne hemoparasitic diseases in Equines in and around Lahore. Pak J Zool 46(2):401–408

13.

Atif FA (2015) Anaplasma marginale and Anaplasma phagocytophilum: rickettsiales pathogens of veterinary and public health significance. Parasitol Res 114(11):3941–3957

14.

Bakken JS, Dumler S (2008) Human granulocytic anaplasmosis. Infect Dis Clin North Am 22(3):433–448
Acknowledgements
Sample collection, complete blood count analysis and stipend of MH were sponsored by Higher Education Commission (HEC) of Pakistan through indigenous Ph D fellowship scheme.
Additional information
Publisher's Note
Springer Nature remains neutral with regard to jurisdictional claims in published maps and institutional affiliations.
About this article
Cite this article
Asif, M., Parveen, A., Ashraf, S. et al. First Report Regarding the Simultaneous Molecular Detection of Anaplasma marginale and Theileria annulata in Equine Blood Samples Collected from Southern Punjab in Pakistan. Acta Parasit. 65, 259–263 (2020). https://doi.org/10.2478/s11686-019-00141-w
Received:

Accepted:

Published:

Issue Date:
Keywords
Theileria annulata
Anaplasma marginale

Multiplex PCR

Equines

Phylogenetic analysis