Abstract
Endomorphin (EM)-1 and EM-2 are tetrapeptides located within the mammalian central nervous system and immune tissues, with high affinity and specificity for μ-opioid receptors. Most of the literature has focused on the analgesic properties of EM-1 and EM-2 in animal models of neuropathic or neurogenic pain, but there is persuasive evidence emerging that EMs can also exert potent anti-inflammatory effects in both acute and chronic peripheral inflammation. The purpose of this review is to present and evaluate the evidence for anti-inflammatory properties of EM-1 and EM-2 with a view to their potential for use in chronic human inflammatory disease. Distribution of EMs within the immune system and functional roles as immunomodulatory agents are summarized and discussed. Possible milestones to be met revolve around issues of peptide stability, biodegradability problems and optimal route and method of delivery. The potential for delivery of a low-cost drug with both peripheral anti-inflammatory and analgesic properties, effective in low doses, and targeted to the site of inflammation, should focus our attention on further development of EMs as potent therapeutic agents in chronic inflammation.
Access options
Buy single article
Instant access to the full article PDF.
USD 49.95
Price includes VAT (USA)
Tax calculation will be finalised during checkout.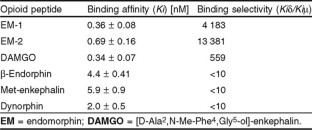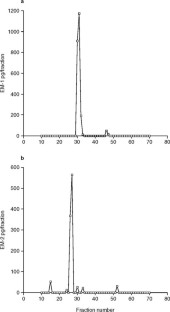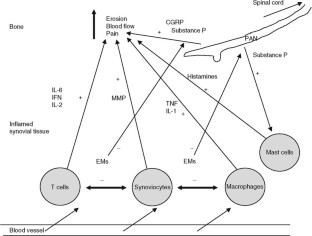 References
1.

Zadina JE, Hackler L, Ge LJ, et al. A potent and selective endogenous agonist for the muopiate receptor. Nature 1997; 386: 499–502

2.

Horvath G. Endomorphin-1 and endomorphin-2: pharmacology of the selective endogenous muopioid receptor agonists. Pharmacol Ther 2000; 88(3): 437–63

3.

Gong J, Strong JA, Zhang S, et al. Endomorphins fully activate a cloned human mu opioid receptor. FEBS Lett 1998; 439: 152–6

4.

Hackler L, Zadina JE, Ge LJ, et al. Isolation of relatively large amounts of endomorphin-1 and endomorphin-2 from human brain cortex. Peptides 1997; 18(10): 1635–9

5.

Martin-Schild S, Gerall AA, Kastin AJ, et al. Differential distribution of endomorphin 1- and endomorphin 2-like immunoreactivities in the CNS of the rodent. J Comp Neurol 1999; 405(4): 450–71

6.

Pierce TL, Grahek MD, Wessendorf MW. Immunoreactivity for endomorphin-2 occurs in primary afferents in rats and monkey. Neuroreport 1998; 9(3): 385–9

7.

Schreff M, Schulz S, Wiborny D, et al. Immunofluorescent identification of endomorphin-2-containing nerve fibers and terminals in the rat brain and spinal cord. Neuroreport 1998; 9(6): 1031–4

8.

Wu SY, Dun SL, Wright MT, et al. Endomorphin-like immunoreactivity in the rat dorsal horn and inhibition of substantia gelatinosa neurons in vitro. Neuroscience 1999; 89(2): 317–21

9.

Jessop DS, Major GN, Coventry TL, et al. Opioid peptides endomorphin-1 and endomorphin-1 are present in mammalian immune tissues. J Neuroimmunol 2000; 106: 53–9

10.

Jessop DS, Richards LJ, Harbuz MS. Opioid peptides endomorphin (EM)-l and EM-2 in the immune system in humans and in a rodent model of inflammation. Ann N Y Acad Sci 2002; 966: 456–63

11.

Jessop DS. Neuropeptides in immunoregulation: role of neural and immune cell derived peptides in immune cell signaling. In: Clow A, Hucklebridge F, editors. Neurobiology of the immune system. New York: Academic Press, 2002: 67–91

12.

Mousa SA, Machelska H, Schafer M, et al. Immunohistochemical localization of endomorphin-1 and endomorphin-2 in immune cells and spinal cord in a model of inflammatory pain. J Neuroimmunol 2002; 126(1–2): 5–15

13.

Cabot PJ, Carter L, Gaiddon C, et al. Immune cell-derived beta-endorphin: production, release, and control of inflammatory pain in rats. J Clin Invest 1997; 100: 142–8

14.

Machelska H, Cabot PJ, Mousa SA, et al. Pain control in inflammation governed by selectins. Nat Med 1998; 4: 1425–8

15.

Puehler W, Stein C. Controlling pain by influencing neurogenic pathways. Rheum Dis Clin North Am 2005; 31(1): 103–13

16.

Sanderson Nydahl K, Skinner K, Julius D, et al. Co-localization of endomorphin-2 and substance P in primary afferent nociceptors and effects of injury: a light and electron microscopic study in the rat. Eur J Neurosci 2004; 19(7): 1789–99

17.

Botros M, Hallberg M, Johansson T, et al. Endoniorphin-1 and endoniorphin-2 differentially interact with specific binding sites for substance P (SP) aminoterminal SP(l-7) in the rat spinal cord. Peptides 2006; 27(4): 753–9

18.

Kosson P, Bonney I, Carr DB, et al. Endomorphins interact with tachykinin receptors. Peptides 2005; 26(9): 1667–9

19.

Groneberg DA, Fischer A. Endogenous opioids as mediators of asthma. Pulm Pharmacol Ther 2001; 14: 383–9

20.

Przewlocki R, Przewlocka B. Opioids in neuropathic pain. Curr Pharm Des 2005; 11(23): 3013–25

21.

Przewlocki R, Przewlocka B. Opioids in chronic pain. Eur J Pharmacol 2001; 429(1–3): 79–91

22.

Przewlocki R, Labuz D, Mika J, et al. Pain inhibition by endomorphins. Ann N Y Acad Sci 1999; 897: 154–64

23.

Obara I, Przewlocki R, Przewlocka B. Local peripheral effects of muopioid receptor agonists in neuropathic pain in rats. Neurosci Lett 2004; 360(1–2): 85–9

24.

Soignier RD, Vaccarino AL, Brennan AM, et al. Analgesic effects of endomorphin-1 and endomorphin-2 in the formalin test in mice. Life Sci 2000; 67(8): 907–12

25.

Przewlocka B, Mika J, Labuz D, et al. Spinal analgesic action of endomorphins in acute, inflammatory and neuropathic pain in rats. Eur J Pharmacol 1999; 367: 189–96

26.

Li Z, Proud D, Zhang C, et al. Chronic arthritis down-regulates peripheral muopioid receptor expression with concomitant loss of endomorphin 1 anti-nociception. Arthritis Rheum 2005; 52(10): 3210–9

27.

Levine JD, Moskowitz MA, Basbaum AI. The contribution of neurogenic inflammation in experimental arthritis. J Immunol 1985; 135(2 Suppl.): 843s–7s

28.

Walker JS, Chandler AK, Wilson JL, et al. Effect of mu-opioids morphine and buprenorphine on the development of adjuvant arthritis in rats. Inflamm Res 1996; 45(11): 557–63

29.

Stein C, Schafer M, Machelska H. Why is morphine not the ultimate analgesic and what can be done to improve it? J Pain 2000; 1(3 Suppl.): 51–6

30.

Jin SX, Lei LG, Da DF, et al. Endomorphin-1 reduces carrageenan-induced Fos expression in the rat spinal dorsal horn. Neuropeptides 1999; 33: 281–4

31.

Khalil Z, Sanderson K, Modig M, et al. Modulation of peripheral inflammation by locally administered endomorphin-1. Inflamm Res 1999; 48: 550–6

32.

McDougall JJ, Baker CL, Hermann PM. Attenuation of knee joint inflammation by peripherally administered endomorphin-1. J Mol Neurosci 2004; 22: 125–37

33.

Hassan AH, Ableitner A, Stein C, et al. Inflammation of the rat paw enhances axonal transport of opioid receptors in the sciatic nerve and increases their density in the inflamed tissue. Neuroscience 1993; 55(1): 185–95

34.

Azuma Y, Ohura K, Wang PL, et al. Endomorphins 1 and 2 modulate chemotaxis, phagocytosis and Superoxide anion production by microglia. J Neuroimmunol 2001; 119(1): 51–6

35.

Azuma Y, Ohura K. Endomorphin-2 modulates productions of TNF-alpha, IL-1beta, IL-10, and IL-12, and alters functions related to innate immune of macrophages. Inflammation 2002; 26(5): 223–32

36.

Azuma Y, Ohura K. Endomorphins 1 and 2 inhibit IL-10 and IL-12 production and innate immune functions, and potentiate NF-kappa B DNA binding in THP-1 differentiated to macrophage-like cells. Scand J Immunol 2002; 56(3): 260–9

37.

Neudeck BL, Loeb JM. Endomorphin-1 alters interleukin-8 secretion in Caco-2 cells via a receptor mediated process. Immunol Lett 2002; 84: 217–21

38.

Azuma Y, Ohura K, Wang PL, et al. Endomorphins delay constitutive apoptosis and alter the innate host defense functions of neutrophils. Immunol Lett 2002; 8: 31–40

39.

Lin X, Chen Q, Xue LY, et al. Endomorphins, endogenous opioid peptides, induce apoptosis in human leukemia HL-60 cells. Can J Physiol Pharmacol 2004; 82: 1018–25

40.

Carrigan KA, Nelson CJ, Lysle DT. Endomorphin-1 induces antinociception without immunomodulatory effects in the rat. Psychopharmacology (Berl) 2000; 151: 299–305

41.

Sharp BM. Multiple opioid receptors on immune cells modulate intracellular signaling. Brain Behav Immun 2006; 20: 9–14

42.

Zhang Q, Schaffer M, EIde R, et al. Effects of neurotoxins and hindpaw inflammation on opioid receptor immunoreactivities in dorsal root ganglia. Neuroscience 1998; 85(1): 281–91

43.

Ji RR, Zhang Q, Law PY, et al. Expression of mu-, delta-, and kappa-opioid receptor-like immunoreactivities in rat dorsal root ganglia after carrageenan-induced inflammation. J Neurosci 1995; 15(12): 8156–66

44.

Ballet S, Conrath M, Fischer J, et al. Expression and G-protein coupling of mu-opioid receptors in the spinal cord and dorsal root ganglia of polyarthritic rats. Neuropeptides 2003; 37(4): 211–9

45.

Ronai AZ, Szemenyei E, Kato E, et al. Endomorphin synthesis in rat brain from intracerebroventricularly injected [3H]-Tyr-Pro: a possible biosynthetic route for endomorphins. Regul Pept 2006; 134: 54–60

46.

Lisi TL, Sluka KA. A new electrochemical HPLC method for analysis of enkephalins and endomorphins. J Neurosci Methods 2006; 150: 74–9

47.

Mentlein R. Dipeptidyl-peptidase IV (CD26) -role in the inactivation of regulatory peptides. Regul Pept 1999; 85(1): 9–24

48.

Shane R, Wilk S, Bodnar RJ. Modulation of endomorphin-2-induced analgesia by dipeptidyl peptidase IV. Brain Res 1999; 815(2): 278–86

49.

Janecka A, Kruszynski R, Fichna J, et al. Enzymatic degradation studies of endomorphin-2 and its analogs containing N-methylated amino acids. Peptides 2006; 27: 131–5

50.

Cardillo G, Gentilucci L, Tolomelli A, et al. Stability against enzymatic hydrolysis of endomorphin-1 analogues containing beta-proline. Org Biomol Chem 2003; 1(9): 1498–502

51.

Kruszynski R, Fichna J, do-Rego JC, et al. Synthesis and biological activity of N-methylated analogs of endomorphin-2. Bioorg Med Chem 2005; 13(24): 6713–7

52.

Fichna J, do-Rego JC, Kosson P, et al. Characterization of antinociceptive activity of novel endomorphin-2 and morphiceptin analogs modified in the third position. Biochem Pharmacol 2005; 69(1): 179–85

53.

Witkin BM, Harlan RE, Zadina JE. The dissociation of analgesia and reward with a novel analog of the endogenous ligand endomorphin-1 [abstract no. 49.13]. Proceedings of the Annual meeting of the Society for Neuroscience; 2005 Nov 12–16; Washington DC. Washington DC: Society for Neuroscience, 2005
Acknowledgments
Special thanks are owed to Louise Richards for her skill in reversed-phase HPLC. The author is grateful to The Wellcome Trust for research funding for endomorphin and related projects.
The author declares no conflict of interest regarding the contents of this manuscript.
About this article
Cite this article
Jessop, D.S. Endomorphins as Agents for the Treatment of Chronic Inflammatory Disease. BioDrugs 20, 161–166 (2006). https://doi.org/10.2165/00063030-200620030-00003
Keywords
Morphine

Opioid Peptide

Analgesic Property

Intraplantar Injection

Neurogenic Pain